In this post, we're going to be looking at the top 5 best TV for Sonos Arc. Let's be honest: the built-in speakers in most TVs suck. Even an entry-level soundbar will make your movie nights and weekend bingeing more acoustically tolerable. Compared to home theater speaker systems that require more time and effort to set up and can be a mess to manage, a soundbar only needs two cables for installation.
On the higher end, the Sonos Arc has been the leading Dolby Atmos soundbar for nearly three years, with very few competing products matching its controlled, detailed signature audio dynamics and surround sound performance. It takes the home cinema experience up a notch, despite its lack of creature comforts like an HDMI passthrough and support for the DTS:X codec.
The Sonos Arc is the king of soundbars. Of course, every king needs a queen to be whole. Audio is one thing, but video is another, where your older TV might falter. If you've been looking for a new TV that compliments your $900 soundbar, you're at the right place. Here are the best TVs for Sonos Arc in no particular order, starting with:
Top 5 Best TVs For Sonos Arc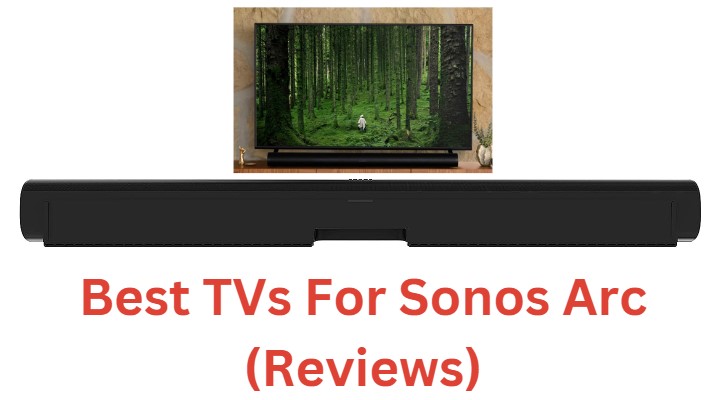 1. LG C3 OLED evo
Screen Size: 42" – 83"
Resolution & Refresh Rate: 4K (3840 x 2160) 120 Hz
Display Technology: WOLED
Connectivity: 4 x HDMI 2.1, 3 x USB, 1 x Optical Audio Out, Ethernet, Wi-Fi
Operating System: webOS 23
In our list of the best TV for Sonos Arc, the LG C3 OLED evo jumps to the top. LG is the industry leader when it comes to OLED televisions, and its C-series models are the most popular options among AV enthusiasts for their exceptional image quality. The LG C3 is the mid-ranger in the brand's 2023 OLED lineup, with almost all the features of the G-series models but at a more reasonable price.
For those wondering, OLED is a self-emissive panel technology where individual pixels can adjust their brightness levels independently without the backlight layer on LCD/LED panels. It allows the display to achieve an infinite contrast ratio, with pitch blacks and no distracting halos around bright objects.
LG has perfected its OLED tech over the years, and the C3 features a new 'evo' panel that's relatively brighter and more vivid than its previous iterations. That makes the TV well-suited for watching movies and shows in both SDR and HDR under most ambient lighting without issue. Its low input lag is also ideal for gaming, with nearly instantaneous response times for enjoying fast-paced content without losing details.
The LG C3 OLED has four HDMI 2.1 ports, one of which supports eARC that can carry Dolby Atmos signals over Dolby Digital Plus. It's a perfect choice to pair with the Sonos Arc. Other features include its α9 Gen6 AI Processor for superior image processing and LG's newest webOS interface offering hundreds of streaming apps.
With all its visual prowess, you certainly can't go wrong with the LG C3. It's available in 42, 48, 55, 77, and 83-inch sizes, though the 55" model makes the most sense for most folks.
2. Samsung QN90B QLED
Screen Size: 43" – 85"
Resolution & Refresh Rate: 4K (3840 x 2160) 120 Hz
Display Technology: VA with Mini LED Backlight
Connectivity: 4 x HDMI 2.1, 2 x USB, 1 x Optical Out, Ethernet, Wi-Fi
Operating System: Tizen OS (2022)
Second, and we highly recommend it, the Samsung QN90B QLED TV is the very best TV for Sonos Arc. The QN90B is part of Samsung's 2022 Neo QLED TV lineup, equipped with the new Mini LED backlight technology that delivers incredible peak brightness, superb contrast, and a wider, punchier color gamut than current OLEDs.
Unlike standard LED TVs, its local dimming feature enhances the visibility of small highlights and minimizes blooming around objects in darker scenes. While blacks still aren't as inky-deep as OLEDs, the QN90B QLED is the better choice for content consumption in bright rooms, thanks to its excellent glare/reflection handling and wide viewing angles.
Gaming on the TV is solid, too, with its 120 Hz refresh rate, low pixel response times, and even lower input lag, ensuring a blur-free, in-sync experience. Plus, it supports FreeSync, G-SYNC (Compatible), and HDMI Forum VRR (Variable Refresh Rate) technologies that reduce screen tearing.
Like the LG C3 OLED evo, all four of the Samsung QN90B's HDMI ports run at the 2.1 bandwidth, one of which supports eARC that allows for passing lossless, high-quality Dolby Atmos audio from a compatible source through to the Sonos Arc soundbar.
Overall, the Samsung QN90B QLED is another fantastic option with a bevy of features, with the brand's Tizen interface adding to its smarts. It's available in 43" to all the way up to 85" variants. We suggest picking between the 65" and 75" versions due to their higher local dimming zone counts.
Editor's Note:
We didn't pick the 2023
Samsung QN90C
/CD
model due to its higher retail price (at the time of writing). In contrast, the 2022 model remains a better buy for now, at least until the price for the newer one comes down.
Check: Does Samsung Frame TV Come with a Wall Mount?
3. Vizio M-Series QX 75" QLED
Screen Size: 75"
Resolution & Refresh Rate: 4K (3840 x 2160) 120 Hz
Display Technologies: VA QLED
Connectivity: 4 x HDMI 2.1, 1 x USB, 1 x Digital Optical, Ethernet, Wi-Fi 6E
Operating System: Vizio SmartCast (Chromecast Built-in and Apple AirPlay)
4K 120 Hz, 1000-nits peak brightness, Quantum Dot panel with full-array local dimming, and Dolby Vision HDR; The 75-inch Vizio MQX QLED has it all. The most unbelievable part is the price, close to the $1000 mark. It puts the TV several hundred dollars cheaper than its rivals.
Sure, it doesn't come close to matching the image fidelity of an LG OLED or Samsung Mini LED model. In fact, with only 42 local dimming zones, halos around bright objects can be quite noticeable. Despite that, it delivers a respectable HDR brightness and native contrast performance alongside a solid wide color gamut and volume, so your favorite movies and shows look as vivid and realistic as the makers intended.
Gaming is also smooth and responsive affair on the M-Series Quantum X 2023, thanks to its relatively low response time and super-low input lag at the 4K 120 Hz mode. It also supports VRR (FreeSync Premium and G-SYNC Compatible), ensuring a tear-free experience.
Once again, the 2023 MQX QLED support eARC over one of its four HDMI 2.1 ports. Therefore, it's a great match for Dolby Atmos-enabled soundbars like the Sonos Arc. On an unrelated note, It also supports DTS:X passthrough.
Vizio's SmartCast platform can feel buggy and sluggish at times, but the app selection is great, and there are no intrusive ads throughout the interface, unlike most other smart TV platforms. It even has built-in Chromecast and AirPlay support.
For a 75" TV that comes at nearly the same price as the Sonos Arc when on discount, the 2023 Vizio M-Series Quantum X model has something for everyone.
4. Hisense U8H
Screen Size: 55", 65", 75"
Resolution & Refresh Rate: 4K (3840 x 2160) 120 Hz
Display Technology: VA with Mini LED Backlight
Connectivity: 2 x HDMI 2.1, 2 x HDMI 2.0, 2 x USB, 1 x Optical, 1 x 3.5mm, Ethernet, Wi-Fi
Operating System: Google TV (Chromecast Built-in)
The Hisense U8H stands as one of the premium 4K TVs in the 2022 lineup. While it may not achieve the OLED-matching black levels of the more expensive U9DG model, which uses a unique dual-layer IPS panel, it compensates admirably with its Mini LED backlight and local dimming capabilities, offering an equally remarkable viewing experience.
HDR content appears stunning because of its wide color gamut and volume, ensuring a vivid array of colors that bring out the best in your favorite content. Its exceptional peak brightness in HDR further heightens the viewing experience. The local dimming feature (504 zones on the 65" model) guarantees deep, uniform blacks in dimly lit rooms, making bright highlights stand out with incredible clarity. Viewing angles, however, suffer slightly due to the limitations of the VA panel.
In gaming, the Hisense U8H ranks among the top-performing Hisense TVs. Its motion handling surpasses many Mini LED TVs within its price range, resulting in a minimal blur in fast-moving scenes. Two of its HDMI 2.1 ports offer the full 48 Gbps throughout, allowing you to capitalize on the capabilities of the current-gen PlayStation and Xbox consoles, including support for 4K@120 Hz, ALLM (Auto Low Latency Mode), and VRR.
One of the two HDMI 2.1 ports is also eARC-capable, meaning it can transmit all the common audio formats, including Dolby Atmos, to the Sonos Arc. One nuisance is the soundbar doesn't have an HDMI passthrough, so you can only connect a single HDMI 2.1 device to the TV with the Arc occupying the other port.
The Hisense U8H comes in various sizes, spanning from 55 inches to 75 inches. All size options provide an almost identical viewing experience and run Google TV OS, so you can choose the size that precisely caters to your living room theater space.
5. Sony BRAVIA XR A95K OLED
Screen Size: 55", 65"
Resolution & Refresh Rate: 4K (3840 x 2160) 120 Hz
Display Technology: QD-OLED
Connectivity: 2 x HDMI 2.1, 2 x HDMI 2.0, 1 x Optical Audio Out, 2 x USB, Wi-Fi, Ethernet
Operating System: Google TV (Chromecast Built-in, Apple AirPlay)
The Sony BRAVIA XR A95K OLED TV is another great option in our list of the best TV for Sonos Arc. The A95K OLED is the flagship model in Sony's 2022 OLED lineup sitting above the A90K and A80K models, respectively. With its incredible QD-OLED ('QD' stands for Quantum Dot) panel technology, the BRAVIA XR A95K ensures exceptional picture quality regardless of the viewing environment.
Dark scenes appear breathtaking, boasting inky blacks and flawless contrast without any distracting blooming around bright highlights. The Quantum Dot layer, which typically allows QLED panels to offer superior color performance, gives this TV its remarkable HDR color gamut compared to traditional OLEDs.
Sony's industry-leading image processing ensures the TV produces an image faithful to the content creator's original intent, an ideal choice for those who prioritize image accuracy over everything else.
Being a high-end TV, the A95K OLED is brim with features, including HDMI 2.1 and variable refresh rate support, catering to gamers' needs. Belonging to Sony's 'Perfect for PS5' lineup, this TV incorporates several unique features, including Auto Genre Picture Mode and Auto HDR Tone Mapping, designed to fine-tune your gaming experience on a PS5 console.
However, since the eARC port is also one of the two HDMI 2.1 ports, you can only connect one other HDMI 2.1-enabled device with the Sonos Arc plugged in.
The user-friendly Google TV interface is the best in class. The included webcam introduces a host of additional functionalities, such as gesture support for menu navigation alternative to using the remote and video conference calls over Google Meet and other apps.
The Sony A95K OLED costs a fortune compared to the competition in its category, but it's also one of the best 55"/65" QD-OLED TVs on the market. If you can afford the expense, this TV is a perfect match for your Sonos Arc soundbar.
Also Read: Best Samsung Frame TV Alternatives
Wrapping Up
After three years and still counting, even most of today's premium home cinema soundbars sound and look pale next to the Sonos Arc. With its 11 meticulously-tuned speakers, including two individual height channels, the Arc emits immersive sound in all directions. From the faintest whispers to thunderous explosions and rhythmic beats, it delivers every minute audio detail with superb clarity and depth.
Therefore, it only makes sense for you to buy a brand-new television and put the last piece to the incredible audiovisual puzzle. While most eARC-compatible models support Dolby Atmos passthrough, the above five picks are what we consider the best TVs for Sonos Arc.