Is Fitbit Luxe Waterproof? Here's what you need to know.
If you spend most of your day in the water, a waterproof fitness tracker is a must-have. You can go to the shower or dive into the pool without worrying about damaging your smart wearable. It'll also track your swimming or diving sessions and give you a detailed insight into your health and fitness metrics.
Fitbit is renowned for its wide range of fitness trackers and smartwatches, most of which claim to survive submersion in water bodies. Odds are you've recently been looking at Fitbit models and found the Luxe appealing but are unsure about one thing – Is Fitbit Luxe waterproof? Keep reading to learn more.
Is Fitbit Luxe Waterproof?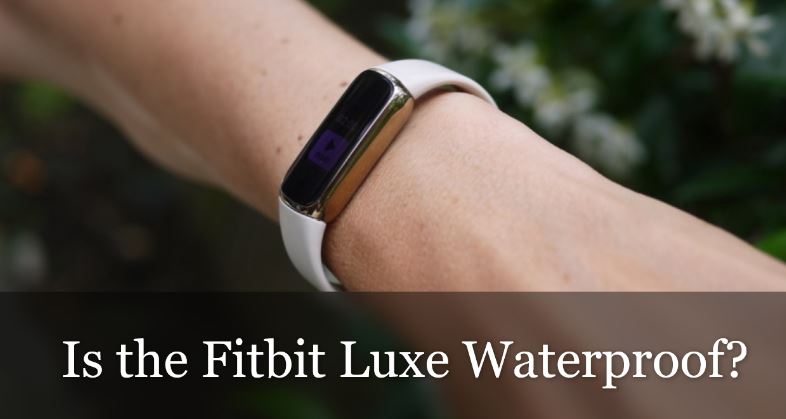 Launched in 2021, the Fitbit Luxe is one of the newest additions to Fitbit's lineup of low-profile fitness trackers. It integrates Fitbit's typical suite of health monitoring and fitness tracking features and can record 20+ exercise and workout types. Its fashion-forward design also complements any wardrobe.
Unfortunately, the Fitbit Luxe isn't waterproof like every other Fitbit model. In fact, there are currently almost no fitness trackers or smartwatches on the market that have a "waterproof" rating.
Those with any experience with water sports or scuba diving probably already know the cost and challenges of manufacturing electronics that can withstand very high amounts of water pressure. Sadly, Fitbit has yet to figure out waterproofing their hardware.
What the Fitbit Luxe does have is a "water-resistance" rating similar to its cousins, i.e., Inspire, Inspire HR, Charge, Flex, and the Versa series. It means you can safely wear it at depths of up to 50 meters.
One must be aware of the distinction between the term "waterproof" and "water-resistant." The Luxe by no means is immune to water damage. Even a tiny water droplet seeping inside the tracker is enough to cause corrosion and kill it. The only thing that prevents it from happening is a watertight seal.
Check out:  How do I turn off my Fitbit device?
Where does the Fitbit Luxe's Water Resistance Apply?
The Fitbit Luxe is advertised as "swim-proof" and has a 5 ATM depth rating. You can rock it in the shower, pool, and even at sea beaches. The device also keeps track of your swim sessions, including duration, laps, distance, pace, etc.
The Luxe functions within a temperature range of -20° to 45° C (or -4° to 113° F in imperial units), suitable for heated pools but not hot tubs and saunas since higher temperatures and abnormally humid conditions degrade the water-resistance capabilities.
The Fitbit Luxe is also suitable for diving despite no mention on the product page. As previously mentioned, it's water-resistant to 50 meters (or 164 feet), which is way past the standard depth limit set by most recreational scuba agencies. But for those into water sports, Luxe's 5 ATM water pressure rating may not be sufficient.
Note that Fitbit's water-resistance certification for the Luxe doesn't take the effects of extreme weather, sudden temperature changes, and harsh environments into consideration. Any of it can cause irreversible damage to the device's hardware.
You can wear the Luxe in both chlorinated and saltwater bodies, but exposing it to soap, shampoo, and lotion for prolonged periods can reduce the effectiveness of the watertight seal.
Related – Is Whoop 4.0 Waterproof?
Wrapping up
The Fitbit Luxe, similar to the brand's other fitness bands and watches, is far from waterproof and still vulnerable to water damage and corrosion. However, the 50m water-resistance rating means you can wear the tracker while swimming, bathing, and showering.
With everything said, you may want to avoid bringing your Fitbit Luxe to deep water levels for extended periods, especially after a few years of usage. As stated earlier, climate variables and exposure to certain chemicals slowly degrade the tracker's water-resistance abilities.
Also, you should opt for a silicone wrist strap for your Fitbit Luxe over metal, fabric, and leather ones. Not only do the latter materials do worse in water than silicone, but they can also cause skin irritation when wet.
Finally, make sure to take off the tracker and dry it properly after a swim or shower. It's a good habit to keep it clean with a soap-free cleanser and then dry it with a microfiber cloth before putting it back on.