Can You Wear Whoop Strap In the Shower? Is Whoop 4.0 Waterproof? This guide will answer all of your questions. Read on to learn more.
Everyone wants to live their life healthily, so we are doing some kind of workout and healthy diets for it. This is not only enough to achieve this. We must know our body condition and the workouts done by us daily.
Nowadays for calculating and tracking this everyone starts using a fitness band for monitoring their body conditions during workouts. When you are decided to use a fitness band for tracking you have to choose them based on their features and liability. WHOOP 4.0 will be the best option for you to track your daily activities.
Whoop 4.0 – Everything You Need to Know
Whoop 4.0 is a smart fitness band used to track your daily activities with accuracy and digital options.
WHOOP Company is manufacturing this strap. They launched these smart fitness straps in the year 2015 first. Later on, evaluated their model with the latest technologies and many sensors.
This whoop 4.0 was launched in the year 2021. This is the enhanced model of whoop 3.0 with more sensors to get more health data about your body.
Whoop fitness bands are light weighted and water-resistant. So that you can wear this all day. It has a battery backup for almost 5 days and has Bluetooth facilities to transfer the collected health data.
You can access the health data acquired by the whoop band on your desktop or mobile applications.
It will be helpful for you to maintain your fitness. You can also alter your diet and workout plans according to this.
Whoop 4.0 has many facilities like a strain coach, sleep analyzer, etc. with this strain coach tool you can know your workout history and your workout goal. This goal is set based on your previous workout history.
Its sleep analyzer will help you to remain the sleep time to maintain your body fitness correctly.
Whoop 4.0 will be a beast coach for many athletes. As whoop strap will have all your peak records for analysis.
You can get this strap for free when you get the membership from whoop. The membership price starts from $30 per month. You can get one-year membership by just paying $24 per month to get this strap.
The 18-month commitment is only $18 per month.
You can get all your health data such as skin temperature tracker sleep monitor, heart rate monitor, SPO2 monitor, etc.
Whoop is the peculiar model of a fitness band with no display screen and no button on it. This is just a fitness strap that tracks all your activities for the full day and transfers the collected data to your mobile or desktop application.
Whoop is an exclusive strap for tracking your workout, walking distance, burned calories, and sleep recovery.
It is designed to ensure that you feel relaxed so that you are working at a suitable level for your next workout-in this way you avoid injuries and excessive exercise.
This whoop strap is programmed with an algorithm that also calculates your menstrual cycle.
Whoop 4.0 isn't for everyone because it doesn't have a screen, minimalist design, and an app full of data. But you can enjoy testing it. When you want to get the best performance, you want to organize your sleep routines, prioritize relaxing time, avoid injuries, or just want to know more about fitness and health details.
This will be a beast wearable for those who are more concerned about their body fitness condition. Whoop straps are mostly used by sports persons to know their best performance timing.
It is most precisely focused on health data collection, recovery time calculation, and performance. In the starting, you may feel different when using this whoop strap. But it will surprise you with its tremendous features.
Design Of Whoop 4.0
Whoop 4.0 is designed with a small rectangular plastic casing with an elastic-type strap. On this rectangular casing, it is manufactured with sensors and a battery for it.
Whoop is IP68 rated waterproof strap and it can be used under the water for 2 hours at a depth of 10 meters. Also, it is dustproof.
It is provided with a charger. Whoop straps are available in different colors in the market.
Related – Whoop vs Garmin Comparison: Which One Is Best?
Is Whoop 4.0 Waterproof?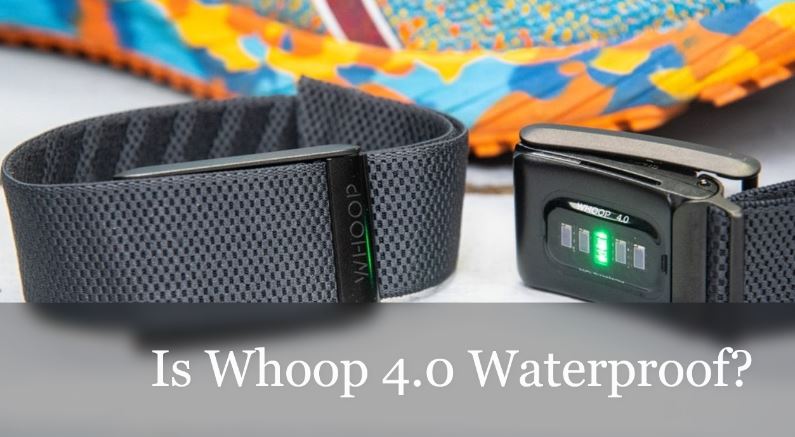 There is a significant difference between waterproof and water-resistant. The ability to reject water and maintain a dry surface makes an item waterproof. Water-resistance refers to a material's ability to temporarily withstand water intrusion before it allows inside.
Whoop 4.0 is advertised as being water-resistant, thus it ought to be capable of sustaining some contact with water that may not be impermeable.
While Whoop 4.0 cannot be submerged for more than ten min, it is water-resistant approximately 10 meters or 33 feet. This implies that after a particular depth or amount of time, this might not be entirely impenetrable but can resist some absorption of water.
On the whole, you can wear the WHOOP 4.0 while swimming, cleaning vessels, during workouts, and showering.
Whoop vs Garmin Comparison: Which One Is Best?
FAQ
Can you wear whoop 4.0 while you are showering?
You can change the sliders regularly as well. Keep whoop dry when you are not washing it. When you put on WHOOP while showering: Remove WHOOP and clean the strap and sensor using normal water or soap water. Also, clean the skin that is under the sensor with soap.
Why does Whoop 4.0 take so long to deliver?
There is a significantly increased delay in delivery time due to some problems in business logistics management and high demand. During the launch time, in anticipation of high demand, WHOOP estimated a 9-week delivery time.
Which is better apple watch or Whoop?
Whoop has one best feature over the apple bran watch. It takes 52 sample heartbeat rates for a second and it will take samples 24/7. But, Apple Watch takes samples only every 5 minutes when it is left idle.
Will Whoop help to measure the oxygen level in blood?
WHOOP will help measure the oxygen levels in blood every night during sleep to get the most reliable and stable measurements possible. You can also scan your SpO2 value on your health monitor every morning.
Will Whoop stream live a heartbeat rate?
WHOOP has the facility to track your live heart rate and accumulate it for future reference. This feature will suggest your recommendation based on your previous workout and also monitors your heart rate continuously during the workout and record all the tracks.