Whoop vs Garmin: Which Fitness Tracker Is Best For You? Amidst the ever-growing popularity of smart wearables, Whoop and Garmin are widely considered two of the heavy hitters in the market. The two brands offer features and functionalities to appeal to a wide range of demographics, including but not limited to fitness enthusiasts and athletes.
In recent years, Whoop and Garmin have successfully implemented incredible fitness tracking and health monitoring capabilities in wearables of impressively slick and slender designs, serving as a traditional watch outside our fitness routines. Both brands often draw comparisons due to their use of similar technologies, but which is the better one?
To answer the question, we have put Whoop and Garmin against each other in this comparison guide, highlighting their differences and similarities in various aspects.
Whoop VS Garmin: Which One You Should Choose?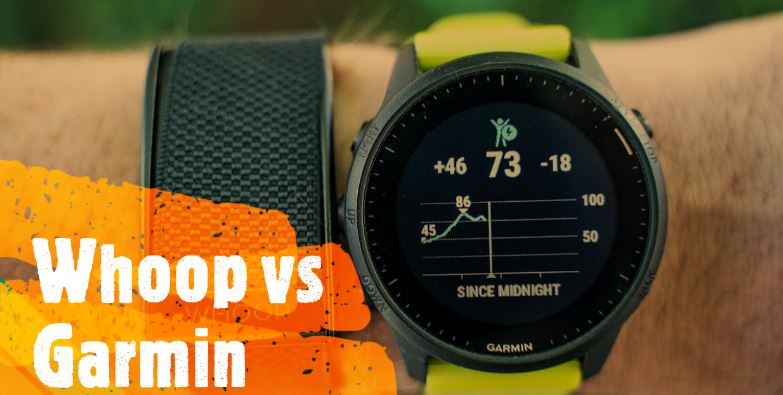 Whoop vs Garmin: Features
Unlike Whoop, Garmin has countless fitness trackers and smartwatches in its product portfolio. The significant differences that users often bring up when comparing Whoop and Garmin trackers are the features and price.
The truth is that neither of them is necessarily the best brand, as each has its perks and flaws. We can further outline the differences between the brands by comparing the feature sets of their most recent models.
Calorie Tracking
Both Whoop and Garmin wearables track active and passive calorie burns throughout the day. Whoop users can check their daily calorie burn and goals on the Whoop companion mobile app. Similarly, Garmin users can log their daily calorie intake and track their calorie burns and daily targets from the Garmin Connect app.
Furthermore, the two brands provide additional info on how and when the user should burn more calories and which activities will help them burn the most.
Heart Tracking
Whoop and Garmin offer accurate heart rate metrics and HRV (Heart Rate Variability) data. But unlike most Garmin wearables, the advanced HR sensor on newer Whoop models collects data 100 times per second to deliver the most accurate tracking. It's important to note that Garmin's heart rate tracking is still reliable, but Whoop does it slightly better.
In addition, users can monitor their body recovery with Whoop Recovery and Garmin Body Battery Energy Monitoring features, which factor in heart rate, heart rate variability, and sleep quality to provide a score.
Read also: Can you wear Whoop on your Ankle?
Sleep Tracking
Whoop and Garmin offer similar insights on the user's sleep quality, along with a detailed look into the time spent in a sleep cycle, level of deep sleep (non-REM), resting heart rate graph, etc. Although not identical, both brands seem to provide the same level of sleep tracking.
Activity Tracking
When discussing activity tracking, there's a stark difference between Whoop and Garmin wearables. It's eminent when you compare their recent products.
For instance, the Whoop Strap 4.0 tracks exercise and workouts automatically and accurately, thanks to its cutting-edge array of sensors that claim to collect health metrics 100 times per second.
None of the Garmins claim to do so. Instead, users get to choose from more specific exercise and workout tracking modes. For example, the Garmin Venu 2 can track over 25 activities, including niche activities like hiking, skiing, bouldering, indoor climbing, and HIIT (High-Intensity Interval Training) workouts. Common activities like running, swimming, and cycling are tracked automatically as usual.
If you're looking for a watch to track specific activities, Garmin is a better choice than Whoop. Then again, the latter provides more accurate activity tracking metrics.
Water Resistance
In terms of water resistance capabilities, there's a notable difference between Whoop and Garmin watches. While most of their models claim to be "water-resistant" and are capable of swim-tracking, Garmin takes the cake.
The latest Whoop Strap 4.0 is water-resistant at depths up to 10 meters, suitable for most water activities like swimming and showering. It can also endure harsh weather conditions like rain and snow.
On the other hand, recent Garmins (e,g., Fenix 6, Instinct 2, Venu, Swim 2, Vivofit) come with 5 to 10 ATM ratings, meaning they can withstand immersion in water bodies of depths from 50 to 100 meters. It also makes Garmin watches highly suitable for snorkeling and high-speed water sports.
Fortunately, both Whoop and Garmin batteries are water-resistant. With that said, prolonged exposure to soap, shampoo, lotion, and chlorinated water can degrade water-resistance capabilities, so your mileage may vary.
Battery Endurance
Whoop and Garmin wearables are historically known to provide decent battery life. Newer smart trackers/watches from both brands offer roughly a week worth of battery, sometimes even more. Additionally, Whoop offers a tiny Battery Pack accessory that slides on top of the Whoop Strap, allowing users to charge on the go without taking it off.
Garmin, however, has solar-powered smart wearables (e.g., Fenix 7 Solar, Instinct 2 Solar, Forerunner 955 Solar) that harvests the power of the Sun to extend the battery life. For the regular Garmins, users will need to take them off for charging, which may affect their fitness tracking data.
Whoop vs Garmin: Companion App
Whoop Straps don't have a screen, so the only way to view your health and fitness data is to use the Whoop mobile app. It has all the essentials you'd expect from a companion app, including a daily performance journal, weekly and monthly assessments, extensive health metrics, etc. The app also supports Apple Health integration for iPhone users. The biggest downside is that you must pay for a monthly/annual subscription to access all the data and features.
The Garmin Connect mobile app is well-reviewed across Play Store and App Store for its polished, easy-to-use interface and handy features like Garmin Pay for contactless payments and LiveTrack for sharing activity and health info in real-time with friends and family. The "My Day" dashboard also shows your daily fitness data in a streamlined manner.
So if you were to choose between Whoop and Garmin based on the app experience, the latter would be a better choice overall.
Recommended reading: Whoop Membership Explained
Whoop vs Garmin: Pricing
You can't buy the Whoop Strap outright. It comes only with Whoop's monthly and annual subscription plans that include the hardware and the software (e.g., access to health data, personalized performance insights, coaching, updates). That said, optional accessories like the Battery Pack and bands are available for purchase separately.
All Garmin watches are available for standalone purchase; no need to pay a recurring membership fee. However, Garmin locks advanced features like maps and LTE behind reasonably-priced monthly/annual subscription tiers.
Whoop Band vs Garmin Body Battery Real Life Comparison
Related – What is Water Lock on Fitbit? How to Activate?
Whoop vs Garmin: Verdict
Speaking frankly, comparing Whoop and Garmin boils down to what you're looking for in a smart wearable. Both have their fair share of pros, cons, and similarities, so ultimately, it's up to you to decide.
If all you wish for is a fitness tracker that collects highly-accurate health and fitness data and provides personalized analytics, Whoop is the way to go. But if you want a balanced mix of fitness tracking features while keeping the functionality of a traditional watch, Garmin is a superior option.
A Garmin watch will be a more financially viable investment than Whoop Strap in the long term since you won't have to pay for a membership. Whichever brand you choose, we can assure you that Whoop and Garmin's foothold in the wearable market will only get stronger from here.