Whoop is relatively new in the wearables business, but with the launch of Whoop 4.0, it has finally managed to solidify its position in the market. The Whoop band is popular among consumers and professional athletes as it provides in-depth wellness and fitness data with its cutting-edge sensors and evaluates them in unified scores so that the users can maintain peak physique and performance.
Whoop is a unique fitness band in its own right, whether it's the fact that it has no screen or buttons or that it isn't just a one-time purchase and is part of a recurring membership. Unlike traditional wearable brands like Fitbit, Garmin, or Polar that ask for one lump sum for the hardware, Whoop charges a monthly subscription, without which the device is practically a dumb wristband.
Such a convoluted pricing model can leave first-time buyers confused. However, the following guide explains the Whoop membership in great detail. Keep reading as we walk you through the tiers and benefits and answer a few frequently asked questions.
What Do I Get With The Whoop Membership?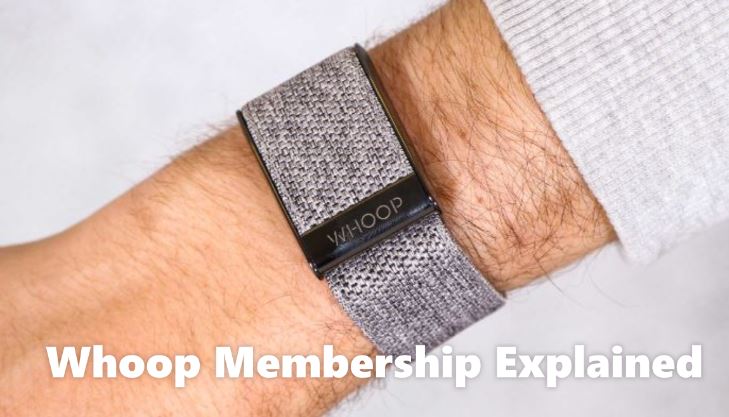 For $30 (USD) per month, you can get your hands on the latest Whoop 4.0 tracker with a complimentary SuperKnit band. If you want additional bands for your tracker, you'll need to buy them separately from the official Whoop store.
The membership also unlocks the software side of the tracker, the Whoop companion mobile app that's available for Android, iPhones, and iPads. A web version of the app is also available should you want to view your strain, recovery, and sleep data on a big screen.
Furthermore, you'll have full access to in-app coaching features, personalized progress assessments, and device firmware updates. You can also connect to other Whoop users with similar goals in the community and more.
Similar: Amazon Halo vs Whoop: Which is Better?
Whoop Membership: Tiers & Pricing
At the time of writing, Whoop offers three different memberships: Monthly, Annual (12 Months), and Biennial (24 Months). The Whoop Membership begins once you pair and activate the tracker through the app. There's also a 30-day return window if you, for any reason, aren't satisfied with the device and its offerings.
The Monthly Membership requires users to pay $30 upfront and sign a minimum 12-month commitment. Alternatively, you can pay $300 upfront for the Annual Membership, bringing the monthly price down to $25 and saving you $60 a year.
And lastly, if you go for the 24 Month Membership, you'll have to pay $480 upfront, effectively bringing down the monthly fee to $20 and saving you nearly $240 in the process.
If you're wondering whether Whoop offers any lifetime membership, unfortunately, there's none. With Whoop 4.0, Whoop has discontinued the $399 lifetime membership, and they don't plan to reintroduce it anytime soon.
Read – Best Whoop Alternatives
What if I stop Paying for Whoop Membership?
If you someday decide not to continue your Whoop Membership, your Whoop band will stop functioning and be of no benefit. Since it doesn't have a screen, the only way to interact with it is through the companion mobile app. Without the membership, the app will lock you out of all the tracker's features and data graphs.
New users can return their Whoop within the first 30 days to get a full refund on their Whoop Membership. Whoop also runs a referral program via the app, which can earn you a free month of membership for every person you refer.
The fact that the Whoop tracker ceases to function without the Whoop membership also means you can't sell or give it away to someone. Once linked to a Whoop account, there's no way to disconnect and link it to a different account.
What's Whoop Pro?
Whoop Pro is an exclusive subscription offering additional benefits like free accessories and exclusive discounts. It's available only to those signing up for the Annual Membership or longer. The monthly add-on subscription adds $12 more on top of the 12 and 24-month Whoop Memberships and gets you the following perks:
Free shipping and returns on all Whoop Store purchases
Exclusive discounts on accessories and Whoop Body apparel
Get one complimentary item every three months for free (including battery packs, straps, arm sleeves, bicep bands, Whoop Body apparel)
Whoop Pro profile badge in the Whoop app
The Whoop Pro subscription also unlocks early access to limited edition gear and exclusive accessory designs.
The Whoop 4.0 Strap isn't a one-time purchase but rather a subscription-based service, keeping the users tied to a premium membership. In this guide, we've explained the Whoop Membership in detail, which should hopefully clear your doubts regarding the pricing model. If you still have any questions unanswered, leave them to us in the comments.
Trending Whoop Guides