So your LG TV is behaving strangely. When you turn it on, you're greeted by a pink screen instead of your usual show or movie lineup. What's going on? Don't worry; we're here to assist you. We'll walk you through a few simple steps to resolve your pink screen problem in this article.
What Causes a Pink Screen on LG Smart TV?
A pink screen on LG TV can be caused by a number of factors. The most common is an issue with the LCD panel. This is the area of the television that displays the image. A pink screen can be caused by an issue with the LCD panel.
There might be a problem with the backlight. The light that illuminates the LCD panel is known as the backlight. A pink screen can also be caused by a problem with the backlight.
Other factors can also contribute to a pink screen on LG Smart TV. If you are experiencing this issue, it is best to speak with an LG customer service representative to determine what is causing it and how to resolve it.
How to Fix a Pink Screen on LG TV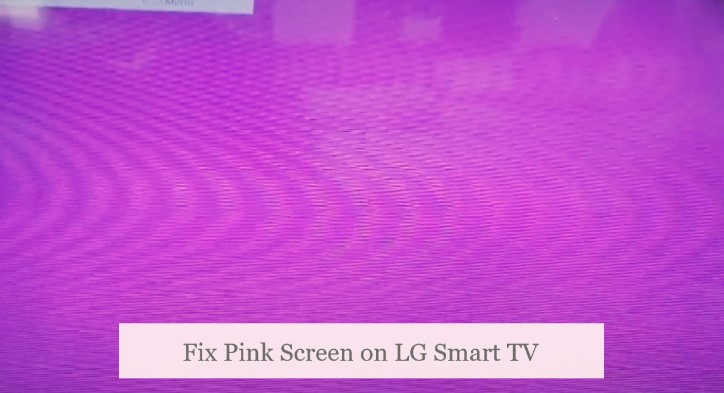 If your LG TV has a pink screen, you can try the following troubleshooting steps to see if you can fix it:
First, double-check that the HDMI cables are properly connected. If so, reconnect them after disconnecting the cables.
Next, try restarting your television by unplugging it for a few seconds and then plugging it back in.
If that fails, go into the TV's menu and reset to factory defaults. Be aware that this will erase all of your settings, so make a backup before proceeding.
Change the Color and Tint Settings on LG Smart TV
Your LG TV most likely has a pink or red tint, and the colours on the screen may not be as vibrant as you'd like. Fortunately, you can change the tint and colour settings on your TV.
To begin, use the Picture Wizard. This is a built-in feature that lets you change the colour, tint, sharpness, and other settings. To access it, use your TV remote's Menu button to navigate to Picture > Picture Wizard.
If that fails, you can try adjusting the RGB levels. This will alter the brightness of each colour on your screen. To do so, use your TV remote's Menu button to navigate to Settings > Sound & Screen > RGB. Adjust the levels with the arrow buttons until you're satisfied with how your screen looks.
Reading tip: 8 Ways to Fix Blue Tint On TV Screen
Reset LG TV's Picture Mode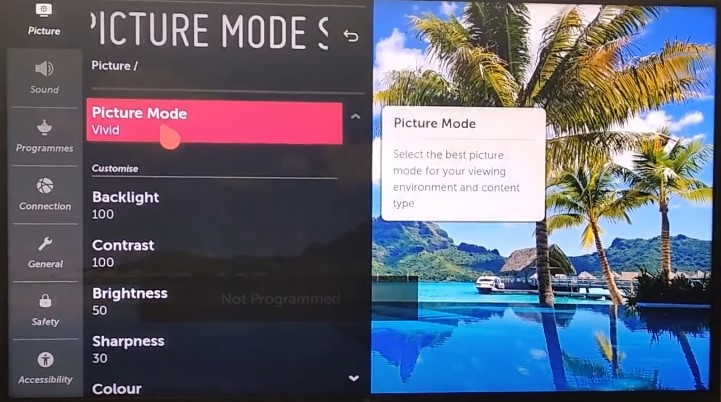 If you've tried everything else and the pink is still there, try resetting the picture mode on your LG TV. This is something you should do whenever you have a problem with your TV's display. Follow these simple steps to reset the picture mode:
Press the Home button.
Choose Settings > All Settings > Picture Mode.
Select Reset Picture Mode to Factory Settings from this menu.
Select Yes and then OK to confirm that you want to reset.
After you've reset the TV, see if turning it back on solves the problem!
If none of these solutions have worked so far, it may be time to hire a professional repairman or consider purchasing a new LG TV entirely!
You might also want to know: Best Picture Settings for Hisense 4K TV
Run LG TV Self-Diagnosis
After you've reset your LG TV, you can try running a self-diagnosis to help you figure out what's causing the pink screen. Fortunately, it's simple. Simply press and hold the input button on your remote control, and a menu with several options should appear.
Locate and select "Self-Diagnosis" once in this menu. Following that, as the test phase progresses, your TV screen should be filled with various colored lines and shapes. Then, look for any pink or other discolored lines or spots on the screen that indicate a TV problem.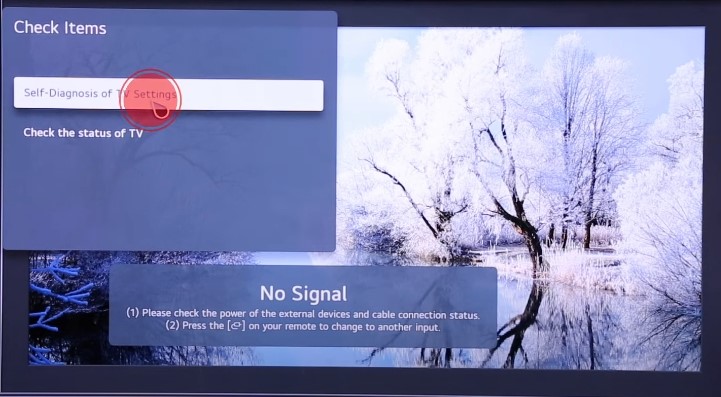 If your LG TV lacks a "Self Diagnosis" option on the input menu, look for it in the user manual or contact customer service for more information.
There's no need to panic if you can't figure out what's wrong with your TV. Most HDMI cable retailers offer self-diagnosis for Panasonic, Samsung, and other brands. LG's TV connector allows you to connect it to a computer and run your self-diagnosis programme on the TV.
Self Diagnosis and Optimization in LG Smart TV (Video Guide)
Related Posts
Pink Screens on LG TVs: Frequently Asked Questions and Answers
If the problem persists, you may be wondering what else can be done. Here are some frequently asked questions to help you with your concerns:
Q: What causes the pink screen on my LG TV?
This can occur when the video settings are incorrectly configured. Check the TV's settings first, then all of your HDMI cables and connections.
Q: What should I do if my LG TV displays a pink screen?
Hold down the power button on your remote for at least 10 seconds before releasing it. Press it again to turn on your television. If that doesn't work, disconnect the power cable from the wall outlet, wait 10 seconds, and then reconnect it.
Q: What should I do if, after resetting my LG TV, I still see a pink screen?
Contact LG and request that they inspect your device for any hardware flaws.
Conclusion
In conclusion, if you have a pink screen on your LG TV, there are a few possible solutions. First, try unplugging and replugging your television. If that doesn't work, try adjusting the colour settings on your television. Finally, if the pink screen persists, you may need to contact LG for assistance.