If you own a Sky Q or an older Sky+ box and an LG-branded television, you may have noticed that you need to switch between remotes to control each device. It can be inconvenient and may lead to misplacing one of the remotes.
Fortunately, you can program your Sky remote to control your LG Smart TV, making it a universal remote for both devices. It saves you time and hassle, as you only need to use one remote to turn your TV on and off, change channels, adjust the volume, switch inputs, and access most of the features and functions of your LG TV.
This guide outlines step-by-step instructions on how to program your Sky remote to control your LG TV. It'll also provide Sky remote codes for LG Smart TV that you'll need for the programming process.
Pairing Sky Q Remote Codes with LG Smart TV
Five versions of the Sky Q remote currently exist, including the original one, the old-style Accessibility remote, the touch remote, and the new Sky Q remote with voice control. Regardless of which one you have, pairing it with your LG Smart TV is straightforward, and you won't even need to deal with Sky remote codes. Simply follow these steps:
Original Sky Q / Sky Q Accessibility Remote
Press the Home button on your Sky Q remote. It'll lead you to the Sky Home screen if you aren't already there.
Next, navigate to the bottom of the Home screen and select the Settings
Scroll to the Setup tab on the left-hand side, then choose Remote Control in the following submenu.
Select the remote you're using from the list and click "Control your TV". After that, choose LG from the TV brand list.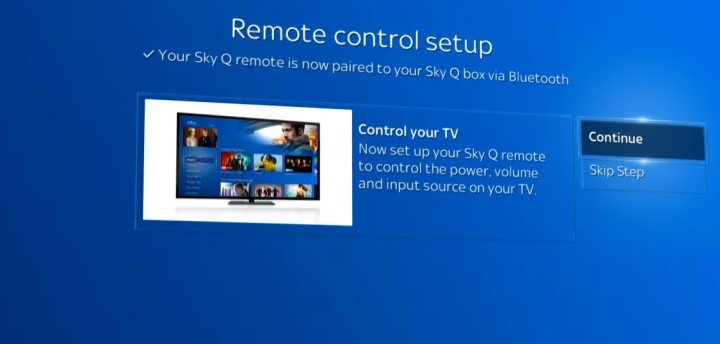 Now click where it says, "Find it for me", so the Sky Q box can determine your particular LG TV model.
On the next wizard screen, press and hold the 1 and 3 buttons on your Sky Q remote simultaneously for 2 seconds, then enter the remote code outlined in Step 2 of the wizard.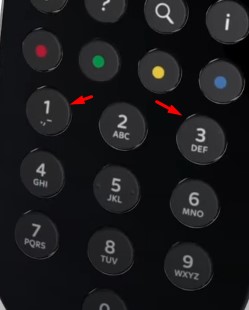 Check if the Sky Q remote has paired to your TV by pressing the Volume Up / Down buttons and seeing if that adjusts the TV volume. If that works, click Yes and follow the remaining on-screen prompts to finish the pairing process.
However, if it doesn't, click "No, try another" and repeat the above steps till you can control your LG TV with the Sky Q remote.
If none of the prompted remote codes works, try this: Press and hold the 7 and 9 buttons together until the remote's top indicator light blinks four times, which resets the remote to its factory state. Now try the steps highlighted above once again.
You may also wonder: How Does Sky Glass Multiroom Work?
Sky Q Touch / Sky Q Voice Control Remote
Simultaneously press and hold the 1 and 3 buttons on your Sky Q remote. It'll bring up the "Remote control setup" menu, prompting you to set up the remote to control the various functions of your TV.
Click Continue, then type the name of your TV maker, which would be LG in your case. As for the model, select "Find it for me".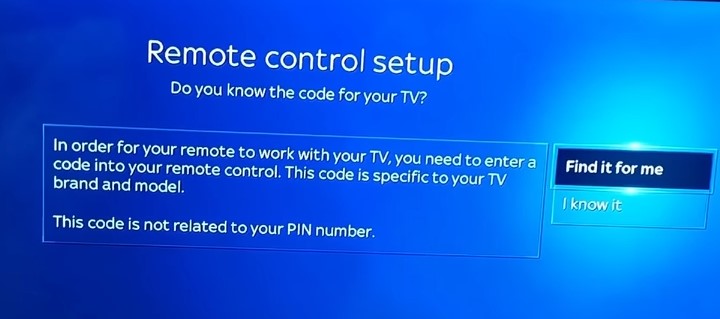 Now press the Volume buttons on your remote to see whether it changes your TV volume. If it does, click Yes and go through the rest of the on-screen prompts to exit the setup process.
If the Volume buttons on the remote do nothing, continue with "No, try another" until it adjusts the TV volume as it should.
If the pairing process fails three times, factory reset the remote by holding the 7 and 9 buttons together until its indicator light flashes four times. After that, retry the pairing steps again.
Learn more: Set up Amazon Firestick on Sky Glass
How to Set up your New Sky Q Touch Remote
Pairing Sky+ Remote with LG TV
If you still have the legacy Sky+ set-top box, some of you'd be surprised to know that the Sky+ remote is also programmable with TVs and home theatre systems. Below you'll find detailed instructions to pair your Sky+ remote with LG TV, along with some Sky remote codes for you to try.
Check Your Sky+ Remote Version
The version of your Sky+ remote will determine the code you'll need to enter to program it to work with your LG TV. You can identify your remote version (starting with "rev.") by looking at the sticker on the flipside of the remote's battery cover or the embossed text on the shell next to where the batteries sit. Here are all the Sky+ remote versions:
Version 4 ( 4)
Version 6 ( 6)
Version 8 ( 8)
Version 9 ( 9)
Version 10 (rev.10)
Note Down the Sky+ Remote Codes for LG TV
Once you determine your Sky+ remote version, note down the program codes that correspond to yours below. You'll need them to program the remote to operate your LG-branded television.
Rev. 4
1584
0065
0742
0743
0459
0726
0584
0772
0683
0615
Rev. 6
1584
0065
0742
1962
0743
0459
0726
0584
0772
0683
Rev. 8
1280
1665
1246
0206
0065
1321
0742
1293
1206
1962
Rev. 9
1868
2240
2210
1451
1502
1464
1333
1280
1665
1755
Rev. 10
1868
2210
1451
1333
1280
1665
1775
2225
2704
1870
Related: Fix Sky Glass Remote Not Working
Use the Respective Codes to Program Your Sky+ Remote
Now that you have the codes, here's how you can program your particular version of Sky+ remote to operate your LG TV:
Press the TV on your Sky+ remote.
Next, press and hold the Select and Red buttons simultaneously until the top red light of your Sky+ remote flashes twice.
Enter one of the remote codes (corresponding to the revision) above, then press the Select
Now try to adjust the TV volume with your Sky+ remote to check if it works. If it doesn't, repeat the above steps but with another code.
It's worth noting that your Sky+ remote may not pair with newer LG Smart TV models, so perhaps consider upgrading to a Sky Q box or the all-new Sky Stream Puck.
Read also: IPTV on Sky Glass
Final Words
By programming your Sky remote to your TV by following the step-by-step instructions or with one of the Sky remote codes for LG Smart TV in this guide, you can enjoy the convenience of using one remote to operate both your devices.
While the programming process may take a little bit of time, it's worth it in the long run to save yourself the hassle of juggling multiple remotes. With the correct code and some patience, you can turn your Sky Q or Sky+ remote into a universal one that can control your LG television and set-top box.
If you've tried all the codes but none works, you may need to try a different programming method or get a new universal remote control. Consult the instructions manual for your LG Smart TV, or visit the Sky Help website for more information.