On October 2021, Sky introduced its first-ever Smart TV, offering its services to homes across the UK without external hardware. Unlike the provider's other product, Sky Q, which comes as a set-top box that you connect to your telly and needs a satellite dish to work, Sky Glass integrates everything into an internet-enabled television.
Available as a one-time purchase or a monthly contract term, you might be interested in getting a Sky Glass because it sounds a lot like a 4K HDR QLED TV with IPTV built-in. But for those unsure about how exactly IPTV on Sky Glass works, how much it costs, and how it's different from Sky's satellite service, this guide is everything you need to know.
What exactly is Sky Glass?
Sky Glass is a Smart TV that integrates Sky's IPTV-based services, meaning you can stream every live channel and on-demand programme over the internet. It doesn't require setting up a set-top box or satellite dish separately. Instead, Sky Glass is an all-in-one package that merges traditional linear TV and various streaming sources like Netflix, Prime Video, Disney+, and other UK catch-up platforms under one roof.
How much does Sky Glass cost?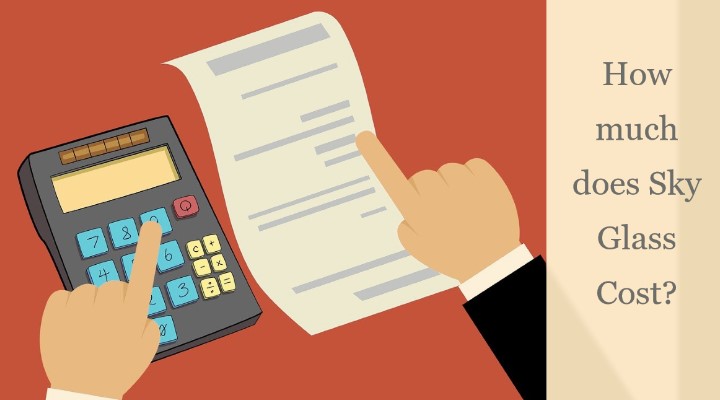 Sky's monthly finance agreements for Sky Glass last up to 48 months. However, if a two to four-year contract is too much of a burden, you can pay upfront for the TV as well.
Sky Glass is currently available in three size variants. At the time of writing, the 43-inch, 55-inch, and 65-inch models cost £649, £849, and £1049, respectively. Sky provides a 2-year warranty for every model. Here's a table for Sky Glass' upfront and contractual costs:
| | | | |
| --- | --- | --- | --- |
| Size | One-Off Price | 24-Month Contract | 48-Month Contract |
| Small (43") | £649 | £26/mo (£20 upfront) | £13/mo (£10 upfront) |
| Medium (55") | £849 | £34/mo (£20 upfront) | £17/mo (£10 upfront) |
| Large (65") | £1049 | £42/mo (£20 upfront) | £21/mo (£10 upfront) |
Of course, the one-off and contractual prices only cover the cost of the Sky Glass TV itself and not the Sky IPTV subscription. More in the following section.
How much does IPTV on Sky Glass cost?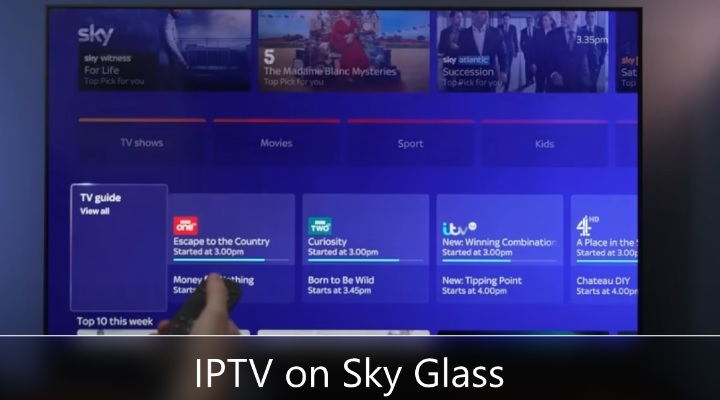 To watch your favourite channels and on-demand programmes, you'll need to pay for the Sky Ultimate TV package separately, which costs £26 a month at the time of writing.
The IPTV plan includes 380+ live channels, 150 of which are available on Freeview, such as E!, MTV, National Geographic, SyFy, TLC, etc. You can also access Sky Entertainment channels, including Sky Atlantic, Sky Comedy, Sky Max, Sky Replay, and Sky Witness.
The subscription even bundles Netflix Basic, meaning you can enjoy thousands of TV shows, movies, and originals from Netflix's massive on-demand catalogue in standard definition. Not only that, but you can also stream 10,000+ hours of additional content from Sky itself.
Let's say you get the 43-inch Sky Glass model on finance. It means you're only paying £39 every month, which includes £13 for the TV and £26 for the Sky Ultimate IPTV subscription. So if you get the 55-inch model, the monthly cost would equate to £43, whereas for the 65-inch model, it would be £47.
You can add Sky Sports (£25), Sky Kids (£6), and Sky Cinema (£11) as separate add-ons to your monthly Sky IPTV subscription. Moreover, if you're looking for HDR and Dolby Atmos content, you'll have to pay £5 extra.
It's worth noting that Sky Glass allows viewers to stream from Apple TV+, BBC iPlayer, Netflix, Disney+, ITVX, Prime Video, and many others. However, you'll have to subscribe to the services separately (except for Netflix since Sky Ultimate TV already bundles it), as you'd do on any other smart TV or streaming device.
What if you cancel IPTV on Sky Glass?
Fortunately, Sky doesn't lock you out from using Sky Glass if you decide to cancel your Sky TV Ultimate subscription. The TV features an aerial jack and is capable of receiving Freeview channels. Further, you'll still be able to access the streaming apps you're subscribed to, along with any external devices (e.g., game console, streaming media player) connected to the HDMI ports.
Is Multi-Room viewing possible with IPTV on Sky Glass?
The answer is yes. If you want to watch IPTV in places other than your living room, you can pay an extra £12 a month for Sky's Whole Home add-on. However, for each room, you'll also need a Sky Stream Puck to add Sky Glass service to a regular TV.
The Sky Stream Puck is an external streaming box that enables the Sky Multi-Room feature. It resembles a Sky Q Mini, with dimensions smaller than an Apple TV box. The best thing is that the device supports 4K playback and has the same intuitive interface as Sky Glass.
You can have up to six Sky Stream Pucks wirelessly connected to the Sky Glass TV. For instance, if you have your Sky Glass in the living room downstairs, you can set up the Pucks in up to six other TVs in your household to enjoy Sky's IPTV offerings.
Sky currently offers the first Puck for free. But if you need more, you'll have to pay £50 for each alongside set-up charges. You can, of course, also go for up to three Sky Glass TVs if you can.
And speaking of the Sky Stream Puck, It's worth mentioning that you can purchase one as a standalone streaming device to get the Sky Glass experience without buying a whole new TV.
Do you require Sky Broadband to get IPTV on Sky Glass?
As long as you have an active internet connection in your household, you can watch IPTV on Sky Glass without issues. It doesn't have to be Sky Broadband, though Sky recommends 11 Mbps at minimum for a single Sky Glass, 25 Mbps for Ultra HD/HDR content, and a minimum of 30 Mbps broadband speed for multi-room.
Can you record IPTV on Sky Glass?
Sky Glass doesn't have mass storage like Sky Q set-top boxes, meaning you can't record IPTV content. However, the TV's "Playlist" feature compensates for the missing DVR capabilities. Here's how it works.
Suppose you find something on a channel you want to watch later. You can press the Plus (+) button on the remote to add the programme to a dedicated Playlist section on the Home screen. If it's a TV show, you'll be able to access the latest episode on demand regardless of whether it comes from Sky or one of the catch-up or streaming services. It leaves little to no reason for a dedicated recording feature or local storage.
How is IPTV on Sky Glass different from Sky Q?
Sky Q set-top boxes require setting up a satellite dish for the live channels, a TV to plug it into, and a broadband connection for streaming on demand. Sky Glass is an all-in-one Smart TV that streams everything over the internet. Both allow multi-room viewing through the Sky Q Mini or Sky Stream Puck. Content availability is more or less the same across both Sky TV platforms, though Sky Glass has a significantly better interface.
Keep in mind that Sky Glass and Sky Stream Pucks rely on an active broadband connection, unlike Sky Q, which relies on satellite signals. So if your internet is somehow disrupted, you won't be able to watch the Sky channels over IPTV or access any streaming services for the time being.
Hence, the only reason to choose Sky Q over Sky Glass is if you're in an area with poor broadband coverage. Alternatively, you may set up a Freeview aerial with your Sky Glass to get basic channels in case the internet goes down.
Can you get Sky IPTV on other devices?
If you want to watch Sky's channels on your current Smart TV or streaming device without going all out on a Sky Glass or Sky TV subscription, your best bet is a NOW plan.
Sky's sister brand NOW offers a stripped-down version of Sky's IPTV experience on devices you already have, such as your phone, tablet, computer, game console, or Smart TV. Supported devices include Apple TV, Android TV, Chromecast, Fire TV, Roku, LG and Samsung Smart TVs, PlayStation and Xbox consoles, etc.
You can choose from NOW Entertainment, Cinema, and Sports membership passes to access live channels (e.g., Sky Atlantic, Sky Max, Sky Sports) and 10,000+ hours of movies and TV shows on-demand over the internet. It's best suited for those who want the content of Sky without signing a TV contract or buying new hardware.
Sky Glass Setup- The FUTURE of TV
Final words
That's all we have to tell you about IPTV on Sky Glass. Streaming is clearly the future for Sky and, to some extent, its competitors since there's little reason for it to go back to satellite TV services.
As for the Sky Glass TV, if you're ready to ditch satellite and embrace IPTV for the better, it's a no-brainer for the most part. It's dishless, has a 4K QLED panel, and a 3.1.2-channel Dolby Atmos speaker system built into a stylish aluminium chassis.