Binging The Office on Netflix on Peloton treadmill or bike can be a refreshing change of pace from the video training guides. Although Pelton offers interactive mini-games to make workout sessions more fun, users must pay for a costlier membership to access them. Plus, they really aren't as entertaining as streaming your favorite Netflix shows, especially when you need some diversion from your workout goals.
In fact, most Peloton devices, including Bike, Bike+, and Tread, feature a large, bright, touch display, perfect for streaming live and on-demand content. However, these are essentially big Android tablets that don't officially run Netflix but instead Peloton's pre-existing services, which only provide access to a limited library of fitness-themed content.
Users aren't supposed to browse the web or use third-party streaming services on Peloton devices, but there are a few unconventional workarounds to circumvent such restrictions. This guide will walk you through installing Netflix on Peloton step-by-step.
How to Install Netflix on Peloton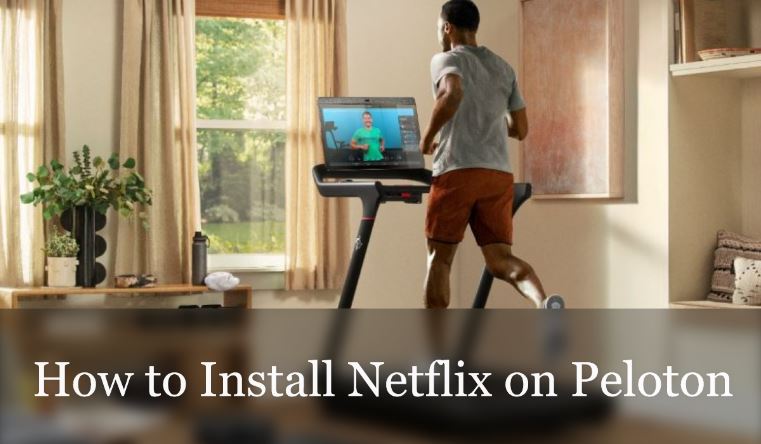 Before we dive deep into the installation process of Netflix on Peloton, it's important to note that Peloton doesn't endorse users to sideload third-party apps on their devices. Hence proceed at your own discretion.
With that aside, let's continue with the step-by-step tutorial. We'll use the Peloton Bike+ as an example, but the following instructions will also work for original Peloton Bike and Peloton Tread users.
Enable Developer Mode on Peloton
The first thing you need to do is enable Developer Mode on your Peloton tablet. Make sure you're logged into your profile, then perform these steps:
Tap Settings at the upper-right corner of your Peloton Home screen.
Select Device Settings in the pop-up menu that appears.
Next, tap System in the Settings menu, followed by the About tablet option on the top.
Scroll down to the bottom and repeatedly tap on the Build number until you see the "You are now a developer" toast notification.
Now go back to the System page, where you'll see the new Developer options. Tap it to continue.
Scroll to the "Debugging" section and tap USB debugging to enable it. Choose OK to confirm.
Congrats! You are now one step closer to installing Netflix on Peloton. The upcoming steps require some advanced computer knowledge, but we'll try to make it easy.
Connect to Peloton from your PC
The next step requires connecting your Peloton to a Windows PC or Mac using a USB cable. The Bike+ has a USB-C port, meaning one can use a Type-C to Type-C or a Type-C to Type-A USB cord. Original Peloton Bike owners can connect their tablet to the PC using a Micro-B to Type-A USB cable.
Once they're connected, you should see a dialog box appear on your Peloton screen, prompting you to "Allow USB debugging." Tap the box next to the "Always allow from this computer," then select OK. Now perform the following steps corresponding to your computer's operating system:
macOS
Go to this Android Developers site and scroll down to the Downloads section. Then, click where it says "Download SDK Platform-Tools for Mac."
Scroll through the terms and conditions, agree to them by checking the box, and click the "Download…" button.
Now go to your Downloads folder, extract the archive, and drag the platform-tools folder to your desktop.
Open Launchpad on your Mac, find Terminal in your apps list and launch it.
Type "cd" (without the quotes) in the Terminal window and press Space. Then drag the platform-tools folder in the Terminal window and press Enter. Doing this will switch to the Platform Tools directory within the Terminal app.
After that, type "./adb devices" (again, without the quotes) to confirm your Peloton is connected to your Mac over USB. It should show you a device serial number under where it says "List of devices attached."
Windows
Open this Android Developers page in a new tab and navigate to the Downloads section.
Choose "Download SDK Platform-Tools for Windows," accept the terms and conditions, and click the "Download…" button.
Visit your Downloads folder from File Explorer and extract the platform-tools folder from the archive.
In the root directory of the platform-tools folder, right-click in the empty space while holding the Shift key, then select "Open in Terminal" or "Open PowerShell window here."
In the Terminal or Powershell window, type "adb.exe start-server" (without the quotes) and press Enter.
Next, type "adb devices" to verify whether your Peloton is actually connected to your PC or not. You should see a random serial number under "List of devices attached."
You may now proceed to the next set of steps, which will guide you through the sideloading process of a launcher on your Peloton. Make sure not to close the Terminal window yet.
Read: Fix Peloton No Command Issue
Install a launcher on Peloton
The Peloton tablet doesn't have an app drawer, so before you install Netflix, you must sideload a launcher first. We'll go with the Nova Launcher, though you may install something else. Here's how to do it:
On your computer, visit this APKMirror website (https://bit.ly/3P3kN2p) and tap the Download APK button to download the latest version of Nova Launcher.
In the Terminal window, type "./adb install" (Mac) or "adb install" (Windows) and press Space.
Next, go to your Downloads folder and drag the Nova Launcher APK file to the Terminal window.
Once you press the Enter key, you should see "Performing Streamed Install," followed by a "Success" message. It means you've successfully installed Nova Launcher on your Peloton.
Now tap the Peloton logo at the bottom of the screen. A dialog box will ask you to choose between either Peloton Launcher or Nova7. Select the second option and tap Always.
Finally, go to the first-time wizard to customize the launcher. Of course, it's completely optional, and you can skip it by scrolling down to the bottom and tapping the check mark on the right.
Assuming you've followed the steps correctly, you should return to the Peloton Home screen again. To access the Nova Launcher, go to Settings > Device Settings, then tap the Peloton icon in the bottom navigation bar. It'll send you to the Nova Launcher, from which you can launch any third-party apps you install, including Netflix.
Install Netflix on Peloton
We'll now install Netflix on Peloton the same way as the launcher. The process goes as follows:
On your browser, open this APKMirror website (https://bit.ly/3zmz18z) in a new tab and tap Download APK to download the latest version of the Netflix Android app.
As before, type "./adb install" (Mac) or " adb install" (Windows) in the Terminal window, press Space, and drag the Netflix APK file into the window.
Press the Enter key and wait for the "Success" text to appear.
You've successfully installed Netflix on Peloton. To access the Netflix app, swipe up on the Nova Launcher Home screen to open the app drawer. You'll see the Netflix app icon there. You can long-tap the icon and drag it to the Home screen for quick access.
We also recommend dragging the Peloton launcher to the Home screen so you can return to the stock Peloton experience whenever you want.
Steps to log into Netflix on Peloton
Once you have Netflix on Peloton, the only thing you've left to do is log into your Netflix account. Of course, you'll require to sign up for a Netflix subscription to access the vast library of movies and shows. Assuming you already have one, follow these steps:
Launch Netflix from the Nova Launcher app drawer on your Peloton tablet.
Tap SIGN IN in the top-right corner of the screen.
Use the on-screen keyboard to enter your Netflix account credentials. Then, tap the Sign In button.
Finally, choose your preferred Netflix profile and start watching!
Similarly, you can install Google Chrome or any other web browser on your Peloton to browse the web and access the web versions of your favorite streaming services. Not to mention, you can install a third-party app store like APKPure to install additional apps and the latest app updates.
Similar Peloton Guides
Are there any downsides to using Netflix on Peloton?
Netflix on Peloton isn't officially supported, hence the rather complex workaround. And since the Netflix app is inaccessible from the Peloton Home screen, it's very unintuitive to open a separate launcher for just launching Netflix.
Furthermore, you don't get to see all your statistics from the Peloton UI during workouts when watching Netflix. You'll need something like an Apple Watch and connect it to the Peloton app to see your progress on the wrist.
And while there's an unconventional method to enable split-screen functionality on a Peloton tablet, the Netflix app refuses to work in split-screen mode, even though the Peloton launcher works just fine. Lastly, you'll need a computer to sideload Netflix on Peloton.
Read – Whoop vs Apple Watch (Comparison): Which One Is Better?
To Conclude
Sometimes it's nice to have access to supplementary content on a Peloton device, especially when you feel like exercising rather than slouching on the couch, and at the same time, watching the new season of Stranger Things on Netflix. This guide to installing Netflix on Peloton should be helpful in such scenarios.
With all that said, Peloton's terms of service prohibit third-party app installation, meaning you may end up losing access to Peloton's services and void your device's warranty should they somehow find out. Thus, we advise you to proceed with utmost caution.