What To Do If I Lost My Whoop Strap? Users losing their Whoop Strap mid-activity or misplacing them is a more common occurrence than one would expect. Chances are you've managed to do the same to your Whoop, which explains your visit.
Let's get this straight: A Whoop Strap doesn't have GPS built-in. Instead, it uses your phone's GPS to track your activities. It makes it impossible to track down a lost Whoop Strap. If only Whoop implemented a "Find My Device" feature in their app, it could have been easier for the users.
So you've looked everywhere but couldn't find your Whoop Strap. What now? If you have lost your whoop, you don't need to worry, as we've prepared this guide to walk you through a few things you can do after losing your Whoop Strap.
What To Do If I Lost My Whoop Strap?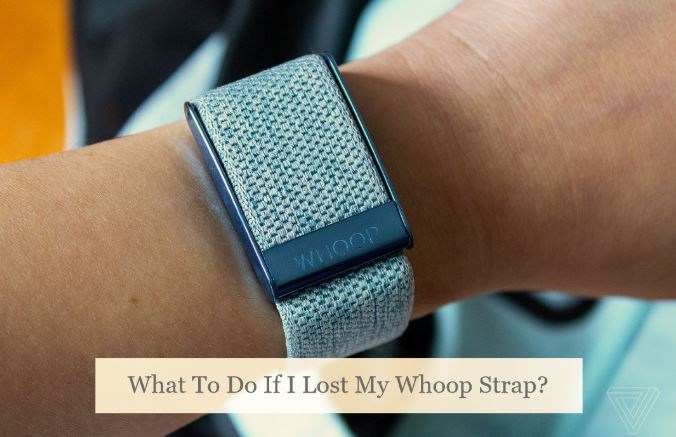 I lost my Whoop Strap. What can I do now? The Whoop Strap, just like many other fitness trackers on the market, allows for heart rate, sleep, and blood oxygen saturation (SpO2) measurements, supports automatic exercise and workout tracking, and more. It's a technological marvel in its own right, but as we mentioned earlier, the lack of built-in GPS is one of its many downsides.
It means that when your Whoop is lost or misplaced, there's no way to locate it via the mobile app. Now all you can do is retrace your activities and search for the Strap in places you've been before losing it.
Another thing to do is check whether you can still see your Whoop Strap connected to your phone. Since the Strap uses BLE (Bluetooth Low Energy) for data transmission, the radius of the search area should be within 100 meters. When you lose connection during the search, go back to where you began, and your phone should auto-connect to the Strap.
If you can't locate your Whoop in your house, check where you usually leave it after taking it off, including the bedroom and bathroom. Some Whoop users on Reddit found theirs between sofa cushions, in the laundry basket, and on their car dashboards.
Assuming you couldn't track down your Strap even after a thorough search, you have no choice but to request a paid replacement. Since your previous health and fitness data are in sync with the Whoop app, a new Whoop Strap is all you need to continue from where you stopped before.
Can I request a replacement for my lost Whoop Strap under warranty?
Whoop provides a limited warranty for its trackers, covering manufacturing defects and faulty components for one year from the activation date. Unfortunately, the policy doesn't cover loss or damage through negligence or misuse, meaning you can't ask for a free replacement for your lost Whoop Strap. In fact, here's an entire list of things Whoop's limited warranty doesn't cover:
Lost or stolen Whoop Strap(s)
Damage of failure due to misuse, neglect, improper use, or any abnormal use contrary to Whoop's instructions
Normal wear and tear, cosmetic damage
Unauthorized modification to the Strap or attempted third-party repair
Alteration of the original model name and serial number
In simple terms, Whoop won't be responsible for replacing or repairing your Whoop Strap if you violate their limited warranty policy. They also offer a 30-day return policy, but even in that scenario, you must return the original tracker to get a refund. Hence, Whoop is unlikely to fulfill your replacement request for your lost Whoop Strap.
What about a non-warranty Replacement?
Whoop asks for a $120 (USD), €100 (EUR), or $176 (AUD) "restocking fee" should you want a non-warranty replacement for your Whoop Strap. That said, the eligibility depends on the two following criteria:
You must have an active Whoop membership with no unpaid dues.
You need a valid payment method linked to your Whoop account to pay the restocking fee.
If you meet both conditions, simply log into your Whoop account and head over to the "Lost Strap" section from the Membership page. Next, fill in the shipping and billing details and pay the restocking fee.
Alternatively, you may contact Whoop support via their e-mail (support@whoop.com) to request a non-warranty replacement. They shall reach out to you with an invoice for the new Strap. Once you make the payment, you'll receive a confirmation mail. Whoop should deliver your replacement Strap within a week or so.
More Whoop Guides
How can I avoid losing my Whoop Strap again?
You can prevent misplacing your Whoop Strap by not taking it off often. After all, it's a fitness tracker users can wear throughout the day and night. The new Whoop 4.0 is also IP68 dust-proof and water-resistant at up to 10 meters (~32 feet) of depth, meaning you can wear it during activities like swimming, hand-washing, and showering.
The Whoop Strap should sit snugly about an inch above your wrist. We advise wearing it tight enough to ensure it doesn't fall off your wrist – but not too tight as it can disrupt blood circulation.
Optionally, you can buy the Bicep Band to wear your Whoop higher up on your arm for extra security. With the tracker facing away, simply slide it up to the widest part of your bicep, tighten the band, and close the clasp.
Can someone use my Lost Whoop Strap?
Unlike fitness bands from Fitbit, Garmin, Amazfit, and other brands, the Whoop Strap is pretty much a paperweight without an active subscription. Moreover, when it's already linked to a Whoop account, no one else will be able to use the device. Thus, even if you lose your Strap or someone tries to flip it on the marketplace, it would be worthless to others.
Related – Whoop vs Garmin Comparison: Which One Is Best?
Whoop Lost Strap:

In Summary

If you've lost your Whoop Strap, your best bet is to search for it thoroughly in places where you've been while wearing it or request Whoop for a non-warranty replacement. As previously stated, you can't track your Whoop using the companion mobile app due to its lack of GPS capabilities.

Additionally, we suggest maintaining proper care for your Whoop Strap and taking it off often to prevent it from losing again.