Fitbit and Whoop are two names synonymous with the fitness wearables market. Both claim to be the ultimate health and fitness assistant and have similar workout tracking and wellness monitoring capabilities. Both devices can intricately assess your activities and encourage you to lead a healthy lifestyle.
However, it's also worth pointing out the minor and significant differences between the two, especially if you're new to the wearables game. Fitbit and Whoop have their strengths and weaknesses, some of which can affect one's purchase decision. For instance, Whoop lacks a screen, while most Fitbits do.
In fact, the differences go way beyond that, which is why you need to follow this Fitbit vs Whoop comparison guide till the end. Of course, Fitbit sells a wide range of trackers and smartwatches, whereas Whoop only has one to offer. To make it fair, we've chosen to compare Fitbit Charge 5 to Whoop 4.0 as they share the same wearable form factor. Here's how both fare against one another.
Fitbit vs Whoop: Design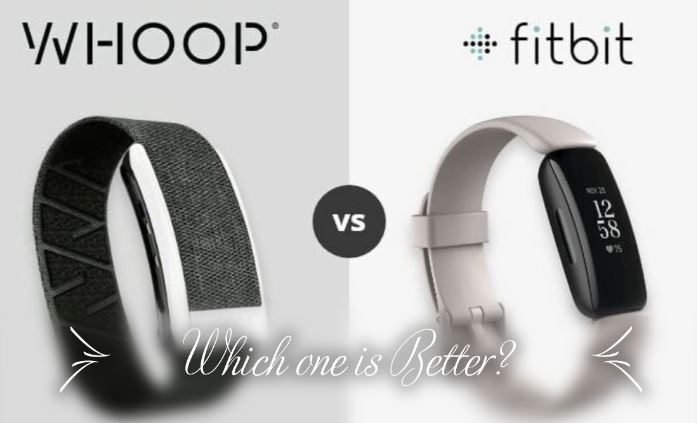 We'll kick off this comparison with the design, where the two wearables differ the most. The Fitbit Charge 5 and Whoop 4.0 feel very premium and provide all-day comfort. Both are unlike those bulky smartwatches that cover the entire wrist.
Fitbit Charge 5
The Charge 5 is slightly slimmer than the latter and still features a 1.04-inch bright and colorful OLED touchscreen showing off basic stats, on-wrist notifications, and allowing access to various functionalities. It also supports Always-On-Display should you prefer to keep the screen showing time or some health metric at all times.
The Charge 5 capsule has an aluminum construction that feels cold to the touch, and it uses a clever spring-loaded latch mechanism letting users swap the bands. Fitbit sells a wide variety of straps for every occasion. And unlike the Versa and Sense models, the Charge 5 doesn't have a physical side button. Having the touchscreen as the only input sometimes causes navigational hindrance.
Like every current-gen Fitbit, the Charge 5 is water-resistant for up to 50 meters, ideal for swimming, showering, and household chores that involve water.
Reading tip: Can You Download Apps on Fitbit Charge 5?
Whoop 4.0
The Whoop band has a rather bold yet controversial design. It's unlike any other fitness tracker on the market right now. This screenless tracker sits snugly under a knitted, textured band, held in place with a stylish metal buckle. It takes some effort to wear it on the wrist initially, but once it's there, it blends in more like a fashionable wristband than most fitness trackers.
Like Fitbit, you can replace the knitted band with other Whoop accessories for different looks. You can also place the tracker somewhere other than the wrist with the bicep bands, arm sleeves, and the special garments available on the Whoop Store. However, Whoop strongly recommends wearing the tracker on the wrist for the first 30 days to set your baseline metrics before wearing it in other places.
The Whoop 4.0 looks exceptional in its own right. The option to wear it elsewhere on the body other than the wrist appeals to many. Sure, it doesn't have a screen and requires users to check the app for progress, but some people may find it beneficial as it doesn't cause unnecessary distractions.
Lastly, the Whoop 4.0 is IP68-certified, meaning it's dustproof and water-resistant. It can survive submersion up to 10 meters of depth for two hours. You may like our guide on How to Clean Whoop Strap.
Fitbit vs Whoop: Fitness & Health Tracking
Fitbit and Whoop boldly claim their trackers best-in-class for fitness and health tracking. While they're different in many ways, both provide a robust suite of wellness tools to keep users informed about their physical performance.
Fitbit Charge 5
The Charge 5 is the most advanced fitness tracker in its class, borrowing cutting-edge sensors from the Versa and Sense smartwatches. It can keep track of your heart rate 24/7 (even during workouts), steps, calories burned, and sleep. It's equipped with a built-in GPS that conveniently tracks your route during outdoor activities without your phone. The motion sensors (gyroscope and accelerometer) track your indoor activities.
Fitbit Charge 5 also features an impressive array of health sensors. It includes an FDA-certified ECG sensor for in-depth heart rate measurements, an EDA sensor that detects electrodermal activities to estimate stress levels and skin temperature, and a SpO2 sensor for blood oxygen saturation measurements.
The ECG sensor on the Fitbit can detect early signs of cardiac diseases like atrial fibrillation, which causes irregular heart rhythms and increases the possibility of stroke and heart failure, and results in other heart-related complications.
The optical HR sensor, infrared SpO2 monitor, and temperature sensor keep track of your blood oxygen levels and skin temperature during nightly activities. The data can be quite helpful in predicting signs of common illnesses and sleep disorders like sleep apnea.
The Charge 5's EDA (Electrodermal Activity) sensor can identify tiny changes in your skin's sweat level to measure your bodily stress response. The Fitbit app then combines the metrics with sleep and HRV (Heart Rate Variability) data to estimate your daily stress management score.
Fitbit provides 20+ workout modes built in the Charge 5, and it supports auto-exercise recognition for several indoor and outdoor activities. It's comparable to a dedicated sports watch, providing high accuracy and comprehensive data sets. But it's far from perfect and can be inaccurate sometimes.
We can say nothing new about the Fitbit app, except it offers a well-rounded user experience and is easy to use. However, users require the Fitbit Premium membership to unlock additional metrics, scores, workout modes, audiovisual guides, personalized coaching tips, and more.
Whoop 4.0
The Whoop 4.0 band is no slouch either when it comes to wellness tracking. It can track resting heart rate, heart rate variability, breathing rate, SpO2 levels, skin temperature, and monitor your sleep.
However, it doesn't count steps and instead focuses on your cardiovascular load. Plus, it doesn't have GPS and relies on your phone's GPS to track outdoor activities. The Whoop band also auto-recognizes a variety of exercises and activities like Fitbit.
Unlike a Fitbit, it doesn't provide detailed assessments of your actual workout sessions. Instead, it highlights the effects on your body post-workout to tell you how much rest you need before the upcoming training regimen. Whoop is dead-focused on delivering this particular data that is very important to professional athletes.
The tracker's advanced heart rate sensor and ever-improving algorithm sets are what power Whoop's comprehensive "Strain" metric. The device quantifies your daily cardiovascular exertion and HR data to estimate your strain and how it affects your body's recovery the next day.
One key aspect where Whoop triumphs over its competition is sleep tracking. The tracker can identify your sleep stages and calculate the collected data with other health metrics to provide a sleep score between 0 to 100 the following day, along with detailed mindfulness insights. Furthermore, when the device thinks you're fully recovered or have reached your sleep goal, it wakes you up with a quiet, haptic alarm.
It's important to note that none of the sensors have FDA approval, so users have no choice but to trust Whoop's internal studies. Nonetheless, its Health Monitor feature delivers fairly accurate metrics and alerts when users are showing early symptoms of common illnesses. The Whoop app also allows data print-outs for sharing with physicians.
Related – Can you wear Whoop on your Ankle?
Fitbit vs Whoop: Battery Performance
The two fitness bands share similar battery life. However, the Fitbit Charge 5, despite having a screen and built-in interface, can last a day or two more than the Whoop 4.0 tracker. Of course, it's assuming you aren't using the built-in GPS or Always-On-Display feature, both of which cut the standby time in half or less. Charging the Charge 5 takes about two hours.
The Whoop 4.0 promises a 5-day battery life, which isn't too shabby either. Although it doesn't support fast charging, the unique battery pack enables users to charge their Whoop without ever taking it off. It clips right on top of the tracker without looking awkward. You can top up the battery pack via a USB-C charger.
Fitbit vs Whoop: Smart Features
Fitbit wins this one, no doubt. The Charge 5 has a color screen that lets you view your daily metrics, choose workout and exercise modes, and show you the time like a traditional wristwatch.
Plus, you can view incoming phone notifications on the screen and respond to them with pre-defined replies. The tracker also enables contactless NFC payments. And with the newest firmware, Fitbit has also added a "Find Phone" feature that lets users ping and locate their phones.
None of the following features are available on Whoop 4.0. Users must check their fitness and health data via the companion Android/iOS app. The device exclusively focuses on capturing your biometrics which it does really well.
Learn more: What To Do If I Lost My Whoop Strap?
Fitbit vs Whoop: Pricing & Verdict
We wrap up this Fitbit vs Whoop comparison with some discussion on pricing. If you already know how much these two wearables cost, odds are you've made your purchase decision. Assuming you haven't yet, here's what you need to know about the pricing of the Fitbit Charge 5 and Whoop 4.0.
The Whoop 4.0 is exclusively available through the Whoop Membership, which starts at $30 a month with a minimum 12-month commitment. Alternatively, you can save $60 by opting for the Annual membership and paying $300 upfront.
The Fitbit Charge 5, in comparison, is a one-time purchase of $150, at least at the time of writing. That's literally half of what you would pay for the Annual Whoop membership, and the Fitbit Premium subscription is completely optional. For the yearly fee of Whoop 4.0, you can buy the flagship Fitbit Sense smartwatch!
Hence for the general consumer, The Fitbit Charge 5 is the best fitness band of the two. It's affordable in the long term, features a balanced mix of fitness tracking and health monitoring, and functions as an everyday wristwatch.
But if you already own a smartwatch and are searching for a stealthy fitness band to gain more insight into your sleep, strain, and recovery metrics, Whoop 4.0 is the way to go. You'll love the in-depth wellness analysis its "Health Monitor" feature offers. And if you own an iPhone, you'll be glad to know that Whoop has excellent Apple Health and Strava integration.