This tutorial will teach you to watch Crunchyroll on Samsung smart tv. If you're an avid anime fan, odds are you're heard of Crunchyroll before. It's a massive streaming service synonymous with top-notch animated Japanese programming, making it the go-to destination for classic and current shows.
As the top premier dedicated anime streaming platform, Crunchyroll offers an extensive collection of anime series and films alongside a good selection of Asian dramas. It caters to die-hard anime enthusiasts and those new to the genre, providing diverse content to suit all tastes and preferences.
When craving captivating entertainment from the comfort of your home, look no further than Crunchyroll on Samsung Smart TV. This guide takes a closer dive into everything you need to know about the streamer and how to watch Crunchyroll on your Tizen-enabled Samsung TV.
What's Crunchyroll?
Crunchyroll is a streaming platform similar to popular services like Netflix, Hulu, and Disney Plus. However, unlike its counterparts, it's wholly dedicated to providing a vast array of anime titles, making it a haven for anime enthusiasts and anyone interested in the magical world of Japanese animated storytelling.
Crunchyroll boasts an extensive anime collection, encompassing a wide range of vintage series and the latest episodes being simulcasted. With over 30,000 episodes and a library of more than 1,000 movies, there's no shortage of content for you to explore and enjoy.
What sets Crunchyroll apart is its flexibility in audio options. You can watch the content as the Japanese makers envisioned it with subtitles or opt for dubbed versions featuring voice acting in English and various other languages.
Another one of Crunchyroll's notable strengths lies in its swift episode additions. It stands out as one of the fastest streaming platforms outside of Japan to bring you the latest episodes of your favourite ongoing series.
All this makes Crunchyroll a go-to destination for staying up-to-date with new releases and following the captivating narratives of your favourite animes. The streamer also features a sizeable manga library for those who prefer the static form of storytelling.
Get Crunchyroll on Samsung Smart TV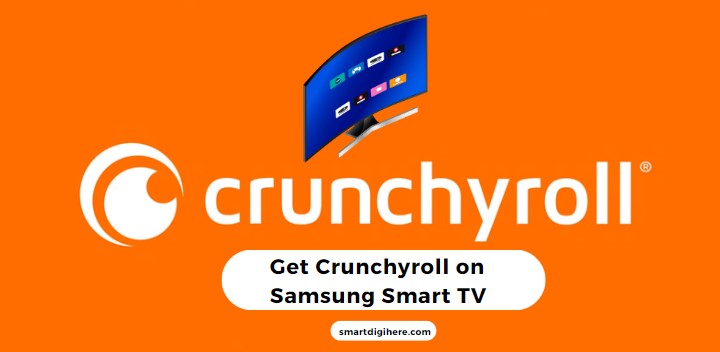 The Crunchyroll app is natively unavailable for Samsung Smart TVs, meaning you won't find it directly in the app store of your TV. However, there's a clever workaround for Apple device users who own an AirPlay 2-enabled Samsung TV model (2018 or newer).
Assuming you have a compatible Samsung Smart TV with AirPlay functionality (check the list of supported models here), you can utilise the Crunchyroll app on your iPhone or iPad to cast content onto your TV screen over AirPlay. Here's how:
Ensure your Samsung Smart TV is powered on and is connected to the same Wi-Fi or home network as your iPhone or iPad.
Download Crunchyroll from the App Store on your Apple device if you haven't already.
Open the streaming app from your device's Home Screen and go through the on-screen prompts to register and sign in.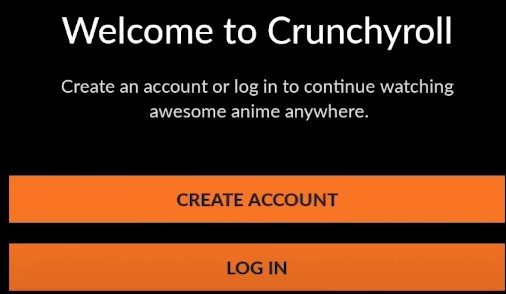 Choose the episode or movie you want to watch from the Crunchyroll library.
Tap the player window once to bring up the media options. You should see the AirPlay icon (rectangle with an upward-pointing arrow at the bottom) along the top-right corner.
Tap on AirPlay, then choose your Samsung TV from the list of devices.

You may need to verify an AirPlay Passcode to start streaming.
That's it! You should now be able to stream Crunchyroll on your Samsung Smart TV. For media controls, use the options within the mobile app.
Troubleshooting
If your Samsung Smart TV doesn't appear in the AirPlay menu even though it's on the same network as your iPhone/iPad, either your model lacks the AirPlay 2 functionality, or it's turned off from your TV settings. It's likely the latter case if you've double-checked your model for AirPlay support. Use these steps to get it working:
Press the Settings remote button (cog/gear symbol) and head to the All Settings
Navigate to the General tab, scroll down the options, and select Apple AirPlay Settings.
Ensure AirPlay is set to "On" and the Require Code option to "First Time Only".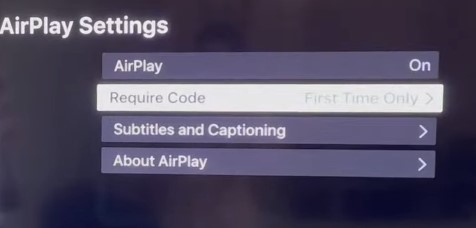 Now you should see your Samsung TV in the AirPlay menu within the Crunchyroll mobile app. Note you'll need to verify the passcode only once.
What About Android Users?
Samsung TVs don't have built-in Chromecast, meaning you can't use the Crunchyroll app on your Android phone or tablet to cast content on your TV. And for those wondering: videos don't play back on the big screen when mirroring the Crunchyroll mobile app via Smart View or the equivalent screen mirroring feature.
Your best bet is to use a Chromecast dongle or Android TV box with your Samsung Smart TV, to which you can send Crunchyroll content via the mobile app or website. Chromecasting works via the Crunchyroll iOS app as well.
There are also native Crunchyroll apps for Android TV (and Google TV), Amazon Fire TV, Apple TV, and Roku streaming players, plus the PlayStation 4/5, Xbox One / Series, and Nintendo Switch consoles. Connect any of these devices to your Samsung TV over HDMI and enjoy streaming your favourite anime titles.
FAQ: Can I watch Crunchyroll via the Samsung TV Internet Browser?
Not anymore. While the built-in Internet Browser on Samsung Smart TVs allowed users to stream via the Crunchyroll website, the recent security updates to the site have closed the doors to this workaround.
At the time of writing, going to crunchyroll.com via the Samsung TV Internet Browser only leads to the site loading forever, not showing any content. This issue may be resolved once Samsung updates its TV browser app to support the more updated security standards.
Is Crunchyroll Free to Watch on Samsung TV?
Crunchyroll stands out in the streaming landscape with its impressive user base of 120+ million registered users in over 200 countries across the globe, with a remarkable 10 million opting for the paid subscription. However, what truly sets it apart from its competitors is its free, ad-supported tier.
Signing up for a free account gives you access to a plethora of anime content ready to be streamed at your convenience without any financial barriers – albeit with frequent adverts and only in standard definition (480p). You'll also be waiting a week to catch up with the new episodes as they aren't instantly available with the free membership.
Of course, Crunchyroll offers three premium subscription plans at different prices, starting with the most basic Fan package, which removes advertisements, unlocks access to the entire content catalogue of anime, dramas, and manga, and allows streaming in up to 1080p Full HD on a single device.
Then there are the Mega Fan and Ultimate Fan packages that up the simultaneous stream count to four and six, respectively, and offline mobile downloads, along with special Crunchyroll Store discounts and other benefits. All plans offer a 14-day free trial for new subscribers to try out.
You May Like:
Bottom Line
So, you learned how to Get Crunchyroll on Samsung Smart TV. For avid anime fans who own a Samsung Smart TV, signing up for Crunchyroll is a must, especially considering its recent acquisition of its primary competitor, Funimation. The best part is you can access a significant portion of Crunchyroll's offerings for free, and with its reasonably-priced subscriptions, enjoy ad-free viewing at a higher quality.
Whether you find yourself deeply immersed in the world of Bleach, Gundam, Naruto, or One Piece, plan to get into worldwide smash hits like Attack on Titan, JoJo's Bizarre Adventure, or One-Punch Man, or are interested in all-new originals like The God of High School, Tower of God, Shenmue, Fena: Pirate Princess, and TONIKAWA, Crunchyroll's ever-expanding catalogue ensures there's something for every fan.
Crunchyroll is available in over 200 countries, but the availability of specific anime shows and movies varies by region. Streaming licensing rights and other factors can impact the content's availability in your territory.