In this tutorial, we will share steps to install and activate disney plus on samsung smart tv. Launched in 2015, it didn't take long for Hotstar to become one of the most prominent players in the Indian over-the-top streaming business. Then came the Disney acquisition in 2020, resulting in the merger of Hotstar with its parent company's flagship global streaming platform, Disney Plus. The service is now widely known as Disney+ Hotstar.
Hotstar features a growing on-demand library of Indian and overseas content, with plenty of must-watch originals. Luckily, it's accessible to almost everyone with an internet connection, as the streaming app supports many devices. It includes phones, tablets, computers (web version), smart TVs, and media streaming boxes.
If you own a Tizen-powered Samsung TV (2018 models and onward), you can also get Disney+ Hotstar on it and enjoy its vast catalog of on-demand programming on the big screen. This guide will show you exactly how to install Hotstar on Samsung Smart TV. It also includes detailed instructions to help you sign up for a subscription and activate the app.
What Does Disney Plus Hotstar on Samsung Smart TV Offer?
The Hotstar app on Samsung Smart TV offers thousands of hours of ad-supported and premium on-demand content featuring Indian and international programming.
While its streaming library originally consisted of the typical run-of-the-mill regional soap operas and reality shows from Star India's pay-TV channels, Disney+ Hotstar now provides a growing selection of original Indian specials and the latest Bollywood and regional movies, along with a wealth of new and existing international content from premium networks like Fox, HBO, and Showtime.
Furthermore, Hotstar gives you access to Disney Plus' exclusive titles and a sizeable catalog of family-friendly movies and shows. The originals include all the fantastic live-action and animated titles from the biggest Disney-owned franchises, including Marvel, Star Wars, and Pixar. Nearly all overseas Disney content on the platform is available in English and local Indian languages such as Hindi, Tamil, and Telegu.
Hotstar is also home to a bunch of live sports coverage, especially cricket tournaments like the Indian Premier League and ICC T20 World Cup. Other sports include football, kabaddi, hockey, martial arts, etc.
Check out:  Watch ITVX On Samsung Smart TV
Subscription Plans
In India, Disney+ Hotstar has two subscription tiers, Super and Premium. The cheaper Super subscription is available only as a yearly package, and it includes adverts, limits streaming quality to 1080p, and allows for two simultaneous screens.
The Premium-tier subscription is payable on a monthly or yearly basis. It removes ads from on-demand content, unlocks 4K streaming, and adds two additional device streams over the Super plan. Premium subscribers also get early access to the latest Indian movies.
How to Install Hotstar on Samsung Smart TV?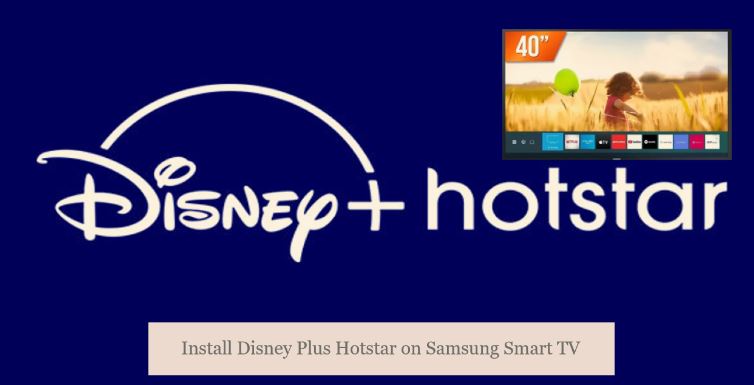 Newer Samsung Smart TVs come with a few preloaded apps. Hotstar isn't one of them. Assuming your Samsung TV is connected to the internet over Wi-Fi or Ethernet and linked to your Samsung account, installing Hotstar will take you a few steps. Here's how you do it:
First, press the Home button on your Samsung Smart Remote to bring up the Smart Hub panel or the Home dashboard.
Next, scroll to the left end of the apps row to highlight and click the icon that says "APPS."
Cycle through the apps featured in the "Editor's Choice" section and select Disney+ Hotstar.
If you can't find it, click the Search (magnifying glass) icon in the upper-right corner to search for the Hotstar app.
On the following page, where you should see the app description and screenshots, hit the Install button.
Once installed, a pop-up box will appear in the top-right corner, asking you to Open the app. We recommend clicking Close, then the Add to Home option on the description screen so that you can quickly launch it from the apps row that opens as you press the Home button.
To move Hotstar to the front of your apps list, select the Edit List option on the right, navigate to the Hotstar icon and click Move, then use the remote control's left or light directional buttons to place it in your preferred spot.
How to Activate Hotstar on Samsung Smart TV?
You can log into Hotstar on your Samsung Smart TV with or without an active membership, though we recommend paying for the Super or Premium plan to unlock access to some of the most binge-worthy titles on the platform.
Go to hotstar.com from your phone or computer web browser, click the Subscribe button, and pick your desired Disney+ Hotstar plan. You'll then need to enter and verify your mobile number with a one-time generated password, go through the rest of the account creation process, and enter your billing info to pay for the subscription.

Once you have a Hotstar account, follow these steps to activate the app on your Samsung Smart TV:
From the Smart Hub or Home dashboard panel on your Samsung TV, launch the Disney+ Hotstar app.
After the welcome splash screen, the app will display a four-digit code on the screen, which is necessary for the activation process.
Visit tv.hotstar.com from your phone or computer browser and log in to your Disney+ Hotstar account if you haven't already.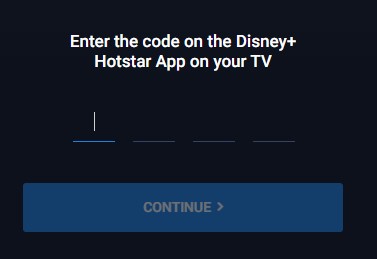 Once logged in, enter the code shown on the Hotstar app on your Samsung TV in the provided field and click Continue.
Finally, click on the Start Watching button in the Hotstar TV app. You can close the activation page.
That's how easy it is! You can stream hundreds of movies, shows, web series, documentaries, and more on-demand on your Samsung Smart TV via Disney+ Hotstar.
Important Note
Telecom and broadband internet providers like Airtel, BSNL, Jio, and Vi include monthly and annual Disney+ Hotstar Premium subscriptions with some of their OTT plans. If you happen to pay for one of such plans, you don't need to purchase another subscription separately. Just log in to Hotstar with your registered mobile number, and you're good to go.
Read Also: Watch Netflix on Peloton
Final Words
This step-by-step guide has highlighted how to install Disney Plus Hotstar on Samsung Smart TV (2018 models and newer) and activate it. For a crisp and consistent viewing experience, we suggest opting for an internet connection that can achieve a minimum download speed of 15 Mbps. Though if you have a 4K Samsung TV, streaming in UHD quality will require you to have a 25 Mb/s or higher-speed connection.