Streaming UFC on Smart TV is Possible. But, before we learn these steps, let's take a look at what UFC is all about. UFC, or Ultimate Fighting Championship, is a highly-acclaimed mixed martial arts promotion company that has achieved record-breaking mainstream media coverage in the last few years. In fact, big fights between globally-renowned MMA superstars have become some of the most anticipated sporting events of the year.
Major UFC fights began airing as pay-per-view events and continue generating staggering TV viewership. Now thanks to the uprising of the streaming world, you can stream UFC on your favorite devices without a cable or satellite connection.
If you're looking to catch all the adrenaline-pumping action from the world of MMA on the big screen over the internet, we've got you covered. This guide will help you watch UFC 282 on Smart TV, not only in the United States but also in other countries.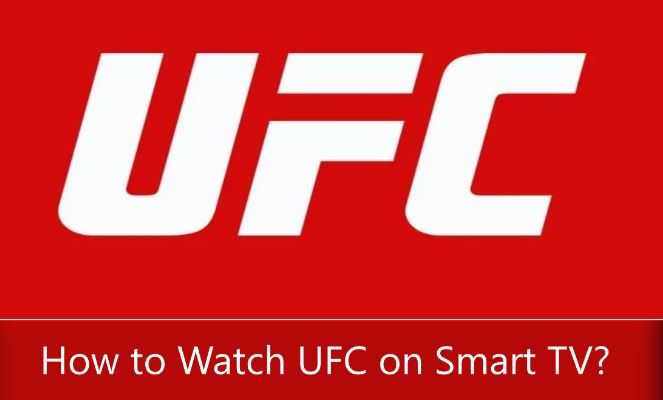 Watch UFC on Smart TV in the United States
If you're in the United States, you'll find it easy to stream the biggest UFC fights live on your Smart TV, as a few different streaming options are available in the country, with the most notable being ESPN+. Here's more in detail:
Watch UFC on Smart TV with UFC PPVs via ESPN+

Historically, UFC pay-per-views were available through traditional television providers. However, with the streaming landscape rapidly changing, 2018 saw UFC partnering up with ESPN in what was one of the largest TV deals of the last decade.
ESPN+, Disney's premier American live and on-demand sports streaming service, is now the exclusive home to UFC PPVs. So anyone in the US looking to watch UFC on ESPN+ Fight Night cards on their Smart TVs must require an ESPN+ monthly/annual subscription and pay for the PPV separately.
Fortunately, ESPN+ also provides a bundle of upcoming UFC PPV for an annual ESPN+ plan, which is perfect for new subscribers. Apart from the PPVs, you'll be able to tune into 20+ streaming-exclusive UFC events per year, including all the Fight Night main events and their preliminaries.
Subscribers can access all purchased PPVs on-demand on the service alongside archived fights and original UFC programming. ESPN+ is available on almost every Smart TV platform, including Android TV, Apple TV, Fire TV, Samsung Smart TV, and Roku. The Android / iOS app supports Chromecast and AirPlay, so any TVs supporting those protocols are eligible for streaming UFC.
Watch UFC Prelims on ESPNews via Live TV Services

Assuming you're interested in only the preliminary fight cards, you'll be satisfied with ESPNews' coverage. You can watch the linear sports news channel on your Smart TV without a traditional TV provider connection now that we have access to live television streaming services like DirecTV Stream, Hulu + Live TV, Sling TV, and YouTube TV.
Sling TV would be your cheapest option for streaming the UFC prelims on ESPNews. The channel is part of the Sports Extra add-on, which also carries sports networks like ESPNU, SEC Network, ACCN, Longhorn Network, etc. Pair it with the Sling Orange package, and you're good to go on nationwide sports coverage.
You may also go for Hulu + Live TV, which is slightly costly but covers 75+ channels, including ESPNews and other sports networks, and unlimited DVR. On top of that, it includes a Disney+ and ESPN+ subscription, so you can also catch the streaming-exclusive UFC Fight Night events and original on-demand UFC shows and docuseries.
Those looking forward to catching the Spanish-language broadcasts of the UFC prelims on ESPN Deportes should check out the streaming TV plans offered by DirecTV Stream, Vidgo, FuboTV, and Sling TV. All these services are available across popular Smart TV platforms if you're wondering.
Should you still pay for a traditional cable or satellite connection, you can log into the ESPN+ app with your TV credentials to access the ESPNews channel stream— only if your TV plan includes the following sports network.
Watch UFC on Smart TV in Canada
The sports streaming spectrum in Canada is a bit more muted than in the States, but you can still totally enjoy the upcoming UFC fights on your Smart TV. ESPN+ doesn't have pay-per-view rights in Canada, but you can order the PPVs on UFC Fight Pass from ufcfightpass.com instead.
For those wondering, UFC Fight Pass unlocks access to 1000+ hours of live and on-demand MMA action from across the globe, including preliminaries of UFC Fight Night events. Canadian MMA fans can sign up for the Monthly or Annual Pass, purchase the PPVs separately on UFC Fight Pass and stream them via the official UFC app.
The service also offers bundles of PPVs and an annual subscription, which is always cheaper for new subscribers. However, if you're not interested in the title fights and only wish to stream the early prelim cards, the standalone UFC Fight Pass plan is all you need.
One can also stream the UFC Fight Night event and preliminaries of UFC pay-per-views on TSN Direct, Bell Media's official sports streaming service for Canadians. The French-language broadcasts of select UFC fights are accessible via RDS Direct. Both the TSN and RDS apps are available on most Smart TVs.
Watch UFC on Smart TV in the UK & Ireland
BT Sport, one of the most renowned sports networks in the UK and Ireland, currently has exclusive rights to UFC pay-per-views and Fight Night events. BT TV box users can buy the PPVs or tune into the Fight Night broadcasts on BT Sport Box Office. It's also available for Sky and Virgin Media subscribers as an add-on.
The good news is that Smart TV owners don't need to pay for any of these TV services. Instead, they can purchase the UFC PPVs on the BT Sport Box Office Android / iOS app and cast the MMA fight streams on the big screen over AirPlay or Chromecast. It isn't necessary to be a BT Sport customer.
On the other hand, UFC PPV prelims and Fight Nights are available to stream live via UFC Fight Pass in the UK and Ireland, along with unlimited access to the entire on-demand UFC Fight Library, exclusive original shows, and docuseries.
Once you sign up for the Monthly or Annual Pass, you can log into the UFC app on your Android TV, Apple TV, Roku, LG webOS TV, or Samsung Smart TV. If your Smart TV isn't compatible with the app but has AirPlay / Chromecast support, cast the UFC streams from the mobile app instead.
Watch UFC on Smart TV in the Rest of the World
If you're not from any of the above countries, don't worry. UFC has expanded its UFC Fight Pass service and partnered with various broadcasting/streaming platforms in different countries to ensure all MMA fans across the globe can watch the biggest UFC fights live without being restricted to linear channels.
Below are several more services to look out for to watch UFC PPVs and Fight Night shows on Smart TV in your respective countries.
| | |
| --- | --- |
| Country / Region | Streaming Services Offering UFC Coverage on Smart TVs |
| Australia | UFC Fight Pass, Kayo |
| Africa | UFC Fight Pass |
| Denmark / Norway / Sweden | Viaplay |
| Finland / Iceland | UFC Fight Pass, Viaplay |
| France | RMC Sport 2 |
| Germany / Italy | UFC Fight Pass, DAZN |
| Hong Kong / Singapore | Fox+ |
| MENA | UFC Arabia, Starzplay |
| New Zealand | UFC Fight Pass, Spark Sport |
| Netherlands | Discovery+ |
| India | SonyLIV |
| Poland | Polsat Sport |
| Singapore | UFC Fight Pass, Fox+ |
| Spain | UFC Fight Pass, Eurosport |
| Switzerland | UFC Fight Pass |
Most of these services offer their streaming apps for Android TV, Apple TV, Amazon Fire TV, and other popular Smart TV platforms. A few are available only on Android and iOS, though they allow users to cast content over Chromecast and AirPlay. If your Smart TV doesn't support either of these protocols, you may need to buy a compatible streaming set-top box or dongle to cast the UFC streams.
Related – Watch F1 on Smart TV from Anywhere
Final Words
Here we conclude this guide to watching UFC on Smart TV. Now that you know which streaming service offers live/on-demand coverage of UFC Fight Night and pay-per-views in your country, simply make the purchase, download the corresponding streaming app on your Smart TV, and log in.
Note you'll need a high-speed internet connection (20 Mb/s or faster) for an uninterrupted streaming experience, especially when watching the most anticipated UFC fights between the greatest MMA fighters of this timeline live on your Smart TV. We recommend connecting your network router to the TV using an Ethernet cable to minimize buffering.