Even a few years ago, there weren't many places to watch anime legally. However, with the rapidly growing demand for anime in the West and the emergence of streaming platforms like Crunchyroll and Funimation, the diversity, quality, and quantity of subbed and dubbed anime have never looked this good.
You can watch the latest blockbuster films and trending TV shows across many streaming services such as Netflix, Disney+, Paramount+, Prime Video, etc., most of which are available natively for Android TV. But what about the latest animated Japanese shows and films? This guide will tell you more about how to watch anime on Android TV.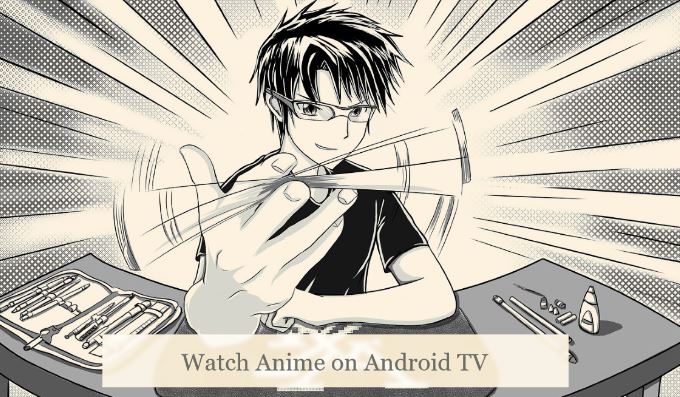 Watch Anime on Android TV with Crunchyroll
Crunchyroll is undoubtedly the best OTT streaming platform for anime fanatics across the globe. Launched in 2006, it currently has over 120 million registered users, with nearly 10 million paid subscribers. This Sony-owned service offers a sizeable on-demand catalog of licensed and original anime, with over 1,000 shows, 200 East Asian dramas, and 80+ manga titles.
The best thing about Crunchyroll is that users can sign up for a free account to enjoy most of its streaming content without a subscription. Paying for a subscription, however, offers an ad-free experience, plus upgrades the streaming quality from standard definition or 480p to up to 1080p Full HD resolution. Furthermore, you get access to the latest episodes of your favorite ongoing anime series immediately after they air in Japan.
Installing Crunchyroll on Android TV
Crunchyroll is compatible with a wide range of devices, including smart TVs and streaming boxes powered by Android TV. The app is officially available on the Play Store, so all you have to do is follow these steps to install Crunchyroll on your Android TV:
On your Android TV Home screen, navigate to the Apps.
Find and launch the Google Play Store.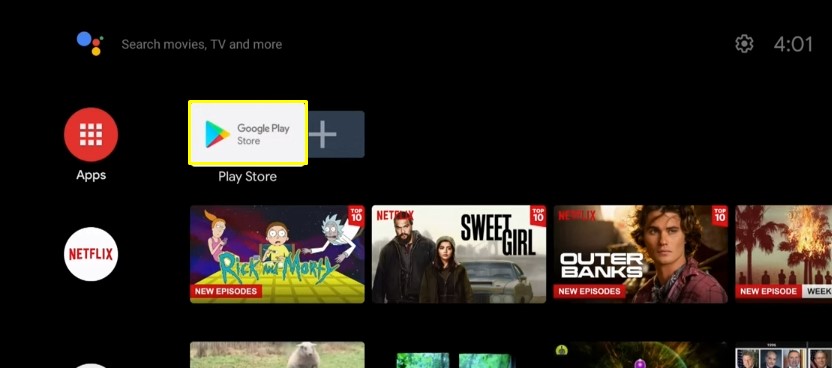 Click the Search (magnifying glass icon) option at the top, and use the on-screen keyboard to enter "Crunchyroll."
If you have a voice-enabled remote, click the Mic icon next to the search field and say "Crunchyroll" to search for the app.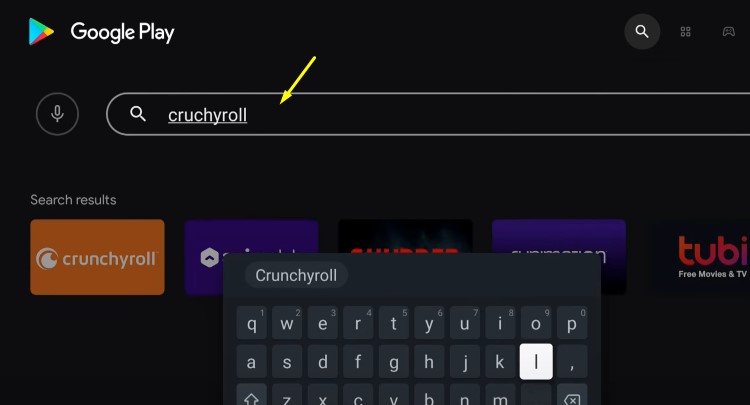 Select the Crunchyroll app from the results row, and click the Install button on the description screen.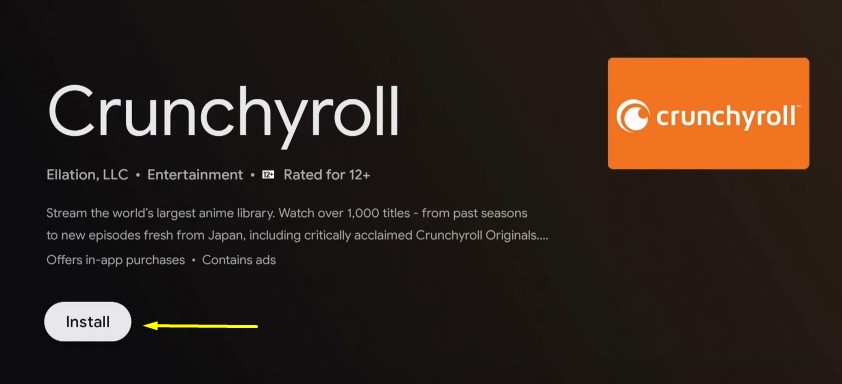 After it completes installing, return to the Home screen, go to the Apps section, and you should find Crunchyroll at the very bottom of your apps list.
With the app tile highlighted, press and hold the OK or Select button on your remote if you want to Add to favorites or Move it higher in your apps list.
Activating Crunchyroll on Android TV
Logging into Crunchyroll on Android TV is quick and easy, but you'll need to register for an account first. Simply follow the instructions below.
Launch a new browser tab on your mobile or computer and go to crunchyroll.com, the official website.
Next, select the Profile icon at the top-right corner of the home page and click Create Account.
Enter your email address alongside a strong password, then click the Create Account.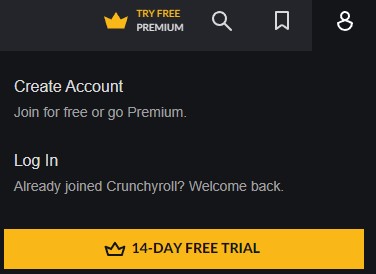 Now enter your preferred username and click Continue to Crunchyroll.
Note that you won't be able to change the username later, but you can change your avatar anytime.
Check your inbox for a verification mail from Crunchyroll. Open it and click Confirm Email Address to verify your account.
If you wish to subscribe to Crunchyroll Premium, select your profile avatar at the top and click 14-Day Free Trial.
Select View Premium Plans, choose your preferred subscription plan and click Start 14-Day Free Trial.
Choose your billing cycle if prompted, then click Proceed to Checkout. You'll then need to choose your payment method and enter your valid credentials. Once you do that, click Start Premium.
If everything goes accordingly, you should now have your Crunchyroll account with the free or premium tier activated. Here's how you can log into the Crunchyroll Android TV app:
First, open the Crunchyroll app on your Android TV device.
Navigate to the "Log in" screen from the welcome page and select "Log in with Activation Code." The following screen will present you with a six-character alphanumeric code.
On your phone or computer, visit beta.crunchyroll.com/activate from another browser tab. Log in with your Crunchyroll account if you haven't already.
Enter the six-character code displayed on your TV and click Activate.
That's it! You should now be logged in to Crunchyroll and ready to binge new and popular anime on your Android TV.
Recommended Reading:
Cast Crunchyroll Content via Phone or Tablet
If your Android TV device has Chromecast built-in, you can cast your favorite anime to your big screen from the Crunchyroll app on Android or iOS. It's a matter of a few steps that involve the following:
Download and install the Crunchyroll app from the Play Store or App Store on your phone or tablet.
Once installed, launch the app and log in with your account credentials.
Start playing the anime you'd like to cast to your TV, then tap the Cast icon in the player.
Choose your Chromecast-enabled Android TV device from the pop-up box.
If it doesn't appear, ensure your mobile device and Android TV are on the same Wi-Fi network.
Your selection of streaming content should now play through your Android TV. You can use the mobile app's media buttons to control the playback.
Alternatives to Watch Anime on Android TV
Crunchyroll isn't the only OTT platform with some of the best anime shows, films, and exclusive series. Though with Funimation originals now moving to Crunchyroll after the Sony acquisition in 2021, it's definitely the best with the most diverse on-demand anime catalog.
If you're looking for more anime sources on Android TV, Netflix, one of the most prominent streaming giants, is a low-key good place to start.
Besides the usual classics, Netflix offers a selection of anime exclusives such as Seven Deadly Sins, Knights of Sidonia, Ultraman, Yasuke, and Little Witch Academia, as well as western-made anime series like Blood of Zeus and Castlevania.
Prime Video, too, has a few hidden gems. For instance, you can stream the critically-acclaimed Avatar: The Last Airbender and the Amazon-exclusive historical fiction anime Vinland Saga, plus other great anime like Dororo, Elfen Lied, Re:CREATORS, Grand Blue Dreaming, Grimoire of Zero, Made in Abyss, and more.
You may also check out Funimation's offerings. After all, it's the company responsible for the anime resurgence in western countries in the late '90s. Its extensive streaming library is a mix of new and old anime series, with tons of content available in English dubs, including the entire Dragon Ball collection, My Hero Academia, Attack on Titan, Fullmetal Alchemist: Brotherhood, etc. Plus, it offers ad-supported access to select titles.
However, most of Funimation's content is now also available on Crunchyroll, so you're better off going with that.
Final Words
Japanese culture shares a rich history; a significant part of that is its animated shows, films, dramas, and manga novels. Platforms like Crunchyroll and Funimation wrap all that in a sweet all-in-one package for fans around the globe.
In this guide, we've shown you how to watch anime on Android TV with Crunchyroll and discussed alternative services. The good thing about Crunchyroll, in particular, is its ad-supported tier, though we recommend getting the subscription if you mind adverts rolling every few minutes or so. Alternatively, you can use an ad-blocker like Blokada on Android TV to remove ads.