Picture yourself immersed in captivating TV shows and movies while soaring above the clouds on a flight, traveling through scenic landscapes on a train, or nestled in a cozy nook craving an adrenaline-fueled thriller during a remote camping trip, even though your internet connection is as reliable as a capricious fairy.
Max, formerly called HBO Max, allows subscribers to download on-demand titles to view when they don't have access to Wi-Fi or cellular. But when this download feature falters, excitement turns to sheer disappointment and frustration, robbing users of hours of enjoyment.
We empathize with the annoyance when attempting to download your favorite content on Max and watch offline, only to be met with perplexing errors and seemingly insurmountable obstacles. This particular issue, in fact, has been a well-documented bug ever since HBO Max's inception and has somehow carried over to the new streamer app.
But fret not, for we're here to rescue you from technical torment! In this guide, we'll unravel the complications that result in Max downloads not working, with clear-cut troubleshooting solutions for error messages, failed downloads, and locating the elusive download button. We've got you covered!
Does Your Max Subscription Allow Downloads?
Max allows downloading movies and shows across its official app for Android and iOS (iPhone/iPad) devices. If you're using the Max mobile app and don't see the option to download your preferred titles, you're likely paying for the With Ads plan, which doesn't support offline downloads.
Downloading content for offline watching is available only with Max's costlier Ad-Free and Ultimate Ad-Free plans. It's also worth noting the following:
The Ad-Free plan allows up to 30 offline downloads, which applies across all profiles and devices sharing the same account. On the other hand, Ultimate Ad-Free offers up to 100 offline downloads.

For example, if you pay for the Ad-Free plan and are logged into your Max account on two supported devices, the total number of downloads across them is limited to 30.
Max gives users 48 hours to complete watching a downloaded title once they begin playing, after which the download expires and is auto-deleted. Unwatched ones expire 30 days after downloading.

An exclamation mark (!) appears next to expired content in Max's Downloads menu. Tapping it, then the Renew option lets you renew the download.
It's also worth mentioning that offline downloads on mobile don't count toward Max's simultaneous stream limit.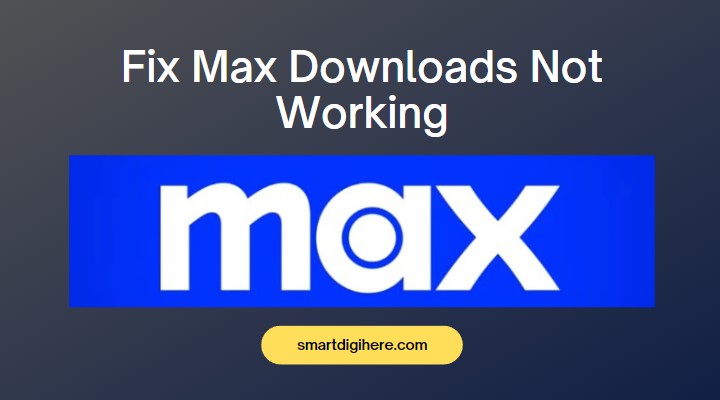 Fix Max Downloads Not Working on Android
There can be several reasons behind titles not downloading or downloads failing to playback on the Max streaming app for Android phones and tablets. Whatever the issue is, you can follow these tried-and-tested solutions to fix Max downloads not working:
Update the Max App
One of the first steps to resolve the issue of Max downloads not working is to ensure you have the latest version of the streaming app installed on your Android phone or tablet. It'll increase the likelihood of a better experience with offline downloads.
Max is constantly evolving with updates. They often include bug fixes, performance enhancements, and optimizations addressing compatibility issues and improving the download feature's functionality. Here's how to update Max via Play Store:
Open Play Store from your device's home screen or app drawer.
Tap the "Search Apps & Games" bar above, type "Max," and select the matching result.
If you see the Update button next to the Max app, tap it to continue. If you don't see it, Max is already up to date.
Once the update finishes installing, launch Max on your Android device and try downloading your desired content again.
Clear Max App Data
If you're still facing problems with Max downloads on your Android device, another proven solution is to clear the app data. It resets the app to its factory defaults, resolving any underlying conflicts or corrupt data that may have been causing the download feature to malfunction.
Note: Clearing the Max app data will remove any downloaded content, reset your saved preferences, and log you out of your account. However, it doesn't affect your HBO Max account or subscription.
Head to your Android device's Settings.
Scroll down the options and tap on Apps or Applications.
Locate and choose "Max" from the list of installed apps.
On the Max app info page, tap Storage or Storage & cache.
Finally, tap Clear data or Clear storage and confirm the action.
Once the app data is cleared, relaunch the Max app, sign in with your account details, and try downloading content again. It should resolve your download-related issues and restore the app's functionality.
Allow Storage Permissions
If you can't download your favorite content, the Max app may not have proper storage permissions. Granting these permissions should allow the app to save downloaded content on your device and access them when necessary. Here's what you need to do:
Go to the Settings app on your Android phone or tablet.
Scroll down the menu and tap Apps or Applications.
Locate and tap "Max" from the list of your installed apps.
Next, select Permissions on the Max app info screen.
Look for the Storage or Files and media option and ensure it's set to "Allowed."

If disabled, choose the respective permission and tap "Allow access…" to grant storage permissions to the Max app.
After granting storage permissions, relaunch Max and attempt to download your desired shows or movies again. With proper storage permissions, downloads on Max feature should function as expected, allowing you to enjoy offline viewing on the go.
Also, Check: Fix Max Subtitles Not Working
Fix Max Downloads Not Working on iOS (iPhone/iPad)
If you're encountering issues with Max downloads not working on your iPhone or iPad, there are some troubleshooting steps you can follow to resolve the problem. Use these solutions to get your HBO Max downloads back up and running:
Update the Max App
As with Android, updating the streaming app helps fix any trouble with offline downloads on Max on your iPhone or iPad. It ensures you have access to the streamer's latest features and bug fixes, which may include resolved issues with the download functionality.
Open App Store from your iPhone or iPad Home screen.
Next, tap your Profile icon at the top.
Scroll down to the "Available Updates" section of the Account page.
Look for Max in the list of available updates. If there's an update pending, you'll see an "Update" button next to the streaming app. Tap it to initiate the update process.

If the App Store displays an "Open" button instead of "Update," you already have the latest Max app.
By updating the Max app, you regain the seamless download functionality and utilize your subscription benefits for offline content viewing on your iPhone or iPad.
While Max works on iPhones and iPads running iOS or iPadOS 14.0 and later, we strongly suggest updating your Apple device to the latest available software. Navigate to Settings > General, tap Software Update, and see if system updates are available.
Reinstall Max
If your issues with Max downloads on your iPhone or iPad persist, reinstalling the Max app can help resolve any underlying problems or corrupted files that might be causing them. Follow the steps below to reinstall the Max app:
Note: Uninstalling Max will remove movies or shows downloaded on your iPhone or iPad and log you out of your account.
On your Home Screen, locate and long-tap the Max app icon.
Select Remove App, then tap Delete App to uninstall Max.
Next, visit the App Store and tap the Search tab at the bottom.
Search for "Max" and choose the matching app result.
Finally, tap the Download button and wait for the installation to finish.
After re-downloading the Max app, launch it from your Home Screen, follow the on-screen prompts to log in, and try downloading your desired programming again.
Related: Max Not Working on Samsung TV
Other Fixes to Max Downloads Not Working
If you're still facing problems with offline downloads on Max despite trying the previous solutions, consider these additional troubleshooting fixes to get the downloads working again:
Check for Available Storage
If your device has Insufficient storage, you won't be able to download movies and shows on the Max streaming app for watching offline.
On your Android phone or tablet, navigate to the Settings > Storage menu. On your iPhone or iPad, go to the Settings app, select General, then tap iPhone Storage or iPad Storage.
Ensure you have enough available space to accommodate the downloaded content. If you're running out of storage, consider deleting unnecessary apps, files, or media to free up space.
Reset Network Settings
Resetting your device's network settings can help resolve any network-related issues affecting Max downloads.
On Android, scroll down the Settings menu and tap System, followed by Reset options at the bottom. After that, select Reset Wi-Fi, mobile & Bluetooth, and tap the Reset settings button. On Samsung devices, the "Reset network settings" option is found within Settings > General management > Reset.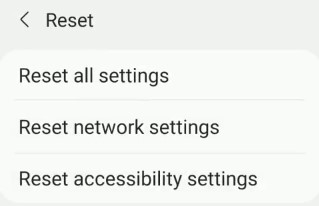 On iPhone or iPad, navigate to Settings > General > Transfer or Reset… > Reset menu and tap Reset Network Settings.
Note it'll remove your saved Wi-Fi networks and reset your cellular settings, so be prepared to set them up afterward.
Check Out: Fix Max Not Working on Firestick
Disable "Download Over Wi-Fi Only"
Disabling the in-app "Download over Wi-Fi Only" option can help when facing slow downloads on Max. Perform these steps to ensure downloads aren't restricted to Wi-Fi connections only:
Launch Max on your device and tap your Profile icon at the top-right corner.
Tap the Settings (cog/gear icon) icon at the top, then Downloads.
Tap the slider next to "Download over Wi-Fi Only" to set it to OFF.
Download speeds on a mobile network may be slower than on Wi-Fi, and you may also end up exhausting your daily/monthly data quota. However, there are instances where using mobile data can be advantageous, especially if your cellular network offers faster speeds than your Wi-Fi access point.
Max also allows you to tailor your download experience based on your preferences and network conditions. From the same Downloads menu, you can prioritize faster downloads with lower-quality video or opt for slower downloads that offer high-quality video (up to 1080p).
Contact Max Support
If you've exhausted all the troubleshooting steps and still can't resolve the issue with Max downloads on your device, contacting official support can provide valuable assistance, as they're far more equipped with the knowledge and resources to address specific problems and provide technical guidance.
Visit the Max Help Center page, accessible from the official max.com website. Look for the "Contact Us" or "Support" section within the site. Explore the available support options (e.g., live chat, phone, or email) and choose the method that suits you best.
Remember to be patient when awaiting a response from Max, as it may take some time, depending on their workload. They'll review your inquiry and respond with expert guidance or troubleshooting steps to fixing your problems with offline downloads. They may also escalate the issue if necessary to ensure a resolution.
Read, Also: Watch Max on Sony Smart TV
Steps to Download Content on Max
To download movies or TV shows on Max on Android, iPhone, or iPad, follow the steps below.
Launch the Max app on your respective device.
Browse the streaming catalog or search for the movie or TV show episode you want to download.
Tap the Download (down-arrow symbol with a line beneath) icon on the following content overview page. You should see an icon showing you the download progress.
Note:
The download duration depends on two factors: the speed of your internet connection and the length of the content you're downloading. Also, the number of downloads varies by your subscription.
Once your desired movie or TV show episode finishes downloading, the download icon will transform into a rectangular shape accompanied by a checkmark, indicating the content is now available for offline viewing at your convenience. You can access the offline titles from the app's Downloads menu.
To delete a downloaded film or show, navigate to Max's Downloads menu, tap the Edit (pencil on paper) icon, and tap the X button next to the content you wish to remove. Note there's no confirmation pop-up when deleting a single download.
FAQ: Can I download Max content on my Smart TV / PC?
Nope. Like HBO Max, Max only offers the offline download function on mobile devices via the official Android and iOS app. It's unavailable on the Smart TV apps and the web version.
Enjoy Offline Downloads on Max
Whether you're traveling, in a low-connectivity area, or simply prefer to watch content offline, Max's download feature allows you to take your entertainment wherever you go.
We hope you've successfully tackled the "Max downloads not working" error by following the troubleshooting steps in this guide. You can now fully enjoy watching your favorite movies, TV shows, and original programs on Max without an active internet connection.
We'd love to hear from you! Feel free to share your experience in the comments section below, letting us know which solution worked for you, resolving your issue with downloads on the Max streaming platform. If you discovered any alternative fixes that proved effective, we encourage you to share those as well.