Max, the all-new streaming service from Warner Bros. Discovery, has finally hit the shores with an expansive content catalog for viewers of all ages – keeping the popular shows and blockbuster movies from the HBO and Warner Brothers properties and adding in a vast selection of food, home, lifestyle, true crime, travel, and reality-oriented programming from the Discovery-owned networks.
With the updated streaming library comes a new browsing experience and a revamped user interface. But as with most streamer apps in their early days, Max suffers from the inevitable bugs and glitches that may disrupt your binges and movie nights.
If you're experiencing issues with Max not working on Samsung Smart TV, you may feel frustrated and unsure how to pinpoint and resolve the problem. But you don't need to worry, as our in-depth troubleshooting guide will help you diagnose and fix some common issues that are likely preventing Max from working on your big Tizen-powered screen.
How to Fix Max Not Working on Samsung Smart TV Issue?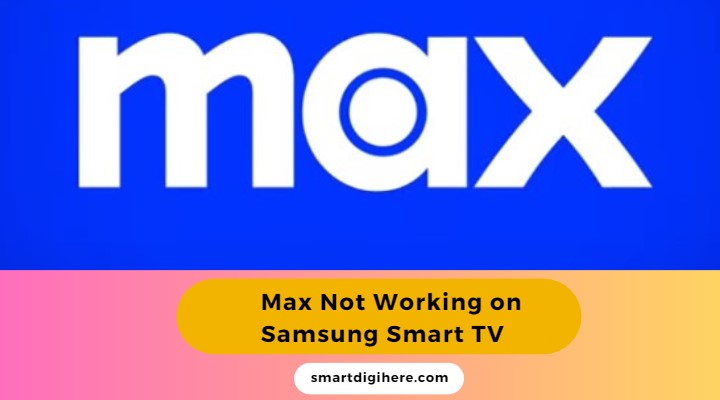 If Max is not working on your Samsung TV, do the following to fix it. With these fixes below, you'll be able to get back to enjoying all the great content that Max has to offer.
1. Max App Crashes / "Something Went Wrong" Error
It's not uncommon to encounter unexpected crashes with streaming apps. If you're having trouble using Max or repeatedly seeing the "Something went wrong" message, try these troubleshooting methods to get it back up and running on your Samsung Smart TV:
Update the Max App
Before trying anything else, check if you have the up-to-date version of the Max app installed on your TV. Here's how:
Press the Home / Smart Hub button on your TV remote.
Click the Apps tile in the top row on the Home or Smart Hub menu.

Go to the Settings (cog icon) menu from the upper-right corner. For older models, head to the My Apps.
Find and choose Max from the list of your installed apps. If you see the option to Update, click it to continue.
To ensure Max and all other apps on your Samsung Smart TV are on the latest version, toggle ON the Auto-update setting. On older Tizen versions, it's hidden under the Options menu on the "My Apps" page.
Read Also: Max on Sony Smart TV
Restart Your Router
Assuming you've confirmed that you're running the latest version, check your internet connection to see if it's causing the problem. You can do so by playing a video from another streaming app on your TV or browsing the web on another device on the same network.
If your connection is poor, try resetting your Wi-Fi router and then attempt to watch Max again once your Samsung Smart TV reconnects. Some routers have a physical power or reset button, but you may unplug its wall adapter from the outlet and replug it after 15-20 seconds for a power cycle. We also recommend doing the same for your Samsung Smart TV.
Clear App Cache
If you're still having issues, consider clearing the app cache, which may contain old data that could be hindering Max's performance. Use these steps:
Press and hold the Home remote button, then select All Settings in the quick settings menu.

Alternatively, press the Home button and select the Settings (cog) icon on the left side of the dashboard.

Scroll to the Support tab and select Device Care in the following menu.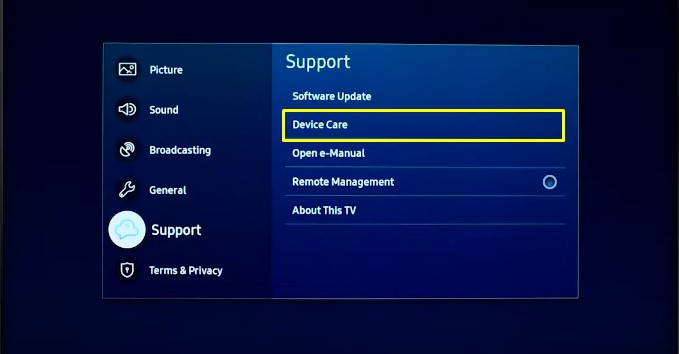 On 2019 Models: Go to Support > Self Diagnosis menu and select TV Device Manager.

Choose Manage Storage or Show App List at the bottom. You'll see all the apps installed on your Samsung Smart TV.
Find and highlight the Max app and click View Details.
Click Clear Cache in the following window, then Close.
After clearing the cache, log back into the Max app to see if it has resolved your streaming problems.
Check: Max on Vizio Smart TV
Reinstall Max
If everything fails, you must remove the Max app and reinstall it on your Samsung Smart TV. Here's what you need to do:
Navigate to the Apps store from your Samsung TV's Home or Smart Hub
Click the Settings (cog) icon at the upper-right corner or head to the "My Apps" tab.
Highlight and select the Max app, then choose Delete from the options menu.

You may also scroll down to the "Downloaded App" row of the Apps page, highlight Max, long-press the SELECT remote button, and click Delete to remove the app.

Next, return to the main Apps page and click the Search (magnifying glass) icon at the top.
Enter "Max" using the virtual keyboard and select the matching app in the results.
Finally, click Install on the app info screen.
Of course, reinstalling Max will require you to log back into your account, but it could be your key to returning to your show or movie.
2. Max Buffering Issues
Encountering a never-ending loading screen on Max can be frustrating. A throttled network bandwidth or inconsistent connection speed typically causes such issues.
Most of the time, inadequate download speeds are the main possible culprit for buffering or infinite loading. To determine if your connection speed is sufficient for streaming (5 Mbps minimum, 50+ Mbps for 4K), visit speedtest.net or fast.com from your phone or computer on the same network. If the issue persists, try resetting your router.
Buffering on Max can also occur if several devices on your home network max out the available bandwidth. Disconnecting all other devices using the internet from your Wi-Fi temporarily can help, as it'll free up as much bandwidth as possible for your Samsung Smart TV.
If your Samsung Smart TV connects via Wi-Fi, ensure the wireless transmission is robust by moving your network router as close as possible to your TV or minimizing obstructions (e.g., objects and walls) between them.
All Samsung Smart TVs feature an RJ-45 LAN port. Hence, you may plug it directly into your network router using an Ethernet cord to establish a direct connection, providing a more reliable internet experience.
Is Max Down?
Sometimes, streaming errors with Max isn't related to your Samsung Smart TV or your internet connection. If you're having trouble loading movies and shows on the service, the servers for Max may be down or not functioning correctly.
Check websites such as DownDetector or Is The Service Down (which track and monitor crowdsourced outage reports for various sites and services) to see if there's a service outage or if others are experiencing similar issues. You can also visit Max's support site or follow their social accounts for reported outages or to get assistance with troubleshooting.
If there are numerous ongoing reports, the problem likely lies with Max's servers – not your device or network. If that's the case, you'll need to wait for the streamer to resolve the issue, as there's nothing you can do to fix it.
Related: Is FOX Sports Down?
3. Audio Not Working on Max
Some users may experience audio-related problems while using Max on the Samsung Smart TV, such as intermittent audio cuts or no audio playback, despite the video playing back as it should.
If you're having sound issues with Max, try playing a different title first to determine if the problem is specific to a particular content or the entire app. If the problem occurs with only a specific show or movie, contact Max via their Help Center.
If the audio issue plagues the entire Max catalog, check the volume levels on your Samsung Smart TV and your home theater speaker or soundbar if you have one connected to your TV.
It may also be that Dolby Digital+ audio, which most titles on Max support, isn't working on your Samsung Smart TV or the sound system hooked to it. Navigate to your TV's Settings > Sound > Expert Settings menu and set Digital Output Audio Format to PCM. If it's set to that already, choose Dolby Digital instead and see if it resolves the audio issues.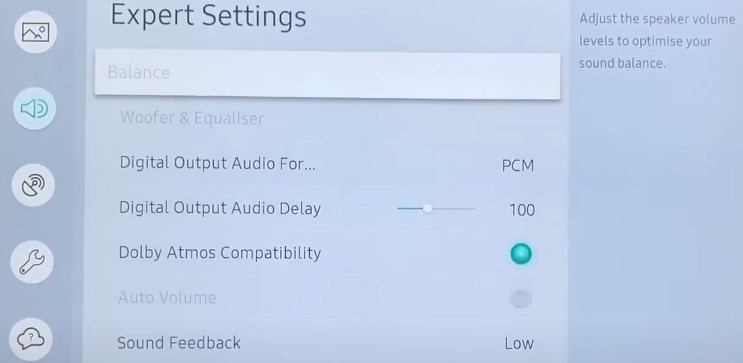 If you're using an external source from which you're streaming Max on your Samsung Smart TV and experiencing audio problems, a faulty HDMI cable may be the cause. Disconnect the HDMI cable, reverse the ends, and reconnect it. Or check for any visible tear or fray on the cord.
You May Like: Watch Max on Samsung TV
4. Login Issues on Max
Some Max users encounter difficulties signing in to their accounts on their Samsung Smart TVs. Here are some potential solutions:
To log in to Max on Samsung Smart TV, you must enter a 6-character code at max.com/activate or activate.max.com. Use a computer If the code doesn't work on your mobile browser. If the device's default browser doesn't work, consider going through the activation through a different browser.
If you get Max through a third-party provider (g., Cox, Hulu, or Prime Video Channels), note your provider credential won't work on the primary login screen. Select "Sign in with a provider" on the login screen, choose your provider, and follow the on-screen prompts to authenticate your account.
If you receive the "email address or password is incorrect" error, reset your account by going to Max's Forgot Password page and entering your email address. You'll receive a mail to assist you with resetting your account password. If you don't get it, the address you provided isn't linked to your Max account.
If you're still experiencing difficulty signing in to Max on your Samsung Smart TV, see if clearing the app cache helps, and make sure you've updated the Max app to the latest version. Check the above sections for detailed steps.
Max Not Working on Samsung TV: Bottom Line
Experiencing issues with Max on Samsung Smart TV amidst the weekend night or binge sessions can be frustrating, but there are several common workarounds to try before giving up. By following the troubleshooting methods outlined in this guide with a bit of patience and persistence, you should be able to get back to enjoying the latest dramas and blockbusters on Max.