The following article will show you how to fix Fox Sports Live Stream Not Working issue.
Fox, one of the Big Four television networks in the United States, offers a streaming service aptly named FOX Sports. It's where the network streams select football, baseball, soccer, motorsport, boxing, wrestling, and other events live and on demand.
While it may not be the first choice when most think of sports-centric streamer apps, now and then, Fox covers a highly-anticipated game, such as the 2023 Super Bowl, and everyone rushes to watch it online on the FOX Sports app or website.
But when you get the time to kick back and tune in to the game, the last thing you want to deal with is some issue with the FOX Sports app or live stream not playing. With hundreds of thousands and sometimes millions of users suddenly jumping in, running into such problems isn't that uncommon.
From buffering and crashing to signing in and zero connectivity, the FOX Sports app or site can suffer from occasional bugs and glitches like any service, making it stop working. Furthermore, pinpointing the exact cause and dealing with it drains all your enjoyment.
Even the major streaming giants are prone to such problems, and FOX Sports is vastly smaller in scale, after all. This guide covers some general troubleshooting steps you can follow when the FOX Sports live stream isn't working.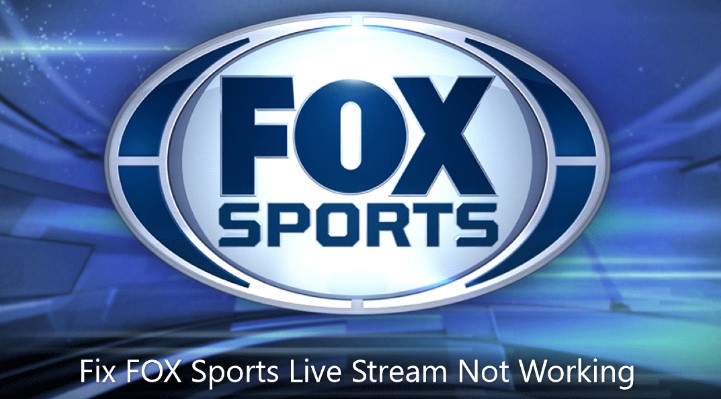 Fix FOX Sports App or Live Stream Not Working on Android Phone or Tablet
If you're trying to stream your favorite sports content on the FOX Sports mobile app for Android, but it doesn't seem to work, go through the following troubleshooting steps:
Ensure your Android phone or tablet runs on Android 6.0 or newer versions.
Verify whether your Android device has internet access by visiting foxsports.com in the web browser. It should be functional if the page loads successfully without any error messages.
Force close the FOX Sports app, relaunch it, and try again. Here's how you can force close the app:
Go to the app drawer and tap and hold the FOX Sports app icon.
Tap ⓘ or the App info option in the floating menu.
Choose Force stop and tap OK.
Visit the Google Play Store to see if there's an update available for the FOX Sports app. If so, ensure you install the newest version.
Restart your Android phone or tablet. You can do so by pressing and holding the device's Power button for a brief second and tapping the "Restart" option in the Power menu that appears.
Uninstalling and reinstalling FOX Sports can do wonders. Use these steps:
Go to your device's Settings and tap Apps.
Tap See all apps and find the FOX Sports.
On the "App info" screen, tap Uninstall and confirm your choice.
Next, head to the Play Store and search for "FOX Sports" from the top bar.
Tap Install on the app preview page.
Fix FOX Sports App or Live Stream Not Working on iPhone or iPad
Anyone facing problems with the FOX Sports app or live stream on iPhone or iPad should find the following tips helpful.
Ensure your iPhone or iPad is on iOS 14 or iPadOS 14 or above.
Check if your iPhone or iPad is connected to the internet over Wi-Fi or cellular. The best way to verify so is to go to foxsports.com on Safari.
Bring up the App Switcher, swipe up on the FOX Sports app's preview window to close it, and relaunch from the Home Screen.
Update FOX Sports on your iPhone or iPad. Here's how:
Navigate to the App Store from your Home Screen.
Tap your Profile icon at the top and scroll down to see pending app updates.
Tap Update next to the FOX Sports app.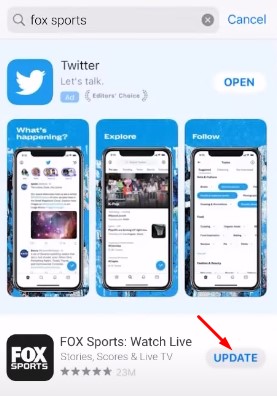 Restarting your iPhone may fix the issue. Hold down the volume and side buttons, drag the power-off slider, and hold the side button to turn it on. The process is easy on older models.
If you have an iPad, simultaneously hold down the top and either volume buttons, then drag the power-off slider. Press and hold the top button to turn it on again.
If you're still facing the same issue with the FOX Sports app you encountered before, reinstall it on your iPhone or iPad.
1. Tap and hold the FOX Sports app on your Home Screen until it starts jiggling.
2. Next, tap Delete App to uninstall it from your device.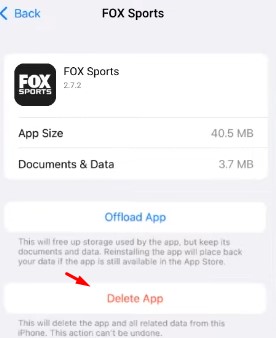 3. Go to the App Store, search for the FOX Sports app, and tap the Download (small cloud symbol) icon.
Also Check: Why does My TV Say WiFi is Connected but no Internet
Fix FOX Sports App or Live Stream Not Working on Android TV
FOX Sports is available for Android TV devices. Whether you have an Android TV box like the NVIDIA SHIELD or an Android-powered Smart TV from Sony, Philips, TCL, or Sharp, the below troubleshooting steps will help you fix the FOX Sports app or live stream not working.
Verify in your FOX Sports app if another ongoing live sporting event is accessible. If it loads successfully, return to the stream you intend to view. If neither of the videos load, proceed to the next step.
On the FOX Sports Home page, press the Back button on your remote twice to exit the app. Relaunch it from your Android TV Home or Apps menu to see if the issue resolves.
You may also try force-closing the app by performing these steps:
Go to Settings (cog icon) from your Android TV Home.
Navigate to Apps and find the FOX Sports app in the list.
Scroll down and click Force stop, then OK.
Open another streaming app on your Android TV and verify if it functions. If you can't, it must be a problem related to your internet connection. In most cases, restarting your router seems to solve it. Simply unplug the router's power adapter from its outlet and replug it after 10-20 seconds.
Similarly, restart your Android TV by holding down the Power button on the remote. When the pop-up Power menu appears, click Restart.
If the above tips don't work out, reinstalling the FOX Sports app might.
Head to Apps from your Android TV Home screen.
Hold the OK or Select button on your remote with FOX Sports highlighted, then click Uninstall and confirm your choice.
Navigate to the Play Store and the Search menu to find the FOX Sports app.
Once you're on the app's description page, click Install.
Now log back into the app, and whatever issue you faced with the FOX Sports app or live stream before shouldn't occur again.
Read: How to Get Fox Sports on LG TV
Fix FOX Sports App or Live Stream Not Working on Amazon Fire TV
If you're using FOX Sports on an Amazon Fire TV device, such as the Fire TV Stick, Fire TV Cube, or a Fire TV Edition Smart TV, the basic troubleshooting steps are similar to the ones we've highlighted for Android TV above.
Once again, we recommend restarting the FOX Sports app alongside your Fire TV device and router. You may reboot your Fire TV from Settings > Device and select the Restart option.
We also suggest reinstalling the app. First, navigate to the "Your apps and games" section from the Fire TV Home screen, highlight FOX Sports, press the three-lined Options button on your remote, and select Uninstall. After that, return to the Home screen and go to the Find tab, search for the FOX Sports app, and click Download.
While you're at it, visit the Settings > Device menu, select About, and click the "Check for Updates" option. An older version of Fire OS may be to blame for the FOX Sports app not working on your Fire TV.
Learn more: ABC App or Live Stream Not Working – How to Fix?
Fix FOX Sports Live Stream Not Working on Web Browser (Windows & macOS)
If you face difficulties streaming live sports from the FOX Sports website on your computer web browser (Windows or macOS), we advise you to utilize the following troubleshooting instructions as a first course of action.
Visit any other streaming website (e.g., fox.com) to see if your PC or laptop has access to a stable internet connection. Provided the site doesn't load and throws an error message, restart your computer and router.
If the live stream buffers or freezes momentarily, open a new browser tab and go to speedtest.net (or use any other internet speed tool) to check your network connection speed. The minimum required download speed for HD streaming is 10 Mb/s (or faster) on the FOX Sports website.
On the FOX Sports site, open another live stream and check whether that plays back fine. If it does, return to the stream you wish to watch. Refreshing the page may also work.
Try opening foxsports.com in another web browser and streaming from there. Whether on Windows 10/11 or macOS 11.0 or above, the most current version of Google Chrome, Mozilla Firefox, Microsoft Edge, or Safari should work flawlessly.
If you already use one of the following browsers, update it to the latest version for the best experience. Visit whatismybrowser.com to find out your browser version and whether it requires updating.
If using a VPN, disconnect from the server, as it can cause the FOX Sports website to think you're in an unsupported region.
Clear Browser Cache
Web browsers save temporary files from websites you access to speed up your experience. However, this cache can sometimes hinder browsing and cause streaming issues, such as when a site updates its content or a cached file gets corrupted. Clearing your cache can resolve these issues.
On Chrome and Edge, go to Settings > Privacy & security and click the "Clear browsing data" option. Tick "All Time" under the Time Range field, check the boxes only for "Cookies and other site data" and "Cached images and files," and click the Clear data.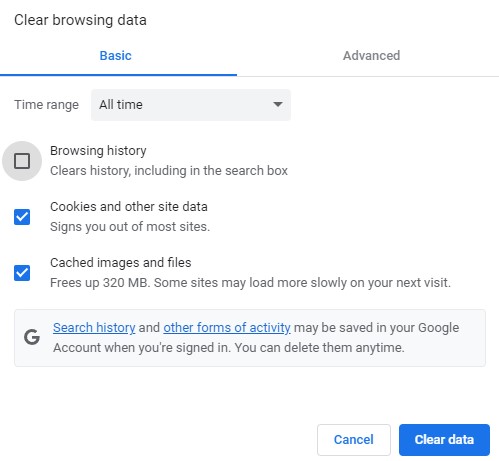 On Firefox, head to the Firefox Menu from the browser toolbar and visit the Options > Privacy & Security Select Clear Data under the "Cookies and Site Data" section, check the boxes for "Cookies and Site Data" and "Cached Web Content," and click Clear.
On Safari, select the Safari tab in the top-left section of the menu bar and click Reset Safari. Uncheck the boxes for all other options except for "Remove All Website Data." After that, hit Reset.
For those encountering problems, even after clearing the browser cache, try visiting the official foxsports.com website from a Private or Incognito window and tuning into the live stream again. Note you'll have to sign in separately.
Nearly every browser provides the option to open a Private window. It's essentially an isolated version of your browser that doesn't retain your past browsing history and temporary files and doesn't save them for later.
Related: Watch Super Bowl in 4k Online
Fox Sports App Or Live Stream Not Working (Video Guide)
Wrapping Up
Don't let technical difficulties spoil your game day now that you know how to troubleshoot when the FOX Sports live stream not working. This guide has provided tips and step-by-step instructions to fix the errors on phones and tablets, computers, and smart TV devices.
If all else fails, visit help.fox.com from your web browser, choose FOX Sports, and click where it says "Chat With An Expert." Share your issue with Fox's customer care team and hope for a quick resolution. Alternatively, raise a ticket by filling up Fox's Support Form with all the vital details and let one of their agents reach out to you with a possible solution.