Although Fox has existed since 1986, FOX Sports was established in 1994 to facilitate the network's acquisition of NFL broadcasting rights. Viewers can enjoy an extensive range of sports leagues encompassing football, baseball, soccer, motorsport, wrestling, rugby, college sports, and more.
Whether you're looking forward to watching the Sunday afternoon NFL games, regular and post-season MLB matches, NASCAR Daytona 500 races, NCAA football or basketball tournaments, the MLS Cup, or European soccer leagues, FOX Sports and its sister channels are your ultimate destination.
For those wondering, Fox's sports channels are now accessible via streaming regardless of whether you have a paying cable or satellite TV contract. We've prepared this guide to help you watch FOX Sports on Samsung Smart TV, so continue reading.
How to Get FOX Sports on Samsung Smart TV
The official FOX Sports app for Samsung Smart TVs (2018 and newer models) lets you enjoy your favorite FOX Sports broadcasts live, whether it's the NFL, MLB, USFL, Big Ten, Big East, Big 12, Pac 12, NASCAR, NHRA Formula, MLS, UEFA, NRL, or WWE – complete with pre and post-game analysis and the network's studio shows.
In addition to the live sports streams, the app offers expanded replays, highlights, and clips on demand, with relevant news clips, real-time scores, betting odds, and live stats to keep you updated regarding your favorite teams and sports leagues.
However, just like the FOX Now app that offers catch-up content for the network's TV shows, FOX Sports doesn't have any subscription plans and requires logging in with a participating cable, satellite, or streaming TV provider. That's assuming your TV package includes your local FOX station and the FOX Sports channels.
Steps to Download FOX Sports App on Samsung Smart TV
Provided you meet the login requirements, downloading the FOX Sports app on your supported Samsung TV and linking it to your provider account is pretty straightforward. Here's how it usually goes:
Press the Home button on your Smart Remote, then select the APPS tile in your installed apps row on the Home screen.
Open the Search menu by clicking the magnifying lens icon at the top-right corner.
Enter "FOX Sports" in the search field and select the app in the top results.
Hit Install on the app preview screen and wait for FOX Sports to finish downloading.

You must be signed in with a Samsung Account to download TV apps.

After successful installation, click the "Add to Home" button.
Now navigate to your Home apps row and slide to the end to launch the FOX Sports app on your Samsung Smart TV. If you have your provider credentials ready, use the steps in the below section to log in.
Steps to Activate FOX Sports on Samsung Smart TV
Go to Settings from the FOX Sports app's top menu bar.
There, choose TV Provider Sign In. It'll provide you with a code on the screen with some activation steps.
Open a new tab on your mobile or computer browser and visit go.foxsports.com.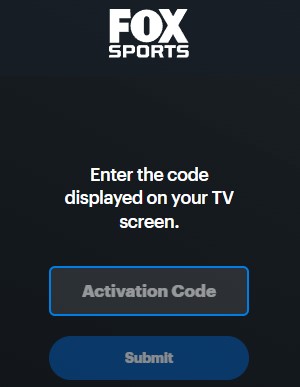 Submit the activation code presented on your Samsung TV screen.
Search for your TV Provider in the list, then confirm your provider account details to log in.
When you've successfully signed in, you can explore and stream the live events FOX Sports is currently televising, along with the highlights, news, and replays of your favorite sports.
Cast FOX Sports to Samsung Smart TV via AirPlay
Those with an AirPlay 2 compatible Samsung TV (2018 or newer model, check the list of supported TVs here) can use the FOX Sports app on their iPhone or iPad to cast the sports content on the big screen.
First, get FOX Sports from the App Store on your Apple device and sign in with your TV provider credentials. Assuming AirPlay is enabled on your Samsung TV and is on the same home network as your iPhone or iPad, you should see the AirPlay icon when playing a live or on-demand stream in the mobile app.
Simply tap the AirPlay icon in the player options and choose your Samsung TV from the list. In a few moments, you should be able to enjoy your favorite sports game on your TV screen and use your phone or tablet for playback and volume controls.
Note AirPlay/casting isn't the same as screen mirroring, so you can continue using your iPhone or iPad for other purposes without interrupting the video playback on your Samsung TV.
Watch FOX Sports on Samsung Smart TV Without Cable
Even if you've cut the cord, you can sign into the FOX Sports app on Samsung Smart TV with a live TV streaming bundle from DIRECTV Stream, FuboTV, Hulu + Live TV, Sling TV, or YouTube TV.
The Sling Blue plan includes 35+ channels and is currently your cheapest way to access live sports broadcasts on FS1 and your local FOX station. There's also the Sports Extra add-on if you want the FS2 and BTN (Big Ten Network) channels. Sling TV offers a deep discount on the first month of subscription for new users.
The Hulu + Live TV bundle in its 85+ channel lineup includes your FOX affiliate, all the FOX Sports channels, and other premium sports networks like ESPN. It even gets you access to the Disney+ and ESPN+ streaming services.
Fox occasionally airs select sporting events in 4K, which offers an immersive experience even though it's just an upsampled 1080p feed. The FuboTV Elite package or YouTube TV Base Plan with the 4K Plus add-on lets you tune into the FOX Sports 4K streams on your Samsung UHD TV.
Note:
The FOX Sports app supports UHD playback but not on Samsung Smart TVs. Hence, you'll have to use the FuboTV or YouTube TV app instead to catch the handful of games FOX Sports airs in 4K.
It's also worth noting that FuboTV and YouTube TV offer the FOX Soccer Plus channel as part of the Sports Plus add-on, which provides access to big-ticket soccer tournaments and championships from all across the globe.
Bottom Line
Having discovered the means and method to watch FOX Sports on Samsung Smart TV, we hope you'll thoroughly enjoy watching your beloved sports on the big screen while rooting for your preferred team or player, all within the cozy confines of your living room.
Our guide also ensures you can stream Fox's live sports broadcasts without cable, but if you have any doubts regarding the whole thing, let us know in the comments.