If you have a passion for sports, ESPN+ is the one-stop destination to fulfill your desires. It caters to all sports enthusiasts, offering a wide range of content, including football, baseball, basketball, soccer, hockey, tennis, golf, cricket, college sports, and some of the most exciting boxing and MMA pay-per-view (PPV) events.
With live access to dozens of nationally-televised and out-of-market sports events alongside a tempting lineup of on-demand originals and documentaries, ESPN+ undoubtedly stands as one of the premier sports-centric streaming platforms in the States.
Are you excited about booting up the ESPN app on your shiny-new Samsung Smart TV and exploring the ESPN+ library? Don't fret! Our comprehensive guide covers it all, with detailed instructions on accessing ESPN on Samsung Smart TV. But first, let us discuss and highlight the sizeable array of sports content on the streaming app.
What Can You Watch with the ESPN on Samsung Smart TV?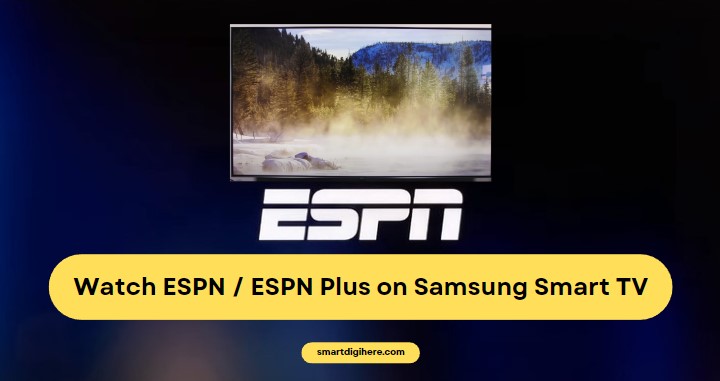 The ESPN app on Samsung Smart TV lets you tune in to hundreds of sports broadcasts from the respective network, including the NFL (Monday Night Football), MLB, NBA, NHL, XFL, PGA Tour, and Wimbledon, along with plenty of soccer leagues and tournaments and college sports games.
With streaming access to ESPN, ESPN 2, ESPN 3, ESPN U, ESPNews, SEC Network, and more, you can catch your favorite sports events live and the studio shows, such as First Take, PTI, SportsCenter, etc. Additionally, you get highlights, the latest news, and live scores for your favorite teams and leagues right on the Home screen.
All this content is available only when you log in with a participating cable, satellite, or streaming TV provider. But the list expands further when you subscribe to ESPN+, which gets you live streams of even more exclusive sports, including but not limited to:
Top Rank Boxing cards and UFC Fight Nights (with PPVs as additional purchases)
Cricket matches from India, New Zealand, and West Indies national cricket teams
National and international soccer leagues, cups, and tournaments, i.e., USLC, Liga MX, La Liga, Copa del Rey, EFL Championship, FA Cup, and Bundesliga
Golf tournaments such as The Masters and PGA Championship
Tennis tournaments like the Australian Open, U.S. Open, and Wimbledon
Numerous games from college football and basketball conferences, i.e., Big 12, Big South, Ivy League, Mid-American Conference, Patriot League, etc.
ESPN+ also offers a vast selection of on-demand titles, including original series and studio programs. Subscribers can enjoy the complete collection of ESPN's acclaimed 30 for 30 documentaries, plus an ever-expanding catalog of captivating originals featuring the biggest names in sports.
How to Get the ESPN App on Samsung Smart TV?
Once you fire up your Samsung TV (most 2016 and newer models running Tizen OS) and connect it to the internet, grab the remote and use these steps to download the ESPN on Samsung Smart TV:
Press Home on your TV remote to bring up the Home or Smart Hub screen.
Navigate to your apps row and select the APPS
Head to the top-right corner of the Apps page and select the Search (magnifying glass) icon.
Type "ESPN" in the search field, then select the app in the top results.
Click Install on the ESPN app overview screen.
After a successful installation, select the Add to Home
Voila! You can now access the ESPN app from the apps row on your Samsung Smart TV's Home screen. To move the app to the front of your apps list, press the Down D-Pad button on the remote, select Move, and rearrange as desired.
How to Sign in to ESPN Plus on Samsung Smart TV?
When you boot into the ESPN app on Samsung Smart TV for the first time, you should see a row of tabs across the top. With the navigation figured out, here's how you can log into the app with an ESPN+ subscription:
Navigate to and select Settings (cog icon) in the upper-right corner.
Scroll to Subscriptions in the Settings menu and click the Log In
Visit espn.com/activate on your mobile or computer as per the on-screen instructions.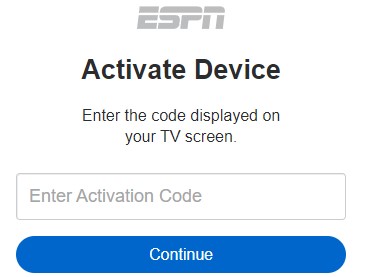 Enter the given activation code in the corresponding field and hit Continue.
Follow the on-screen prompts to sign up for an ESPN account and subscribe to ESPN Plus.
ESPN+ costs $10 for the monthly subscription, though you can get it as part of the Disney Bundle Trio plan, which also bundles Disney+ and Hulu for as cheap as $13/month with advertisements.
If you already have an ESPN account and are an active ESPN+ subscriber, click the "Log in" link at the bottom and enter your credentials.
Once you see the "Success" message, you're ready to dive into all the live sports streams and on-demand titles ESPN+ offers from the official ESPN app on Samsung Smart TV.
Casting ESPN Plus on Samsung Smart TV (For iPhone/iPad Users)
If you own a 2018+ Samsung Smart TV model, it likely supports AirPlay 2. The ESPN mobile app for iPhone and iPad allows casting ESPN+ content to a compatible smart TV.
If you're unable to use the native ESPN app on your Samsung TV for some reason, use these steps as a workaround:
Ensure your AirPlay-enabled Samsung TV is on the same Wi-Fi network as your iPhone or iPad.
Download the ESPN app from the App Store on your Apple device, then open the app and sign in.
Select the live or on-demand sports stream you wish to watch, followed by the AirPlay icon above the player window.
Choose your Samsung Smart TV from the list of available devices.

You may need to verify the AirPlay passcode shown on your TV for the first time.
If AirPlay is configured correctly on your Samsung Smart TV, the chosen ESPN+ content should begin streaming on your big screen.
Log in to the ESPN App on Samsung Smart TV with a TV Provider
As mentioned, ESPN on Samsung Smart TV allows signing in with a cable or satellite TV provider, giving you access to content from the ESPN network otherwise unavailable to ESPN+ subscribers, such as the live ESPN channel streams, select NFL Monday Night Football games, etc.
If you get the ESPN channels with your existing pay-TV package, perform the following steps to activate the ESPN app with your provider credentials:
Launch ESPN on your Samsung TV and navigate to the Settings (cog icon) menu from the top.
Choose TV Provider or Provider Account on the "Account Information" page.
Follow the on-screen instructions, which involve visiting the activation site on another device and confirming the code.
Choose your TV provider from the list, then log in with your account details.
There's an easy way to access the network content in the ESPN app without cable, and that's with a subscription plan from streaming television services like DIRECTV Stream, Hulu + Live TV, Sling TV, FuboTV, or YouTube TV.
Sling Orange is the cheapest subscription plan with which you can log in to the ESPN app and tune into the ESPN, ESPN 2, and ESPN 3 content on your Samsung TV. However, we also encourage you to explore the other options.
Finishing Up
And there you have it! Once you install ESPN on Samsung Smart TV and log in with an ESPN+ subscription or a participating TV provider following the step-by-step instructions in this guide, you're all set to immerse yourself in your favorite live sports broadcasts and ESPN's original programming on demand on the big screen.