Wimbledon is the oldest and most esteemed tennis tournament globally, uniting the world's top players on the hallowed grass courts of the All England Lawn Tennis and Croquet Club.
Whether you're a die-hard fan or simply appreciate the skill and grace of the sport, witnessing the remarkable displays of talent between longstanding rivals at Wimbledon is an experience like no other.
Gone are the days of relying solely on cable or satellite subscriptions. With Samsung Smart TV and a streaming plan, you can bring the picturesque aesthetics and passionate crowds of the Grand Slam into your home, immersing yourself in every second of the action and soaking up the thrilling atmosphere of the matches.
London's All England Club hosts the 146th anniversary of the Wimbledon Championships in 2023, gathering top tennis players, including defending champions Djokovic and Rybakina. Here's everything you need to know to watch Wimbledon on Samsung Smart TV.
Watch Wimbledon on Samsung Smart TV in the UK
In the United Kingdom, BBC is airing the entire Wimbledon tournament across its BBC One, BBC Two, and Red Button broadcast television channels. With BBC iPlayer on your Samsung Smart TV, you can catch all the tennis action live in high definition.
Most of you are likely familiar with the network's ad-supported streaming platform, so you should be glad to know that you can stream iPlayer's live and on-demand offerings without a subscription. However, you still require a valid TV license as per UK laws. Also, you can find the app for Samsung TV models as far back as 2012.
Another option is Discovery+, where you can stream Eurosport's live coverage of the men's and women's singles finals and highlights of early Wimbledon rounds. It's available for 2017 and newer Samsung Smart TVs, though you'll also need to pay £7 a month (or £60 annually) for the Entertainment and Sport plan.
Watch Wimbledon on Samsung Smart TV in the US
ESPN is the ultimate destination for comprehensive Wimbledon and other tennis Grand Slam tournament coverage. The main ESPN channel is carrying the semi-finals and finals telecasts, with ESPN 2 and ESPN 3 also covering daily matches from the tournament, just like the Tennis Channel.
You can tune into the following Wimbledon-broadcasting channels on your Samsung Smart TV via several live TV streaming services, including DirecTV Stream, FuboTV, Hulu + Live TV, Sling TV, and YouTube TV.
Live TV Provider
Suggested Plan
Channel Availability
(Official Wimbledon U.S. Broadcasters)
ESPN, ESPN 2, ESPN 3
Tennis Channel
DirecTV Stream
Choice
✔
✔
FuboTV
Elite
✔
✔
Hulu
Hulu + Live TV
✔
✖
Sling TV
Orange
✔
✖ (Sports Extra Add-on)
YouTube TV
Base Plan
✔
✖ (Sports Plus Add-on)
We recommend going with Hulu's Live TV offering because it offers not just the various ESPN channels but also bundles the ESPN+ service, which streams plenty of Wimbledon matches alongside on-demand highlights and replays on its own.
Sling TV's Orange plan offers all of ESPN's channels and is the most affordable streaming TV plan for watching Wimbledon live on Samsung Smart TV.
A $10-a-month standalone ESPN+ subscription is also accessible via the official ESPN app. However, for $3 more, opting for the Disney Bundle (With Ads), which includes the sports app alongside Disney+ and Hulu's impressive on-demand offerings, is an even better value.
Some of these cable TV replacement services provide free trials for new users. By utilising them, you can watch your most-anticipated Wimbledon match-ups for free if you sign up at the correct time and cancel afterwards.
If you already get the channels with an existing cable or satellite TV connection, use your provider credentials to sign into the ESPN and Tennis Channel apps on your compatible Tizen-powered Samsung Smart TV. You can then watch the tennis matches live without paying an additional subscription fee.
Watch Wimbledon on Samsung TV in Canada
TSN is where Wimbledon airs in Canada on cable TV, with RSN covering the broadcasts in French. If you get the channels as part of your existing TV contract, you can authenticate into the TSN app (available for 2017 and newer Samsung Smart TVs) with your provider to stream the tennis event.
Those without cable can subscribe to TSN+ to stream the Wimbledon with additional court feeds and other featured content. It's available for a limited-time free preview, at least at the time of writing.
Watch Wimbledon on Samsung Smart TV in Australia
For our fellow Aussie tennis fans, Wimbledon is airing on Nine Network's 9Gem free-to-air broadcast channel, with the live streams available via its 9Now streaming app, also for free and compatible with 2018 and newer Samsung Smart TV models.
There's also Stan Sport, where you can watch the complete Wimbledon event live, with every Centre Court game in 4K UHD without advertisements, with on-demand mini-replays and highlights. A 7-day free trial is available for new Stan subscribers. The app works with 2016-2023 Samsung TVs.
Watch Wimbledon on Samsung TV in New Zealand
Sky Sport offers live Wimbledon coverage in New Zealand, with the broadcasts continuing deep into the night. With the $20 monthly Sky Sport Now subscription, you can tune into every single match from the tournament on your Samsung Smart TV without cable. The $20 monthly subscription comes with a 7-day free trial for those interested.
Watch Wimbledon on Samsung Smart TV in India
Wimbledon is airing on the Star Sports channel for tennis enthusiasts in India. It's also streaming exclusively on Disney+ Hotstar, the premier streaming platform in the country, bringing the excitement and intensity of the prestigious tennis tournament to Samsung Smart TV owners.
Disney+ Hotstar has two subscription tiers, Super and Premium, both of which include live sports, with the differences being the video quality, number of simultaneous devices, and ads on on-demand titles. You can watch the replays, highlights, and clips from past Wimbledon events for free.
How to Watch Wimbledon on Samsung Smart TV?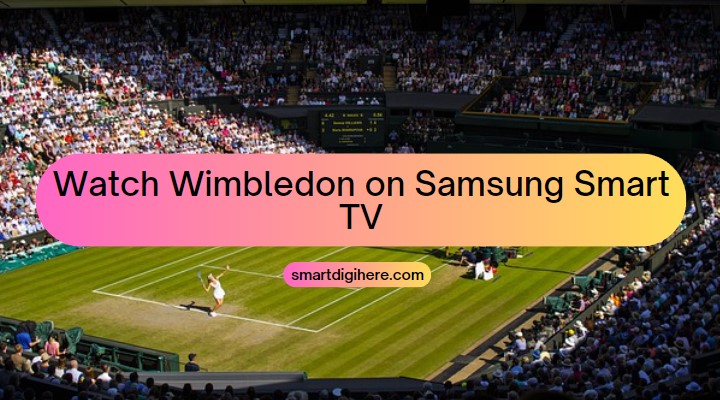 Now that you know which services are streaming Wimbledon in your country, all you have to do is download the app(s) and sign in. You may already find some of them preinstalled on your Samsung Smart TV, but if you don't, use these steps:
Press the Home button on your Smart TV Remote and navigate to Apps in the top row of the Home screen.
Choose and find the streaming app you'll use for watching Wimbledon. If you can't find it in the featured catalogue, go to the Search (magnifying glass) at the top and type the app's name (e.g., BBC iPlayer, ESPN+) using the on-screen keyboard.
Once you're on the app's preview page, select Install.
Finally, click the Add to Home option to add the newly-installed app to the Home screen.
All that's left is to open the streaming app from your TV's Home apps row and follow the on-screen steps to log in. Depending on the service, you'll also need to register for an account and sign up for a subscription, which is easier to carry on with on your phone or computer. Most TV apps require using a second device for login anyway.
When you're all set up, simply get into your choice of streaming app on Wimbledon match day and time to stream the game live. Ensure you have a moderate internet connection (15 Mb/s or faster) for an optimal, undisrupted streaming experience.
Final Thoughts
Watching Wimbledon on Samsung Smart TV is an absolute game-changer, given you're no longer tied to pay cable or satellite TV contracts to enjoy all the tennis action on the London grass courts – all thanks to online video platforms with streaming rights to the prestigious Grand Slam event in various countries.
At Wimbledon 2023, the top-ranked players in Men's and Women's Singles take centre stage. Carlos Alcaraz leads the Men's Singles rankings, followed closely by Daniil Medvedev, while defending champion Novak Djokovic holds a strong third position.
In the Women's Singles, Iga Świątek reigns supreme, with Aryna Sabalenka in second place and Jessica Pegula in third. Elena Rybakina, ranked fourth, returns to defend her title in the category.
We've outlined both premium and free options, so you have plenty of choices for watching your favourite players fight it out to the finals for the coveted Gentlemen's Singles Trophy or Venus Rosewater Dish.