Sky is one of the biggest television hubs in the United Kingdom. What started as a cable provider and went on to popularise satellite television across the country has now branched out to running its own set of channels and, recently, streaming the best of entertainment and sports.
Speaking of which, Sky Sports carries a wealth of the best sporting coverage on the English lands – from Formula One to Premier League to international cricket to world-class rugby, plus golf and American basketball and soccer, and so on. It's a must-have for any sports fanatic.
A Sky TV contract isn't cheap, with a costly base plan that only gets costlier with the add-on packages, especially Sky Sports. Fortunately, there are other ways to get Sky Sports to satisfy your sports needs without binding yourself to a lengthy contract.
You can enjoy the channels directly on your smart TV without a Sky Q set-top box. Read on to learn as we show you how to get Sky Sports on LG Smart TV.
Watch Sky Sports on LG Smart TV with NOW
Typically, one would watch Sky Sports on LG TV via a Sky Q satellite box and a corresponding Sky TV package. That also isn't necessary anymore with the latest Sky Stream boxes relying on home broadband for streaming.
If you, however, own a webOS-enabled LG Smart TV, you don't need either device to watch Sky Sports. As most of you are familiar, you can download various streaming apps from your TV's built-in Content Store, so zero mess of setting up external media players and all your viewing needs under one umbrella.
The app that'll allow you to watch the Sky Sports channels on your LG Smart TV is none other than NOW, Sky's subsidiary subscription-based streaming counterpart. It's your best option over getting into a lengthy Sky, BT, or Virgin Media contract for your sports fix.
NOW's monthly-rolling Sports Membership provides live access to all 11 Sky Sports channels dedicated to each type of sport. It's also available in a flexible, short-term day membership granting 24-hour access to the channels. Here are the particular Sky Sports channels the NOW subscription covers: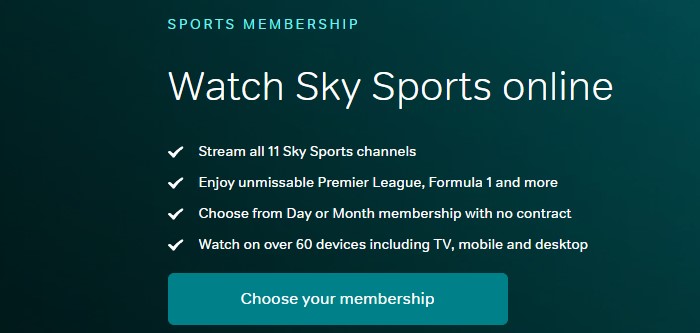 | | | |
| --- | --- | --- |
| Sky Sports Main Event | Sky Sports Premier League | Sky Sports Golf |
| Sky Sports Football | Sky Sports Cricket | Sky Sports Arena |
| Sky Sports F1 | Sky Sports Action | Sky Sports News |
| Sky Sports Racing | Sky Sports Mix |   |
Steps to Get NOW on LG Smart TV
The NOW app is compatible with 2016 and newer LG Smart TVs running webOS 3.0 and above, so the odds of your model supporting it are high. The latest LG TVs come with the app pre-installed, but if you don't see it on the app list, use the steps below to download it from the Content Store:
Press Home on your LG TV remote. It should bring up the Home menu or launcher bar.
Navigate to the Apps (four square tiles) icon, or select the Content Store option from the app carousel.

Click the Search (looking glass) icon at the top-right corner of the Content Store page.
Enter "NOW" in the respective field using the virtual keyboard and hit the Search
Select the NOW app from the "Apps" row, then click Install on the next screen, where you should see the app's description and screenshots.
Once installed, press the Home remote button, navigate to your apps list, and open the NOW app. Follow the instructions below to sign up for the Sports Membership and activate the app.
Activate NOW on your LG Smart TV
While you can visit nowtv.com from your web browser or use the mobile app to sign up for your Sports Membership, you can join and activate the NOW app directly from your LG Smart TV using these steps:
Go to the My Account tab from the NOW app's Home page.
Scroll to the Sports Membership, choose between the Month or Day plan, and select Join in.
Fill in the required details, including your email address, and then create a password for your NOW account.
Go through the T&C and privacy policy screen and click Continue.
Type in your billing details and follow the on-screen prompts to finalise purchasing the NOW Sports Membership.
That's it! Now you may head to the TV Guide section from the app's Home page and access the live Sky Sports channel streams! Additionally, you'll have access to over a thousand hours of on-demand replays and highlights of sporting events you may have missed out on recently.
FAQ: Can I Watch Sky Sports on LG Smart TV in 4K?
Sky Sports broadcasts select sporting events, including the Formula One and Premier League, in up to crystal-clear 4K resolution with Dolby Atmos audio.
Unfortunately, unless you have a Sky Q or Sky Stream box without the UHD & Dolby Atmos add-on on top of your Sky TV package, you can't enjoy Sky's Ultra HD sports coverage, even if you have a compatible LG 4K TV.
On the NOW streaming app, the Sky Sports channel streams only go up to 1080p. That, too, comes at the additional price of the NOW Boost add-on, without which the streaming quality is limited to 720p.
To NOW's credit, they currently offer a 7-day free trial of Boost with their Sports Month Membership, after which you only pay £6 extra for the privilege of watching the big-ticket events in Full HD with 5.1 surround sound. You also get the benefit of streaming NOW on two additional devices at once.
What Can You Watch With Sky Sports on LG Smart TV?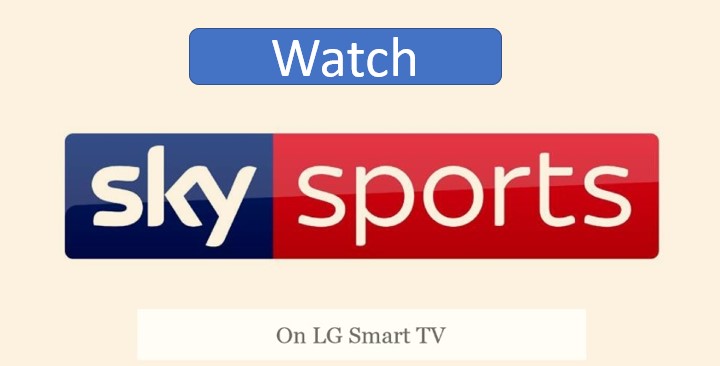 Sky Sports offers a variety of channels to suit different sports fans' preferences. Whether you want to watch live Premier League games, Carabao Cup, Scottish Premiership fixtures, or club-specific content from Liverpool and Manchester United, you can find them on Sky Sports Premier League and Sky Sports Football.
If you're into motorsports, you can enjoy every practice, qualifying and race from Formula 1 alongside Formula 2, Formula 3, and IndyCar racing events on Sky Sports F1 and Sky Sports Mix. For horse racing enthusiasts, Sky Sports Racing covers all the major meetings and festivals from the UK and Ireland.
Sky Sports Cricket is the ultimate destination for cricket fans, with live coverage of England home internationals, ODIs, T20s, and Tests from India, Indian Premier League (IPL), The Hundred and more. You can also watch Sky Sports' documentaries and features on some of the legends and stories of the game via NOW on demand.
Sky Sports Golf is the home of golf fans, with live coverage of every major tournament, including the Ryder Cup, the Masters, the US Open and the Open Championship. You can also watch PGA Tour and European Tour events throughout the year on the channel.
Sky Sports Action and Sky Sports Arena are dedicated to other popular sports like Boxing, Darts, NBA, NFL, Netball, Rugby, etc. You can also catch up with the latest news and highlights from these sports on Sky Sports News. And if you are a fan of American Football, you can enjoy all the action from the NFL season on Sky Sports NFL.
Final Words
With Sky's sister streaming alternative, NOW, you can watch Sky Sports on LG Smart TV without the hassle of setting up a Sky TV connection.
This guide has discussed everything you possibly need to know in detail, including step-by-step instructions to install, activate, and use the NOW app to tune in to the Sky Sports streams on the big screen. Still, if you need any clarification on this topic, leave a comment below, and we'll help you out.