Fitbit Versa 3 vs Samsung Galaxy Watch 4: Which is Better? The earliest days of fitness trackers began with Fitbit. The brand has recently expanded its product portfolio to smartwatches, starting with the Versa and Ionic series. Its Versa 3 is currently one of the best-selling smartwatches on the market, positioned as a budget-friendly choice to enter the Fitbit ecosystem.
On the other hand, Korean tech giant Samsung has also been trying to take a bite of the smart wearables market with its Galaxy Watch series. The Galaxy Watch 4, at the time of writing, is one of Samsung's latest flagship wearables, clearly targeted against similarly-priced alternatives from Fitbit, Fossil, and Ticwatch.
The Versa 3 and Galaxy Watch 4 are often available around the same price, which brings the question – Which is the better option? Keep reading on as we'll compare these smartwatches against each other to help you pick the best one.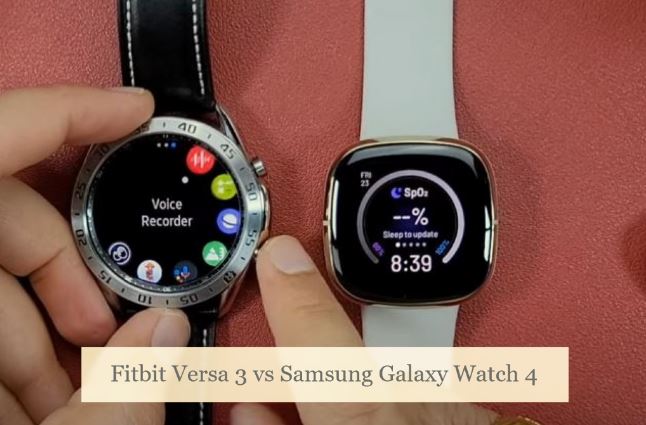 Fitbit Versa 3 vs Samsung Galaxy Watch 4: Side-by-Side Comparison
Here's a rundown of the features of the Versa 3 and Galaxy Watch 4 side by side:
| | | |
| --- | --- | --- |
|   | Fitbit Versa 3 | Samsung Galaxy Watch 4 |
| Dial Shape | Square | Round |
| Display Type | AMOLED | Super AMOLED |
| Chassis Material | Aluminium | Aluminium |
| Water Resistance | Up to 50 meters (5 ATM) | Up to 50 meters (5 ATM) |
| GPS + GLONASS | Yes | Yes |
| Speaker/Microphone | Yes | Yes |
| Notification | Yes (with quick replies) | Yes (with reply function) |
| Contactless Payment | Fitbit Pay | Samsung Pay |
| Battery Life | 6 Days | ~2 Days |
| Connectivity | Bluetooth, Wi-Fi 4 (2.4 GHz) | Bluetooth 5.0, Wi-Fi 5 (Dual-Band), LTE (only on LTE models) |
| Additional Device Sensors | 3-Axis Accelerometer, Altimeter, Ambient Light Sensor | Accelerometer, Barometer, Geomagnetic Sensor, Gyro Sensor, Light Sensor |
| Health Monitoring Sensors | Optical Heart Rate Sensor, Infrared SpO2 Sensor, Skin Temperature Sensor | Optical Heart Rate Sensor, Electrical Heart Sensor, Bioelectrical Impedance Analysis Sensor |
| Operating System | Fitbit OS | One UI Watch (Wear OS) |
Fitbit Versa 3 vs Samsung Galaxy Watch 4: First Impressions
The Fitbit Versa 3 has a bright and vibrant AMOLED screen similar to its predecessors, but now a tad larger at 1.58 inches with a higher 336 x 336 resolution. The screen curves are now more pronounced around the bezels, giving it a premium look.
For comparison, the Versa 2 came with a 1.39-inch screen with a 300 x 300 resolution. The Versa 3 also has slightly larger dimensions than its predecessor, though the size difference on the wrist seems marginal.
The Versa 3 supports Always-On-Display, meaning you can keep track of your essential health and fitness metrics without waking up the watch. The feature comes in handy during runs, bike rides, and intensive gym workouts.
While the Versa 3 resembles its more expensive counterpart, the Fitbit Sense, it lacks the premium stainless-steel ring and the EDA and ECG sensors required for stress and cardiac activity monitoring.
One QOL improvement on the Versa 3 is the spring release tab for the straps over the finicky metal bars on the Versa 2 and original Versa. It makes switching out the watchbands much easier than before.
The Versa 3, like the Fitbit Sense, has a touch-sensitive side button for waking up the screen. Users can also set it as a shortcut button for different functions. Navigation is done by swiping up, down, left, and right on the screen.
The Samsung Galaxy Watch 4 essentially shares the same design as the Watch Active 2 and is considered its spiritual successor by many. Galaxy Watch 4 Classic, on the other hand, succeeds the Galaxy Watch 3 from the previous year.
The Galaxy Watch 4 is available in two size variants, 40mm and 44mm. The screen sizes on the following variants measure 1.2 inches and 1.4 inches, respectively.
The screen resolution is higher on the 44mm variant (450 x 450) than on the 40mm variant (396 x 396). It's worth noting that both variants use Samsung's Super AMOLED display technology and have Corning Gorilla Glass DX+ protection.
There are two buttons on the Galaxy Watch 4 for navigation. Users can assign shortcuts to the Home button and hold it to activate the voice assistant. It also has a touch-capacitive digital bezel that replaces the Watch 3's physical rotating bezel. The latter is now a prominent feature of the Watch 4 Classic.
Compared to its predecessors, the Galaxy Watch 4 has a bigger, brighter screen, improved battery life, and new health-monitoring capabilities. It also ditches Samsung's feature-limited Tizen operating system for Google's more capable Wear OS.
Fitbit Versa 3 vs Samsung Watch 4: Water Resistance
Fitbit claims up to 50 meters of water resistance on the Versa 3 or roughly 164 feet. It means you can safely wear it to the shower, beach, or swimming pool. Using the silicone band is highly recommended for those who plan to wear it in water.
The Samsung Galaxy Watch 4 is IP68-certified and has a 5 ATM pressure rating, meaning it's water-resistant in depths of up to 50 meters. Hence, it can deal with rain, splashes, showering, and swimming.
It's worth mentioning Watch 4's MIL-STD-810G certification. It can endure extreme conditions like drops, shocks/vibrations, and abnormal temperature/altitude changes. It's also resistant to dirt, sand, and fine dirt particles.
Check out: How Long Do Fitbits Last?
Fitbit Versa 3 vs Samsung Galaxy Watch 4: Health Monitoring Features
Let's come to the watches' health monitoring capabilities. The Versa 3 doesn't have as many health-tracking sensors as the Watch 4, but the active heart monitoring and real-time activity tracking are ample to satisfy the average user's needs.
And when it comes to health and fitness monitoring features, the Fitbit companion mobile app remains the best. It reminds users to walk for a few minutes every hour, lets them choose from countless meditation tracks, and gives access to detailed analysis of heart rate zones, blood oxygen levels, and sleep quality. Users can also set and track daily fitness goals and get personalized workout recommendations.
The Versa 3, like other Fitbits, allows users to choose 20+ workout/exercise modes, including high-intensity interval training. The new built-in GPS can also track your outdoor activities, e.g., running, cycling, and swimming, more precisely than before.
On the flip side, Galaxy Watch 4 users can monitor their heart rate activity, sleep quality, stress, and blood oxygen saturation (SpO2) levels. The watch can also track 90+ types of workouts and exercises and auto-detect some basic activities like running, cycling, and swimming.
One big caveat is that Samsung restricts the Watch 4's ECG and blood pressure monitoring features in specific locales due to regulatory mandates. Users must also own a Samsung phone to access these features even in supported regions. Though it's bypassable, the out-of-the-box unavailability of these features can be a nuisance to some.
Another cool feature of the Galaxy Watch 4 is the BIA (Bioelectric Impedance Analysis) sensor, which sends microcurrents to the body to measure someone's overall body composition, e.g., fat, muscle, and water.
You can simply place your middle and ring fingers on the two navigation buttons to get your basal metabolic rate, body fat and water percentage, and skeletal muscle measurements. It's like a "smart scale" but can sometimes result in inaccurate readings depending on the situation. Keep in mind that it doesn't detect or diagnose underlying medical conditions.
You May Like – What To Do If I Lost My Whoop Strap?
Fitbit Versa 3 vs Samsung Galaxy Watch 4: Battery Life
In terms of battery life, the Fitbit Versa 3 markedly outperforms the Galaxy Watch 4 with up to 6 days of battery life on a single charge. Of course, this is with the screen brightness set to Auto and enabling GPS only when necessary. Still, it's a significant improvement over the previous models in the Versa series.
Unlike most other Wear OS-powered smartwatches, the Galaxy Watch 4 delivers reasonably good battery performance. It can comfortably last through a full day or even two days of usage, but it's nowhere near close to matching the Versa 3's runtime.
The disadvantage is that you'll likely need to take off and put the Watch 4 on charge more frequently, affecting your health and fitness data. The Versa 3 is a clear winner in this regard.
Related: Fitbit Symbols Meaning – What Do The Fitbit Icons Mean?
Fitbit Versa 3 vs Samsung Galaxy Watch 4: Which One's Better?
It's pretty difficult to judge which of the two is the better choice. Both have their advantages, disadvantages, and similarities, all of which we've discussed above. In fact, Google's recent acquisition of Fitbit and their collaboration with Samsung on the software side seem to have benefitted both parties in different ways.
If all you want is a decent fitness tracker with long-lasting battery life, the Versa 3 is your best set. It's a big step-up over the Versa 2 in several aspects, and the ever-improving Fitbit app is a powerful health platform for casual and intermediate users.
Alternatively, for those tempted by the features of the new Wear OS 3 and the vast health monitoring suite and willing to deal with weaker battery performance, the Galaxy Watch 4 from Samsung is the way to go. It's one of the most feature-rich smartwatches you can get outside the Apple ecosystem.