It has been a few months since World Champion Max Verstappen touched the finish line with the final lap overtake in Abu Dhabi, with Charles Leclerc and Sergio Perez taking the second and third places, respectively. The F1 2023 season is already here – starting with the Bahrain Grand Prix.
Formula 1's 2023 season is quite expansive. The tentative schedule suggests 23 races (incl. Six Sprints Qualifiers) between March and November, taking place across 20 different countries across the globe. It's going to be the busiest season in F1 history so far.
We witnessed the Formula 1 pre-season testing well underway on the Bahrain International Circuit a few weeks ago. However, the Bahrain GP marks the first official race of the season, making it the ideal time for F1 enthusiasts to figure out how to access F1 TV / F1 TV Pro on their PS4 and PS5. Read on through this guide, and you'll find more information.
Is F1 TV / F1 TV Pro Available on PS4 & PS5?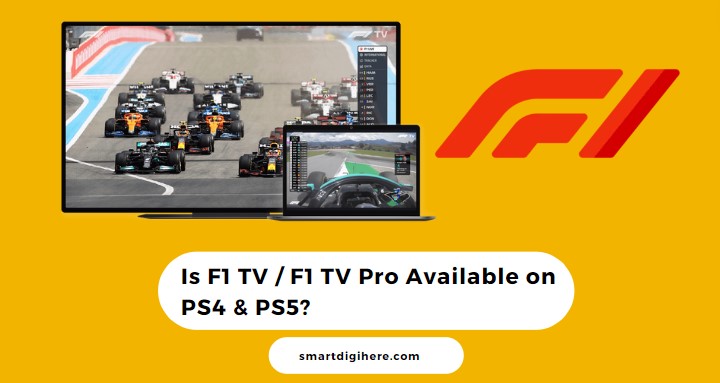 For ardent followers of Formula 1, F1 TV is likely already on their radar. Owned by F1 owners Liberty Media, it's the go-to subscription-based streaming platform for live races, on-demand replays, highlights, stats, interviews, and clips, plus a plethora of additional features, including the option to view live races and switch between the main live feed and the onboard cameras of any of the cars.
Depending on where you're from, you can get the F1 TV Pro subscription (regional prices vary) to stream every Grand Prix event alongside Formula 2, Formula 3, and Porsche Supercup. The streaming app is available on various devices and platforms, but unfortunately, Sony's PS4 or PS5 isn't one of them. In fact, you can't get it on the Xbox either.
If you own a PlayStation 4 and are wondering if it's possible to stream from the F1 TV website via the console's Internet Browser, that's not possible due to limited web browser support. As for the PlayStation 5, the console lacks a web browser, so there's no way to get F1 TV Pro on it until the service brings official support.
Fortunately, if you've been longing to catch this year's Formula One races on the big screen via your PlayStation console, there are plenty of alternatives. Check out the sections below to learn how to stream F1 on PS4 and PS5 from where you are.
Watch F1 on PS4 & PS5 in the United States
Motorsports fans in the United States can watch the 2023 F1 season live on ESPN and ESPN 2, as they have exclusive broadcasting rights to Formula One in the region.
If you get the sports network through your cable or satellite package, easily tune into the F1 live streams via the ESPN app, which is available on the PlayStation Store for PS4 and PS5. All you have to do is authenticate with your TV provider credentials.
If you don't pay for cable, use streaming television services to gain access. While several OTT live TV providers carry the ESPN network, only Hulu with Live TV and YouTube TV natively support Sony's PlayStation consoles.
Hulu's monthly Hulu + Live TV plan includes ESPN, ESPN 2, and ABC (the latter is to simulcast Monaco, Miami, Canada, USA, and Mexico City GPs) alongside 85+ top channels. It also bundles unlimited DVR storage, Hulu's on-demand library, and access to the Disney+ and ESPN+ streaming services. It's worth noting the standalone ESPN+ subscription doesn't cover the live ESPN channel streams.
Like Hulu, YouTube TV's Base Plan carries ABC and ESPN networks in its 100+ channel lineup, with no limit on live TV recordings and up to three concurrent streams. What's great is that you can sign up for a free trial if you're lucky enough to be eligible for what seems to be a limited-time promotion.
Watch F1 on PS4 & PS5 in the United Kingdom
British satellite TV provider Sky has exclusive coverage rights to Formula 1 in the UK until 2029, meaning you can catch all the 2023 season races through the Sky Sports F1 channel.
Those paying for a Sky TV contract with the Sky Sports add-on can access the channel via TV From Sky on PS4 or the Sky Go app on PS5.  You must also pay for the Sky Go Extra add-on to access Sky's F1 broadcasts on your PlayStation console and other supported devices.
Hesitant about committing to a long-term subscription? Opt for a NOW Sports Pass, which allows you to access all the 11 Sky Sports channels, including the one airing Formula One on your PlayStation. While you can get the Sports Pass as a monthly membership, NOW also offers a cheaper 24-hour plan, a suitable alternative if you only intend to stream a few races rather than the entire season.
Channel 4, one of the free-to-air UK broadcasters, is to air the British Grand Prix, meaning you can stream the race online for FREE via the All4 app on your PS4 or PS5.
Note: While Sky Sports offers Formula 1 coverage in up to 4K, neither Sky Go nor NOW on PlayStation offer UHD playback. With the NOW Sports Pass, you must get the NOW Boost add-on to watch Sky Sports F1 at 1080p Full HD. It's limited to 720p HD by default.
Watch F1 on PS4 & PS5 in Australia
In Australia, Fox Sports holds the rights to Formula 1 coverage. Hence, you can watch all the races online through Foxtel Now on PlayStation 4. However, at the time of writing, the streamer app isn't available for Sony's current-gen PS5 console.
Fortunately, Kayo Sports supports both consoles – streaming every F1 race from the 2023 season with access to 50+ additional sporting events from across the globe. It's an excellent option for those who don't wish to commit to a lengthy and costly contract.
Watch F1 on PS4 & PS5 in New Zealand
In New Zealand, Sky Sport is the new home of Formula 1 motorsport. Therefore, fans can live stream every race via the Sky Sport Now app. It offers flexible monthly and weekly subscription plans and is available for the Sony PlayStation 4 and 5 consoles. You can even try out the monthly package for free for seven days.
Related Posts:
Finish Line
Sadly, F1 TV and F1 TV Pro on PS4 and PS5 are unsupported as of now. But as we've highlighted above, there are many ways to catch every F1 2023 Grand Prix (and other races) on the PlayStation consoles, be it the United States, the United Kingdom, Australia, or New Zealand. It's now possible to stream Formula 1 on your game console without cable, thanks to the growth of streaming platforms outpacing traditional solutions.