The English football season continues with the coming game weeks of high-profile Premier League action across both sides of the table. The continuous uncertainty of the promotion and relegation fight is to bring more twists and turns between now and the concluding game of the season.
The best part is that you can catch them with or without traditional means – since all of the week's EPL matches are easily accessible via streaming across the globe. Here's how and where to watch Premier League on Sony Smart TV live, both from the UK and overseas.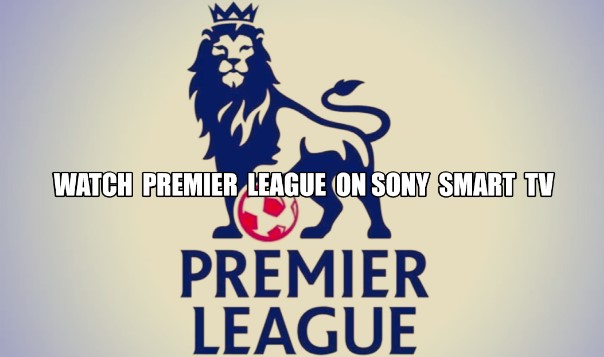 Watch Premier League on Sony Smart TV in the UK
The Premier League's broadcasting deals with TNT Sports, Sky Sports, and Prime Video in the United Kingdom continue till the conclusion of the 2024-25 season, with only 200 out of 380 matches split unevenly across the trio. The rest of the games fall under the blackout laws and will be unavailable on TV and streaming.
Sky Sports
If you have to pick one, Sky Sports is your best option for maximum Premier League coverage in the UK because it has rights to 128 games throughout the 32nd EPL season. Sky has a dedicated Premier League channel airing most matches, with select fixtures on Sky Showcase and Main Event.
Sky Sports packages are available on an 18-month rolling contract, though you can also get it as an add-on if you already pay for a Sky TV connection. The latter includes Sky Sports Football and Premier League.
Those using a Sky Q box or a Sky Stream puck can watch the games in 4K HDR quality on a compatible Sony BRAVIA TV. However, subscribers must pay extra for the Sky Q Experience pack or Sky UHD and Dolby Atmos add-on.
If you don't want to renew your Sky TV contract, the company's streamer alternative, NOW, is an excellent option. It's compatible with Sony Android and Google TVs, and with a NOW Sports Membership Pass, you get streaming access to all Sky Sports channels.
NOW offers Day Pass for one-off occasions, but it's not worth the value. We'd advise you to get the Month Pass instead, provided you want access to Sky's EPL coverage every weekend. Plus, it includes a free week of NOW Boost, an add-on that enables Full HD video and Dolby surround sound and allows for streaming on three screens simultaneously.
Related: Watch Premier League on LG Smart TV
TNT Sports
It was BT Sport with media rights for 52 Premier League games every season. Now that's transferred to TNT Sports with BT's joint venture with Warner Bros. Discovery.
The simplest way to catch these matches on Sony TV is the Discovery+ streaming service, which offers all four TNT Sports channels (alongside Eurosport) with its all-new Premium subscription tier. Use the Android TV app or cast the live streams via the mobile app over Chromecast or AirPlay. Find out more in our TNT Sports on Sony TV guide.
Discovery+ Premium is bundled with most BT TV, Sky TV, and Virgin Media packages carrying TNT Sports, though you may need to activate/redeem it through your provider's website. The same goes for legacy BT Sport Monthly Pass subscribers.
If you use any of the providers' set-top boxes with your Sony TV, you can also tune in to TNT Sports' Premier League telecasts with the correct sports channel bundle.
For our fellow Irish football fans, NOW is the answer to streaming the Premier League on Sony TV. Its Sports Extra Membership includes TNT Sports alongside the Premier Sports channels, meaning you get to enjoy plenty of EPL fixtures for the week. However, note you must pay extra for the NOW Boost add-on for 1080p video playback and 5.1 surround sound.
Prime Video
In recent years, Amazon's gradual leaps to give its subscribers access to live sporting events have paid off. While tennis remains its primary focus in the UK, Prime Video is now streaming 20 Premier League matches in the 2023-24 season.
Prime Video is pre-installed on most Sony Android and Google TVs. Hence, membership is all you need. You can become an Amazon Prime member on a monthly or yearly billing cycle, though new users can also apply for the limited free trial offer.
Also See: Watch ITVX on Sony TV
Watch Premier League on Sony TV in the US
Unlike in the UK, where only three Premier League games are airing on average, American soccer fans get ten. If you live in the States, all 380 games in the 2023-24 season are at your disposal. In fact, it's the Comcast-owned broadcaster NBC with exclusive rights in the country, which renewed its deal with Premier League until 2028.
You can catch NBC's Premier League coverage across their NBC (local affiliate station), CNBC, and USA Network channels, as well as the Peacock streaming service. Further, Universo and Telemundo are hosting select games with Spanish commentary.
If you already get the following channels via your cable or satellite provider, download the NBC, NBC Sports, or any of the channel's TV Everywhere app on your Sony Android TV, activate it with your valid credentials, and start watching. However, the Peacock Premium or Plus plan should be enough for those who don't pay for cable anymore.
But if you don't want to miss out on the broadcasting coverage, subscribing to a streaming television service, such as DirecTV Stream, fuboTV, Hulu with Live TV, Sling, or YouTube TV, will give you access to NBC's linear TV channels. Therefore, you get complete coverage of the 2023-24 EPL season.
Sling TV's Sling Blue plan is the most affordable in the bunch. It includes NBC (only in select markets), USA Network, and 35+ other channels, plus 50-hour cloud DVR and three concurrent streams. CNBC is available with the optional News Extra add-on.
If you have a compatible 4K Sony BRAVIA TV, get the fuboTV Elite or Premiere package or the YouTube TV Base plan with the 4K Plus add-on to watch select Premier League games in 4K HDR. While it's technically just upscaled 1080p, there's a discernible jump in image fidelity.
Watch Premier League on Sony Smart TV Elsewhere
If you're trying to watch the top flight of English football outside the UK and the US, check which local broadcaster or streaming platform has Premier League rights in your region.
For instance, it's fuboTV in Canada, exclusively streaming all matches from the 2023-24 EPL season and the next two ones (till the end of the 2024-25 season). The fubo Essentials plan is all you need, for which you can choose to pay monthly, quarterly, or annually.
In India, Disney+ Hotstar is streaming the 2023-24 Premier League in English alongside regional commentary languages. Full replays and highlights of past matches are available on-demand, though the live streams require subscribing to the Super or Premium plan.
Australian soccer fans are also well-fixed for English Premier League action this season, thanks to Optus Sport. It has a native app for Sony Android TVs, and you can cast the live/on-demand EPL streams from your phone or tablet via Chromecast. The same goes for Sky Sport Now in New Zealand.
If no OTT platforms offer Premier League live streams in your country (which is quite unlikely), you can use a VPN (Virtual Private Network) to subscribe to any of the foreign services mentioned above and watch the games on your big screen. Unlike most, Sony's Android and Google TVs natively support VPN apps.
A VPN is also great if you're abroad during the EPL 2023-24 season and can't stream the matches from your local service for which you already have a subscription. It's cheap for the most part, easy to set up, and legal to use.
Wrapping Up
Above, we've listed all the channels and services that'll allow you to watch the Premier League on Sony TV, even if you don't have cable. It's worth noting that all the following streaming apps highlighted above are available on the Play Store, so you'll be able to download them easily if you have an Android TV or Google TV-powered model.
If you have an ordinary Sony set with zero internet functionality, an Android TV or Chromecast dongle, Fire TV Stick, or Roku player is your best option for streaming the Premier League. Otherwise, you're stuck with the traditional cable or satellite set-top box, for we've provided additional details.
As for whether you can watch the English Premier League on Sony Smart TV for free, we couldn't find any viable options, unfortunately. However, we recommend checking out Sky Sports Premier League on YouTube for post-game analysis or the official YT channel of your favourite competing team for match highlights.