ITV's brand-new streaming service ITVX is already available for an impressive selection of devices and web browsers, including the Chromecast with Google TV.
If you're using one of these streaming dongles with your living room TV, you can access ITVX's massive content library spanning 10,000+ hours with a bevvy of box sets alongside a rotating catalogue of hit films. You can also catch live streams of the UK's major events and sports matches.
What's even more exciting is the full slate of originals that the broadcaster will release on the service on ITVX in the upcoming weeks, ranging from dramas to thrillers to comedies to reality to factual, hard-hitting docuseries. They stream on the platform for six months before airing on ITV's linear channel so you can binge at your leisure.
You'll be able to enjoy most of the content for free on the ad-supported tier or pay for the ad-free Premium tier, which offers thousands more hours of BritBox boxsets, including classic British shows from ITV, BBC, Channel 4, Channel 5, etc.
All this is very compelling stuff. And at this point, you're most likely intrigued to explore ITVX on Chromecast with Google TV. Luckily, you're at the right place.
Features of ITVX on Chromecast with Google TV
Watch thousands of hours of on-demand content and catch-ups of your favourite ITV programmes.
Binge ITV's homegrown and acquired streaming-exclusive miniseries, films, and documentaries every week.
With "Live TV", tune into traditional live TV stations, including ITV 1/2/3/4, ITVBe, and CITV, along with an ever-changing lineup of themed channels.
Create a separate ITVX profile for kids, filter content by ratings, and protect your main profile behind a PIN using Parental Controls.
Log in with your ITV account to get personalised content suggestions tailored to your taste and continue watching an episode or film right where you left off across your Chromecast and other devices.
Install ITVX on Chromecast with Google TV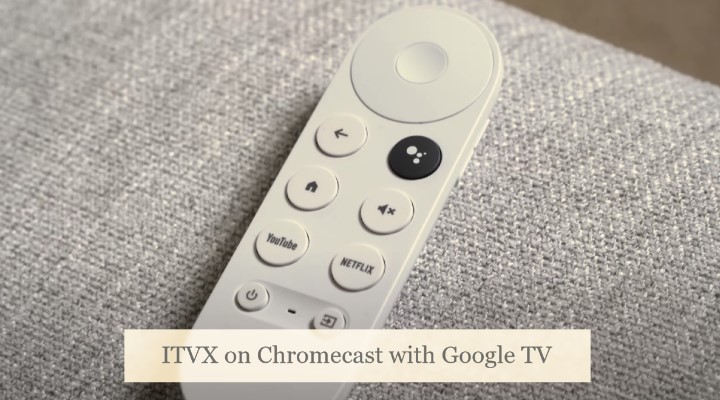 You can download ITV's new streaming app ITVX on your Chromecast with Google TV just like any other app from the Play Store. In fact, if you previously had ITV Hub installed on the device, it should automatically update to the ITVX app in the background.
Check out:
Easiest Method: Using an Android Device
The simplest way to get ITVX on Google TV would be to use an Android smartphone or tablet. If you have one, follow these steps:
Open the Play Store app from your home screen or app drawer.
Tap the Search bar above and type "ITVX" using the keyboard.
Choose the matching app (ITVX by ITV PLC) in the results.
Tap the down-arrow icon next to the "Install" button on the following page.
Check the box for your Chromecast with Google TV device, and tap Install.
If you're signed into your Google account (the same one linked to your Chromecast) from your computer browser, you can do the same from play.google.com to install the ITVX app remotely on your Chromecast with Google TV.
Installing ITVX from the Google TV UI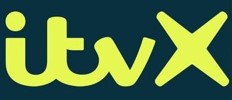 Those who don't have access to an Android phone or tablet can check out the following instructions to get ITVX directly from the Google TV interface:
Press the Assistant button on your Voice Remote and ask Google Assistant to "Find the ITVX app".
If that doesn't work, head to the Apps tab from the top of your Google TV Home screen.
Scroll down to the "App categories" section and click "Search for apps".
Enter "ITVX" with the help of the pop-up keyboard and click the Search (magnifying glass icon) button.
Choose the ITVX app in the Play Store results. The stylised ITVX branding with lime-coloured background is difficult to miss.
On the next screen, where you see the app's description and screenshots, click the Install
If you had ITV Hub installed earlier, you should see the Update option instead. Click it to download and install the update.
To launch ITVX on your Chromecast with Google TV, return to the Home screen, go to the Apps tab, and scroll to the "Your apps" section. Depending on how many installed apps there are, you may need to click See all to expand the list and go down to the bottom to find and open ITVX.
Here's another tip for you. Highlight the ITVX app in the "Your apps" menu, hold the Select button on the Voice Remote, and click Move. After that, use the remote's Directional Pad to move the app to the top of the list, and press the Select button to fix its designated place.
Recommended Reading:
Activate ITVX on Chromecast with Google TV
Before you start streaming from ITVX on Google TV, it's vital that you set up an ITV account first and use it to activate the ITVX app on your Chromecast with Google TV.
An ITV account lets you stream live TV channels and exclusive premieres/box sets. Plus, It ensures your profiles, recommendations, and favourites list stay synced across all the devices you use ITVX on. Moreover, when you opt for ITVX Premium, your subscription remains linked to that account.
Signing up for an ITV account is free. Go to itv.com from your browser, click the Account icon above, and then "Register Now".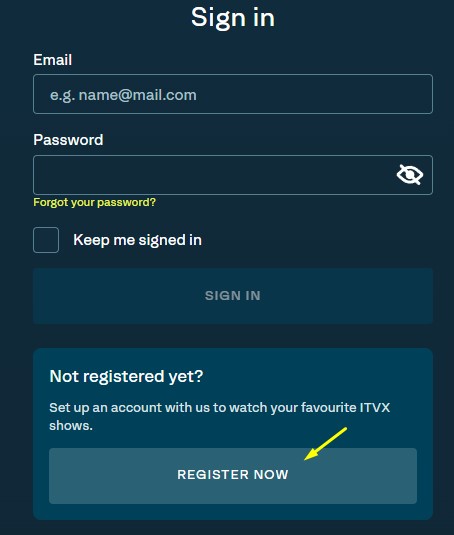 Once you provide your email address and set a password for account login, submit your personal info, and verify your ITV account via email, you're pretty much good to go. Whether you want to continue with the advertisement-funded tier or get the Premium subscription is your decision.
The following instructions will show you how to activate ITVX on Chromecast with Google TV in a few easy steps:
Open the ITVX app from your Google TV Home screen or the Apps.
Navigate to the app's left-hand side options bar and click the Settings (cog) icon.
Find and click the "Sign in" option in the Settings menu. You can proceed with either "Sign in on another device" or "Sign in using the on-screen keyboard".
We recommend going with the first option as it can be tedious to enter your ITV account credentials with the remote.
If you choose our recommended option, the app will give you a pairing code. From the browser on a different device (phone, tablet, or PC), go to www.itv.com/watch/pair, sign in to your ITV account (if prompted), and enter the pairing code.
Within seconds after you hit Continue and confirm linking your ITV account to the app, ITVX on your TV will ask you to choose your profile. Once you do that, you're just a few clicks away from streaming the latest original series, catch-ups of your favourite ITV programmes, and live TV.
Cast ITVX From the Mobile App or Website to Google TV
If the device's name is anything to go by, Chromecast with Google TV allows users to cast local and streaming media from a phone, tablet, or computer to the big screen.
Presuming your Chromecast and source device are on the same network (connected to your Wi-Fi router), here's how you can cast programmes and channels to your Chromecast from the ITVX mobile app or website:
Navigate to the on-demand title, episode, or live channel you wish to cast in the ITVX mobile app (Android / iOS) or website (itv.com).
Tap the Cast icon in the player and choose your Chromecast with Google TV from the list of available devices.
Press the Play icon in the in-app or website video player and enjoy watching the selected content on your TV.
You can use the player controls in the ITVX app or website to control stream playback and adjust the volume. To stop casting, tap the Cast icon and select Disconnect.
Summary
ITVX promises significantly more weekly series and film drops compared to other free catch-up and streaming platforms in the UK. If you previously used ITV Hub and weren't impressed by it, you better give ITV's latest video-on-demand service a try. The following guide to ITVX on Chromecast with Google TV will help you with that.