ITVX, the new streaming service from one of the UK's prime broadcasting television networks, ITV, is live. What's better about ITVX than its predecessor, ITV Hub, is the sheer amount of ad-supported shows, complete box sets, and films, spanning over 10,000 hours at launch. It even introduces a Premium ad-free subscription integrating the BritBox UK library.
But it doesn't end there. With ITVX, you can also tune into ITV's live TV channels and a curated selection of FAST (free ad-supported streaming television) stations. You can catch up with your favourite programmes and binge ITV's original TV series months before they even air on the network's linear channels.
So far, ITVX has made its way on a bunch of smart TVs, streaming media players, and set-top boxes, including Freesat, Freeview Play, and YouView-enabled models. But one question Sky subscribers have is whether ITVX on Sky Q is available yet. This guide will clarify everything about ITVX on Sky Q with the information we've gathered recently.
Can You Get ITVX on Sky Q?
Users can access ITVX by visiting itv.com, but the new streaming app is available to download as an app across most supported devices. It includes Android phones and tablets, iPhones, and iPads alongside Android TV, Chromecast, Fire TV, Roku, and just about any recent Smart TV with Freesat, Freeview Play, or YouView built-in.
When it comes to Sky devices, only the Sky Glass TV and Sky Stream puck are currently the only ones getting ITVX. At the time of writing, ITVX is inaccessible from a Sky Q box, with no solid details announced by the broadcaster regarding when Sky Q owners can expect ITV's new streaming service to release for the platform.
Sky did, however, append a few tidbits to one of its recent blog posts celebrating the launch of ITVX on Sky Glass and Sky Stream and the fact that it'll arrive on Sky Q in the coming weeks. So till then Sky Q users have no choice but to wait until ITVX is ready to launch their set-top boxes.
What's Happening With ITV Catch-Ups on Sky Q?
ITV Hub, ITV's former catch-up platform, never made it to Sky Q boxes though the broadcaster promised it was in the works.
Only a limited selection of ITV programmes was available as catch-ups on Sky Q – further limited by a significant portion in recent months after ITV deliberately reduced the availability of catch-ups and box sets outside its newly-announced streamer app.
And now that the British broadcaster has pulled the curtains over ITV Hub to prioritise ITVX development, many Sky Q users in the UK are reportedly running into playback errors trying to watch ITV catch-ups. Whether it's a technical issue or the effect of ITV discontinuing its older catch-up platform is currently unknown to us.
In the meantime, you can sign up for a monthly Prime Video membership and add the ITV Catch-up channel to your subscription, for which ITV also offers a 7-day free trial. The drawback is that the content selection isn't even close to what ITVX offers. Plus, there's no free ad-supported tier.

If you opt for ITV Catch-up on Amazon's streamer, log in to the Prime Video app on your Sky Q box with your credentials to stream the latest episodes of your favourite ITV dramas, soaps, family, and reality series – at least till ITVX is on Sky Q.

Prime Video also has the BritBox UK channel, where you can binge thousands of hours of iconic British box sets and films alongside homegrown originals and exclusives. Until ITVX is officially available for Sky Q boxes, the BritBox Prime Video Channel is a fair substitute.
How to Access ITVX on Sky Q?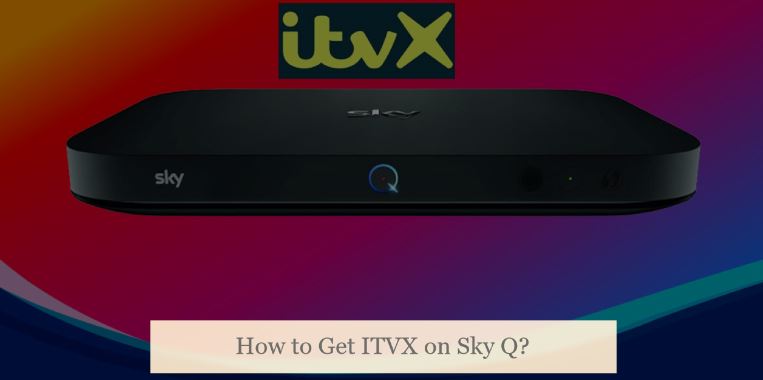 Provided ITVX rolls out for Sky Q boxes by the time you're reading this – you should be able to access it easily. Simply press the Home button on your Sky remote control, navigate to the Apps section, and select the ITVX app.
Or if you own a voice-enabled remote, press and hold the Voice button (just below the Home button) and say "Open ITVX" into the microphone to launch ITV's new streaming app on your Sky Q box.
For those who still see the older ITV Hub app on Sky Q, scroll to the bottom of your Sky Home screen and select Settings, then head to the Apps menu and click Refresh next to where it says "Refresh Apps". Assuming your Sky Q box has internet access, it'll update the older ITV app with ITVX.
Although Sky Q boxes update automatically in the background, we recommend checking for newer firmware versions manually, as you may not be able to access ITVX on Sky Q if it's running on outdated software. Here's how to do that:
Head to

Settings

from your Sky Home screen, then select the

Status

tab in the sidebar. Confirm there's a

tick

(

✓

) next to the "

Satellite signal

" status.

Next, scroll down to the

System info

tab and highlight "

Software version

".

Now choose the Setup

option and select

Software download

.
Your Sky Q will check for updates and begin downloading the latest software. It can take several minutes to finish.
When you see the "

Software update successful

" message, press your remote's

Standby

button.



Following the update, head to the Apps section from your Sky Home screen, and you should hopefully find the ITVX app there.

We recommend visiting itv.com from your phone or computer to register for an ITVX account, as ITVX on Sky Q requires users to sign in. It'll unlock your access to ITVX's massive ad-supported library (and paid content if you decide to get the Premium subscription) and the live TV channel streams.
As is the case with other over-the-top streaming apps, you'll need to keep your Sky Q box connected to your broadband via Wi-Fi.
Also, check – Watch Netflix on Peloton
Final Words
That's all we currently have to inform you about ITVX on Sky Q, with step-by-step instructions on what you may need to do in order to get the app update when the British TV broadcaster finally rolls it out for all Sky Q boxes.
At the time of writing, Sky Q users are still somewhat left in the dark. The good news is that ITV has confirmed its commitment to the platform, with Sky promising to share more exciting details in the coming weeks. Keep an eye on social media or the official ITVX Help support website for the latest updates.