ITVX, the new streaming service from one of the UK's prime broadcasting television networks, ITV, is live. What's better about ITVX than its predecessor, ITV Hub, is the sheer amount of ad-supported shows, complete box sets, and films, spanning over 10,000 hours at launch. It even introduces a Premium ad-free subscription integrating the BritBox UK library.
But it doesn't end there. With ITVX, you can also tune into ITV's live TV channels and a curated selection of FAST (free ad-supported streaming television) stations. You can catch up with your favourite programmes and binge ITV's original TV series months before they even air on the network's linear channels.
So far, ITVX has made its way on a bunch of smart TVs, streaming media players, and set-top boxes, including Freesat, Freeview Play, and YouView-enabled models. But one question Sky subscribers have is whether ITVX on Sky Q is available yet. This guide will clarify everything about ITVX on Sky Q with the information we've gathered recently.
Can You Get ITVX on Sky Q?
Users can access ITVX by visiting itv.com, but the new streaming app is available to download as an app across most supported devices. It includes Android phones and tablets, iPhones, and iPads alongside Android TV, Chromecast, Fire TV, Roku, and just about any recent Smart TV with Freesat, Freeview Play, or YouView built-in.
ITV Hub, ITVX's predecessor, never fully rolled out on Sky's popular entertainment box, Sky Q, as subscribers were limited to select ITV titles via Sky's own on-demand catalogue and the linear TV channels.
ITVX, too, was absent from the set-top box since its initial rollout across major platforms and devices in November last year. However, users can rejoice as ITV's latest streamer is now available on Sky Q, bringing it to parity with Sky Glass and Sky Stream.
Sky Q customers can now enjoy thousands of hours of ITV programming at no cost. That said, they'll need the ITVX Premium subscription to access Britbox's classic and original library of shows and movies (which is in the process of merging into ITVX), alongside the option to skip commercials on non-live streams.
With ITVX on Sky Q, you can stream the latest episodes of Coronation Street, Emmerdale, Love Island, and other shows just as they air on TV, plus stream all-time favourites like Broadchurch and White House Farm. In addition, you can catch up on shows whenever you want and even watch some programmes before airing on the linear ITV channel.
There's also the whole gamut of weekly exclusive drops ITVX has slated for the rest of the year. Originals currently streaming include A Spy Among Friends, Tell Me Everything, Without Sin, A Year on Planet Earth, Litvinenko, The Confessions of Frannie Langton, and more.
How to Access ITVX on Sky Q?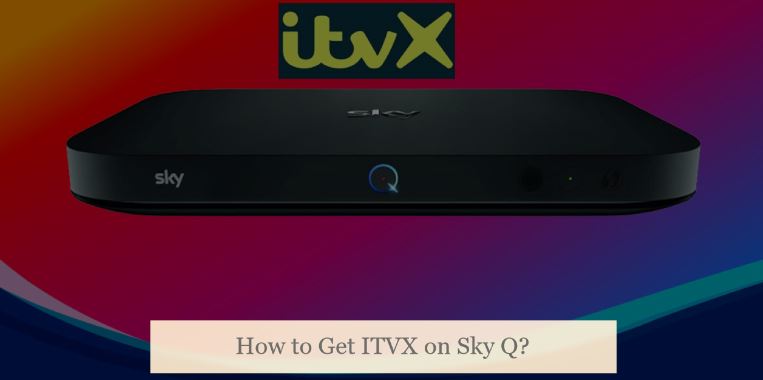 Provided your Sky Q box is up to date – you should be able to access it easily. Press the Home button on your Sky remote control, navigate to the Apps section, and select the ITVX app.
Or if you own a voice-enabled remote, press and hold the Voice button (just below the Home button) and say "Open ITVX" into the microphone to launch ITV's new streaming app on your Sky Q box.
I Still See the Older ITV Hub App. What to Do?
For those who still see the older ITV Hub app on Sky Q, scroll to the bottom of your Sky Home screen and select Settings, then head to the Apps menu and click Refresh next to where it says "Refresh Apps". Assuming your Sky Q box has internet access, it'll update the older ITV app with ITVX.
Although Sky Q boxes update automatically in the background, we recommend checking for newer firmware versions manually, as you may not be able to access ITVX on Sky Q if it's running on outdated software. Here's how to do that:
Head to

Settings

from your Sky Home screen, then select the

Status

tab in the sidebar. Confirm there's a

tick

(

✓

) next to the "

Satellite signal

" status.

Next, scroll down to the

System info

tab and highlight "

Software version

".

Now choose the Setup

option and select

Software download

.
Your Sky Q will check for updates and begin downloading the latest software. It can take several minutes to finish.
When you see the "

Software update successful

" message, press your remote's

Standby

button.



Following the update, head to the Apps section from your Sky Home screen, and you should hopefully find the ITVX app there.
Activating ITVX on Sky Q
We recommend visiting itv.com from your phone or computer to register for an ITVX account, as ITVX on Sky Q requires users to sign in. It'll unlock your access to ITVX's massive ad-supported library (and paid content if you decide to get the Premium subscription) and the live TV channel streams.
Once you have your ITVX account, navigate to the Settings (cog) menu from the sidebar, scroll to the "Sign in" tab at the top, and select Sign In to ITVX. Then you may either sign in with your TV remote or go to itv.com/pair on another device and enter the displayed six-digit code for the login.
Upon successful activation, feel free to discover the curated Home catalogues or explore the different submenus to find and pick something you want to watch. Fortunately, ITVX got lots of box sets, films, and documentaries to choose from.
ITVX on Sky Q also supports profiles, so you never have to share your viewing preferences with your family. You can access the options to switch between ITVX profiles and create new ones from the app's left-hand sidebar.
Disclaimer
As is the case with other over-the-top streaming apps, you'll need to keep your Sky Q box connected to your broadband via Wi-Fi.

If you used ITV Hub on another device before, your login credentials remain the same on ITVX. The same applies if you previously paid for an ITV Hub+ subscription, in which case, you can use your login details to access ITVX Premium.

With the

Ad Skipping

package from Sky, you can skip ads by pressing the

Select

button while watching something on ITVX, then pressing the

Right directional

button and selecting the

Fast-Forward

icon.
Also, check – Watch Netflix on Peloton
Final Words
That's all we currently have to inform you about ITVX on Sky Q, with detailed instructions to help you access ITV's new streaming app on the set-top box and sign in with your account.
Once again, it's worth mentioning that you can register for ITVX for free or pay for the ad-free Premium tier to unlock additional content. With ITVX on Sky Q finally available, here's a final rundown of what you get:
Over 10,000 hours of ad-supported content, including complete box sets and ITVX-exclusive programming

Streaming access to live ITV channels, including ITV1, ITV2, ITVBe, and CITV, alongside occasional live sports streaming

Go ad-free with ITVX Premium (7-day free trial available), with access to premium BritBox offerings, including highly-acclaimed BBC and Channel 4 series

Option to create extra family profiles, including one for kids with parental controls