The smart TV market is flooded with all kinds of devices and operating systems, and honestly – it's a mess. That is why Google Chromecast dongles and smart TVs/set-top boxes with built-in Chromecast are so enticing. They enable streaming functionality without the extra fuss and complications and allow users to cast media from their smartphones, tablets, or laptops onto a compatible screen.
ITV's latest video-on-demand app, ITVX, makes it easy to cast your favourite programmes and live channels from Android and Apple mobile devices and computer browsers. You can also use your mobile as a remote control. You don't need to go through the hassle of installing and activating the ITVX app on your TV.
We've prepared this guide to show you how to cast ITVX via Chromecast. We'll also help you troubleshoot problems casting ITVX content on the big screen.
What You Need to Cast ITVX to Your TV
Before you can stream the newest ITVX original on your TV from your mobile or computer, you must verify whether you have a Chromecast-enabled device.
If you have a smart TV, especially an Android TV model, it might have Chromecast built-in. Manufacturers that sell TVs in the UK with this feature include Hisense, JVC, Philips, Panasonic, Sony, Sharp, Toshiba, etc.
But if not, you'll need a Chromecast dongle (e.g., Chromecast Ultra or Chromecast with Google TV) or an Android TV box (e.g., Mi Box S or NVIDIA SHIELD).
All you have to do is plug one of these devices into your TV's HDMI port, then set it up using the Google Home app on your Android (5.0 or later) or iOS (12.2 or higher) device. Should you need help setting up your Chromecast dongle, we recommend visiting the official Chromecast Help page.
To cast ITVX on your big screen, you must have the ITVX app installed on your iPhone, iPad, or Android phone or tablet. The app is available to download from the App Store on iOS and the Play Store on Android.
Those with a Windows (8 or later) or macOS (10.12 Sierra or above) computer can cast from the ITVX website (itv.com), though only when using the up-to-date version of Chrome, Firefox, Edge, or Safari browser.
One thing to note is that ITVX's video resolution caps at 1080p Full HD, and it currently doesn't offer any 4K content. When you're casting, stream quality will auto-adjust based on available network bandwidth. A minimum of 10 Mbps internet speed is required for stable, buffering-free viewing.
You can turn on subtitles and audio description (AD) while casting on-demand ITVX shows or movies via Chromecast. However, at the time of writing, ITV is still working on enabling subtitles for live channels on Chromecast devices.
And lastly, your mobile device or computer must be on the same network (connected to your network router over Wi-Fi or Ethernet) as your Chromecast-enabled dongle, set-top box, or smart TV for casting ITVX content.
Cast ITVX to TV From Your Phone or Tablet (Android / iOS)
The method to cast ITVX to a TV is identical across Android phones/tablets, Apple iPhones, and iPads. However, keep in mind that you can't cast downloaded shows from the ITVX mobile app as of now. To cast ITVX from your phone or tablet, follow these steps:
First, open the ITVX app on your mobile device.
If you aren't signed in, head to the app's "My ITV" section and log in with your ITV account Ignore if already done.
You can tap Register Now on the "Sign in" page if you haven't registered for an ITV account.
Next, look for the Cast icon at the top of the ITVX Home page and tap it.

The icon looks like a tiny rectangular screen with three Wi-Fi signals on the bottom left.
Provided it's on the same network, choose the name of your Chromecast-enabled device from the list. Wait for the ITVX app to establish a connection.
Pick up a TV show episode, film, or a live TV channel you'd like to watch and start playing.
If everything goes correctly, the content you've chosen to cast should now stream on your TV. For play, pause, and other media controls, tap the casting bar at the bottom of the app to bring up the options.
Cast ITVX to TV From Your Computer Browser (Windows / Mac)
Assuming your Windows or Mac computer or laptop shares the same home network as your Chromecast-capable device or screen, and you're using one of the compatible web browsers we mentioned earlier, casting ITVX from it should be straightforward.
Open a Chrome, Firefox, or Safari browser window and go to itv.com.
Click the Account icon at the upper-right corner and click Sign in, then proceed to log in with your ITV account Skip this step if you're signed in already.
An ITV account is mandatory to access the entire ad-supported library and live TV channels. If you don't have one, click Register Now on the Account page.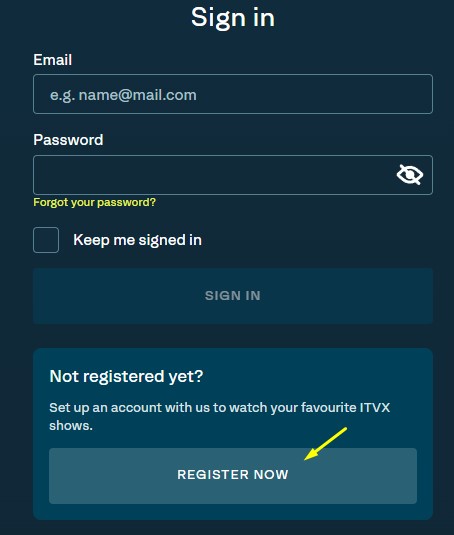 From the ITVX homepage, navigate to the TV show, box set, movie, or channel you want to cast, then click the Play or Watch.
Click the Cast icon in the website's video player, followed by your Chromecast-enabled device model.
That's how you cast ITVX to TV from a web browser on your computer. Click the Cast icon for media controls. Like the mobile app, you can minimise the browser window and keep using your computer for other things.
Troubleshoot Problems Casting ITVX via Chromecast
If you don't see the "Cast" icon on the ITVX mobile app or website, it means your source device and Chromecast dongle or capable smart TV are on different networks.
You can verify this from your phone or tablet by going to the Google Home app and checking whether your Chromecast-enabled device appears on the Home page. If that's the case, your devices are on the same network, but if not, check the network settings on your phone/tablet/PC and smart TV device.
The ITVX app could also be the culprit here. We suggest updating the ITVX app from the Play Store or App Store. On your computer, make sure to update your web browser before trying to chromecast ITVX onto your TV again.
Enjoy ITVX on the Big Screen
Done! It's relatively simple to cast ITVX to your TV via Chromecast. Now you can lean back on the couch, relax, use your phone, tablet, or computer as a remote, and binge your favourite ITV shows on the big screen.
It's worth mentioning that ITVX doesn't support Apple AirPlay yet. So if you have an Apple TV box or an AirPlay 2-capable Smart TV, you won't be able to cast from your iPhone, iPad, or Mac for now. Instead, you'll need to install the ITVX TV app on your compatible streaming box or smart TV.