Are you looking to pair your device to ITVX? You've come to the right place. Follow along with this guide for comprehensive step-by-step instructions.
ITVX is the online home for all your favourite ITV content, replacing ITV Hub as one of the UK's most versatile streaming services for all ITV's iconic shows, box sets, and live TV channels. It doesn't require a satellite TV contract or even a telly, as ITVX works across most devices with a screen – assuming it also has internet access.
Whether you're looking forward to bingeing the upcoming exclusive dramas or catching up with the missed episodes of that ITV show you love, ITVX offers ad-supported access. Simply put, you can stream over 10,000 hours of on-demand content for free if you don't mind the adverts. And if you do, there's a Premium tier that removes ads and provides access to more box sets from BritBox.
Viewers can get ITVX on many devices, including phones, tablets, computers, game consoles, internet-enabled TVs, and streaming players. No matter what device you use, one great thing ITV has done is streamline the device pairing process than how it was before with ITV Hub. But how exactly do you pair your device to ITVX? Luckily, we got you covered.
Prerequisites
Before we walk you through the process of pairing your device to ITVX, there are a few things you need to confirm.
Is your device compatible with ITVX?
The first thing you need to check is whether the device you plan on using to watch ITVX is compatible with ITV's streamer in the first place. Here are all of them:
Assuming you own any of the following devices, you're good to pair it to ITVX. On a PC or laptop running Windows (8 and above) on macOS (10.12 Sierra or recent), you can visit the ITVX website from the up-to-date version of any of the following browsers:
Google Chrome
Microsoft Edge
Safari
Do you have an ITVX Account?
Most live / on-demand programming on ITVX is ostensibly free to stream. However, they require users to register for an ITVX account. If you already have one, proceed to the device pairing section below. Otherwise, follow these instructions to create your ITVX account. It shouldn't take you more than a couple of minutes.
Open a new tab in your browser and go to itv.com, the official ITVX website.
Click the Account icon in the upper-right section, then click the button that says, "Register Now".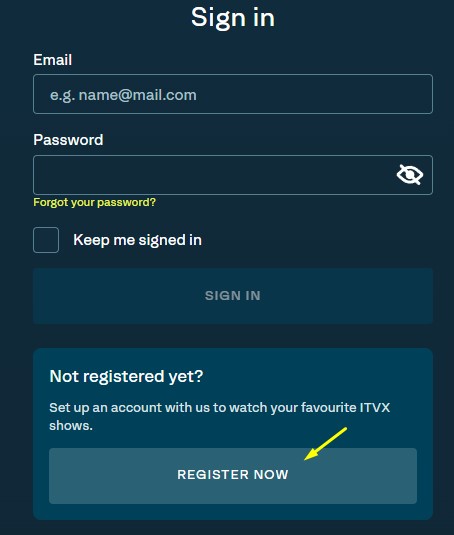 Provide your Email, set a secure Password for your account login, and click Continue.
We recommend six or more characters consisting of letters, numbers, and special symbols for the password.
Password must be something easy for you to remember but harder to guess for anyone else.
Next, fill in additional information (g., your name, date of birth, and postcode) and click Continue on every step.
You must enter the postcode in a specific format. If you're having trouble getting past that step, we have a separate guide detailing everything.
In the end, ITVX will ask you to verify your email. Go to your inbox, and you'll see a verification mail from hello@itv.com. Open it and click the "Verify Your Email Now" button.
If you can't find the verification mail, go through your junk or spam folders.
After verification, click the Continue You'll now have to choose your plan, for which you can proceed with the Free Plan for the time being.
If you want to get ITVX Premium, click "Start Your 7-Day Free Trial" instead. ITVX will ask you to set your billing cycle and enter your card details.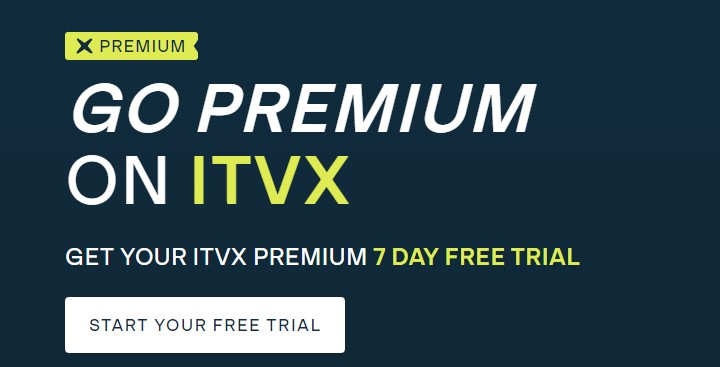 Note ITVX won't charge you for the subscription until the 7-day trial expires.
You can also sign up from the ITVX mobile app by heading to the app's "My ITV" section. There, tap the "Sign in" option and select Register Now.
Steps to Pair Your Device to ITVX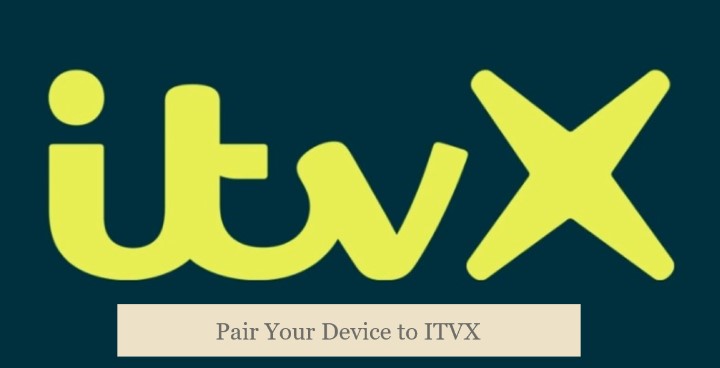 If you have an Android phone/tablet, iPhone, or iPad, pairing it to ITVX is simple. Open the ITVX app, tap "My ITV" at the far-right side of the bottom navigation bar, and tap "Sign in". After that, enter the email address and password you used to register for your ITVX account.
It's the same for the ITVX website on a computer, which involves clicking the Account icon at the top-right corner, entering your login details, and clicking "Sign in".
Pairing a compatible Smart TV, set-top box, streaming media player, or game console to ITVX is also relatively easy but requires a few extra steps. Here's what you need to do:
Ensure your TV device is powered ON and connected to the internet via Wi-Fi or Ethernet.
Open the ITVX app on your connected TV device. You should find it in the Home interface or your apps list.
For those who don't have the app installed, download it from the device's respective app/channel store.
There should be a navigation bar on the left-hand side of the ITVX Home Use your remote (or preferred input device) to navigate the sidebar and click the Settings (cog) icon.
Find and click the "Sign in" option in the Settings menu. You'll get to choose from two sign-in options – either from another device or using the on-screen keyboard.
The first option makes device pairing seamless, so we'll proceed with that. You should now see a pairing code on the screen.
Nothing's wrong with going with the second option either, except some of you may find it tedious to enter your login details using the remote.
Visit itv.com/watch/pair from a new browser tab. Sign in with your ITVX account details (if you aren't already), enter the pairing code shown on your TV screen, and click Continue.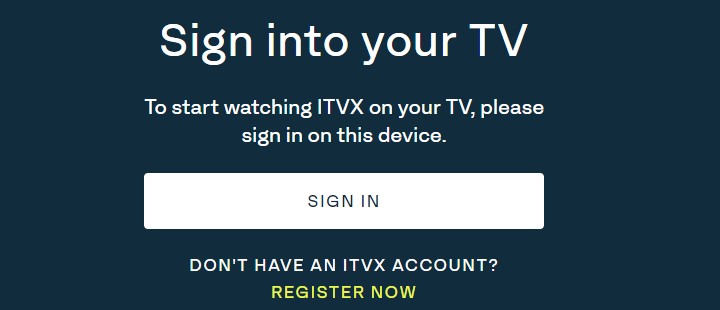 You've successfully paired your Smart TV or media console to ITVX! Once you choose your profile, you're all set to start streaming from the rich catalogue of on-demand content and live channels ITV's streamer app has to offer. Just browse the library to find something you'd like to watch, and hit the Play button. It's that simple. However, it's worth mentioning that live TV is yet to be available on select connected TV devices.
Wrapping Up
We hope this guide has been helpful in pairing your device to ITVX. You can share the streaming goodness with your friends and family, as ITV's new streamer app allows simultaneous streaming on up to four devices using the same account.
With its wide selection of top-notch box sets, movies, documentaries, catch-up offerings, original dramas, thrillers, light-hearted series, and a rotating array of linear streaming television channels, we're confident you'll love the ITVX experience!