Peacock is an excellent service if you're considering paying for another streaming plan for your entertainment fix. For not a lot of money, NBCUniversal's over-the-top video platform gets you 80,000+ hours of hit movies, TV shows, originals, catch-ups for current NBC programs and from its sister networks, and a good deal of live sports.
Although Peacock is still considered a growing contender among the top streamers, it's already jam-packed with titles to suit every mood, both classics and newer content. And like most streaming apps, you can access it on nearly every screen you own, including that LG TV in your living room.
If you're looking to binge some of the latest weekly streaming-exclusive series, revisit some of NBC's classic hits, or crave blockbuster action on weekend nights, here's everything you need to know to watch Peacock on LG Smart TV.
How to Get Peacock on LG Smart TV?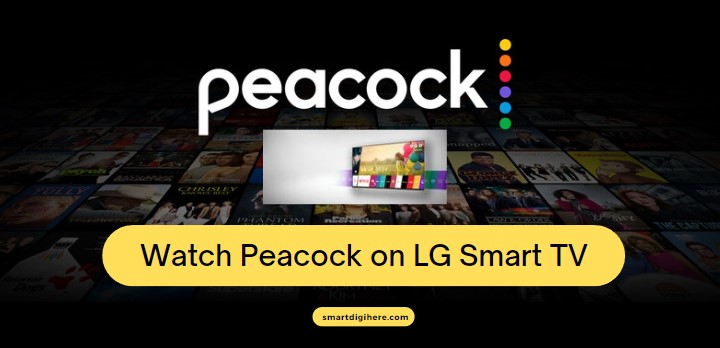 The Peacock app is available on all 2017 and newer LG Smart TVs running webOS 3.5 and later. Like other streaming apps, it's downloadable from the Content Store. We've provided step-by-step instructions below for those who haven't installed apps on their LG TV before:
Power your LG Smart TV on and ensure it's connected to your home internet.
Press the Home (house symbol) button on your LG TV remote to enter the Home menu, then select Apps from the App List at the bottom.

On webOS 5.0 or older, select LG Content Store from the Home launcher bar.

Select the Search (magnifying glass) icon in the upper-right corner of the Apps home page.
Enter "Peacock" in the search field using the on-screen keyboard and click Search.
Pick the Peacock app in the search results, then select the Install button on the details screen.
Once the installation finishes, click Launch to open Peacock or access it from your TV's App List on the Home screen.
Note: If you wish to change Peacock's position in the list, scroll to the end of your "App List" row and click the Edit option, after which you can move the streaming app to your desired location.
How to Watch Peacock on LG Smart TV?
Accessing Peacock's on-demand titles, live channels, and sports streams on your LG Smart TV requires signing up for an account with a paid subscription.
There are two subscription tiers: Premium ($4.99 monthly, $49 annually) and Premium Plus ($9.99 monthly, $99 annually).
The Premium plan gives you ad-supported access to the entire on-demand catalog, including the Peacock Originals, catch-ups to your favorite NBC and Bravo broadcast programming, 24/7 themed channels, and live football and soccer matches.
Premium Plus includes everything of Premium without pesky ads between your binges. Plus, you can tune in to your local NBC affiliate channel and download titles on the Peacock mobile app for offline viewing.
Head to peacocktv.com from your browser to learn more about the subscription plans. It's worth mentioning that the Free ad-supported tier is no longer available for new subscribers since February 2023. To sign up for Peacock, follow these steps:
Browse to the official Peacock site and select "Pick a Plan" or "Get Started" at the top.
Choose between the monthly or annual flavor of the Premium or Premium Plus plan as per your preference.
Enter your Email, set a Password, provide the rest of the necessary details, and click Create Account.

Check your inbox for a mail from Peacock for email verification.

Finish paying for the Peacock subscription with your desired payment method.
Once you have your Peacock subscription, use these steps to log in to the app on your LG Smart TV:
First, open the Peacock app from the App List of your LG Smart TV.
Next, select the Sign In button on the upper-right corner of the welcome screen.
Type your account Email and Password with your remote and click Sign In. Alternatively:

Visit peacocktv.com/tv on your mobile or computer browser.
Enter the device code shown on your LG TV screen and select Continue.
Log in with your Peacock account.
After you log in, return to your TV and choose your profile (or create a new one) on the "Who's Watching" screen. Now you're ready to browse Peacock's on-demand catalog, surf through the streaming channels, and catch live sports events.
What Can You Watch with Peacock on LG Smart TV?
As we've mentioned, Peacock boasts a vast library of classic shows and movies alongside a fresh collection of originals. It offers an extensive selection of titles from NBC and its affiliated networks, including beloved sitcoms like The Office, Parks and Recreation, 30 Rock, and Cheers, plus every Saturday Night Live episode since 1975.
Furthermore, Peacock offers extensive drama programming, including the Law & Order shows, the original Battlestar Galactica, Brooklyn Nine-Nine, Friday Night Lights, Modern Family, Yellowstone, etc. Fans of Parenthood and Monk will find these beloved series available, along with other classic hits like Murder She Wrote and The Rockford Files.
Reality TV lovers would be glad to know that Peacock has something for them too. It includes popular shows such as The Real Housewives franchise, Bethenny Ever After, Keeping Up with the Kardashians, Very Cavallari, and many more, all available for streaming.
Some of the binge-worthy Peacock Originals include Bel-Air, Last Light, A Friend of the Family, The Calling, The Traitors, Sick, Poker Face, Bupkis, Mrs. Davis, Dr. Death, One of Us Is Lying, The Girl in the Woods, Rutherford Falls, Code 404, Angelyne, and so on.
Peacock offers an impressive selection of thrilling docuseries for True Crime enthusiasts, plus a diverse catalog of blockbuster films from Universal Pictures, Focus Features, and DreamWorks. Additionally, you'll find a variety of classic and original kids' programming.
Last but not least, Peacock also has 50+ streaming channels similar to the 24/7 themed stations Pluto TV, Tubi, and Xumo offer.  What sets Peacock apart is its inclusion of news and sports channels. Sports enthusiasts can enjoy live streams of Sunday Night Football, exclusive Premier League soccer games, MLB Sunday Leadoff matches, PGA Tour events, IndyCar Series races, SuperMotocross Championship, premium WWE events, and much more.
Also Read: Watch Amazon Prime Video on LG Smart TV
Enjoy Peacock on LG Smart TV!
We hope you find our guide to Peacock on LG Smart TV helpful. For those wondering, Peacock is also available outside the States in select regions, including the UK, Ireland, Austria, Germany, Italy, and Switzerland. If you're in one of the following countries and pay for a Sky TV package or NOW TV subscription, you can access Peacock's library at no extra cost!