Netflix and Hulu have traditionally dominated the video streaming landscape. However, established media giants like Disney with Disney+, Warner Bros. Discovery with Max (formerly HBO Max), Apple with Apple TV+, and Paramount Global with Paramount+ have made notable advances alongside numerous others.
In 2020, Comcast-owned NBCUniversal joined the competition with its Peacock streaming service, offering a continuous stream of new shows and movies each week. With its vast on-demand catalog and a range of exciting originals, Peacock stands up in today's rather saturated market of streamer apps.
And what better way to enjoy its streaming titles than playing them on your big screen? Keep reading for all you need to know to watch Peacock on Samsung Smart TV.
What's Peacock?
Peacock, NBCUniversal's premium video streaming service, launched in 2020. As mentioned, Peacock offers a wide range of excellent content, with over 80,000 hours of on-demand programming, streaming channels, and live sports.
As of March 2023, Peacock had around 22 million paying subscribers per official sources. Like other streaming platforms, you download the app or visit the website on a compatible device, log in, and choose the title to watch.
What Can You Watch with Peacock on Samsung Smart TV?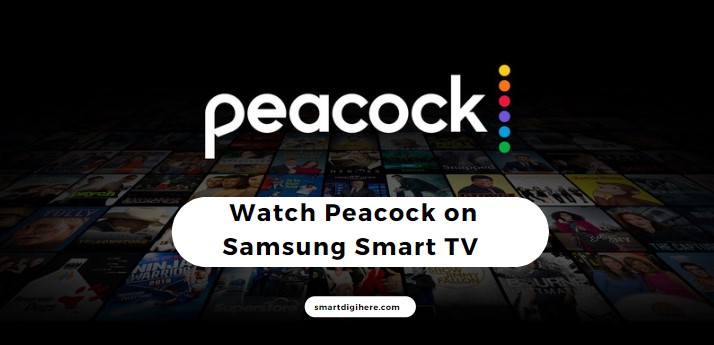 Peacock has complete seasons of some of NBC's most popular TV shows, including The Office, Parks and Recreation, and even the network's late-night show, Saturday Night Live – all previous 47 seasons of it. Other examples include Brooklyn Nine-Nine, Chicago P.D., Downton Abbey, Frasier, House, Keeping Up with the Kardashians, Law and Order, Modern Family, The Real Housewives, Two and a Half Men, and Yellowstone.
Additionally, Peacock offers the latest episodes of your favorite currently-ongoing dramas and soap operas on NBC and Bravo, tons of dramas, mysteries, and original films from the Hallmark Channel, and the top Telemundo shows for fans of Hispanic television.
Peacock also offers a good selection of the latest and classic blockbuster films from Universal Pictures, DreamWorks, and other NBCUniversal-owned studios, plus a fairly sizable collection of streaming originals and documentaries.
Some of these original shows include Bel-Air, Dr. Death, Departure, Intelligence, Mrs. Davis, The Lost Symbol, The Resort, Vampire Academy, and Rutherford Falls, and an upcoming live-action adaptation of the acclaimed video game series, Twisted Metal.
Does Peacock Offer Live TV Content?
In addition to thousands of on-demand shows and movies, Peacock offers 50+ streaming channels; not the same cable channels you'd expect from the likes of Hulu + Live TV, Sling TV, or YouTube TV, but more of 24/7 linear streams of particular programs or genres similar to Pluto TV and Tubi's offering.
However, it features a handful of live news and sports channels, including NBC News Now, Today All Day, Sky News, NBC Sports, NBC GolfPass, NFL Channel, Premier League TV, and WWE. Viewers can even access the local NBC affiliate stations through Peacock in some markets.
Peacock offers an impressive range of sports content, with over 2,000 hours of Premier League every year, including matches not aired on TV. Plus, you can tune into the Sunday Night Football games, the PGA Tour, select IndyCar races, and the latest episodes of your favorite NBC Sports talk shows.
How to Install Peacock on Samsung Smart TV?
You can easily install Peacock on Samsung Smart TVs from 2017 and later, just like any other application. The following steps will show you how, but note the process may vary slightly depending on your model:
Press the Home button, navigate to the left of your installed TV apps, and select the Apps
Click the magnifying lens icon among the options in the top-right corner of the appstore page, then enter "Peacock" in the search field.

You may also explore the "Editor's Choice" section of the main appstore page to find the Peacock

Select the Peacock app icon from the results. You should now see its description, ratings, screenshots, etc.

Click Install to add Peacock to your Samsung TV. Immediately after the installation completes, select Add to Home.
Return to your TV's Home screen to find and launch Peacock from your pinned apps list. Long-press the app icon and select Move if you prefer the app to be at the front.
Activate Peacock on Samsung Smart TV
Before you go on re-binging The Office on Peacock on Samsung TV, you'll need to sign up for a Peacock account and purchase a subscription.
Visit peacocktv.com from your mobile or computer, select Get Started, and pick your preferred plan. Then enter your details to create your account, verify your email, and choose your payment method to set up the recurring subscription.
The Premium plan offers access to over 80,000 hours of on-demand shows, movies, and originals for just $5 a month, which also gets you catch-up episodes of current NBC and Bravo shows, 50+ always-on channels, and live sports.
Premium Plus, which costs $10/mo, is basically the ad-free version of the standard plan with a few more perks like access to your local NBC affiliate live stream and the ability to download titles for offline playback on the mobile app.
Note:
Both plans are available at annual prices. While Peacock offered a free tier for new users with over 13,000 hours of ad-supported titles, they discontinued it in favor of the paid plans in February of this year.
Once you have your Peacock subscription, follow these steps to activate the streaming app on your Samsung Smart TV:
First, open the Peacock app from your Samsung Smart TV Home screen.
Click the Sign In button at the top-right corner of the welcome page. You should see an activation code on the screen.
Visit peacocktv.com/tv from a new browser tab on your phone or computer, enter the code shown on your TV, and click Continue.
Enter the Email and Password you use for your Peacock account and click Sign In.
That's it! You'll see the "Who's watching?" screen in the Peacock Samsung TV app. Simply choose or create your profile and start watching!
If you have a compatible Samsung UHD TV, you should be able to enjoy select titles in 4K quality. Even better, you can stream Peacock content to the big screen from an iPhone or iPad if you own an AirPlay 2-compatible model. Check out the list of supported models here.
Final Words
NBCUniversal's streaming service, Peacock, features a great selection of movies, shows, and original titles. We hope our guide has helped you watch Peacock on Samsung Smart TV, though if you can't download the app, ensure your model is supported and is running up-to-date firmware.