Fans of American football need no introduction to the NFL, one of the most popular and influential sports leagues around the globe. The National Football League has gained record viewership in recent years thanks to its thrilling games, star players, and cultural impact.
The 2023-24 NFL season is going to be exciting. After all, it marks the 104th anniversary of the league and features some of the best teams and prime match-ups in history. You don't want to miss a beat, whether it's about watching your favorite team, following your fantasy players, or catching up on the latest news and highlights.
But what if you don't have cable? Can you watch NFL on your big screen without a costly pay-TV contract or dealing with annoying blackouts?
The answer's simple: if you have a Samsung Smart TV, you can catch almost every national and out-of-market NFL game with streaming subscriptions. This guide to NFL on Samsung smart TV covers everything you need to show your NFL fandom. Without any further ado, let us take you to the field!
Which Channels are Airing the NFL 2023-24 season?
As with the previous season, the NFL coverage spans several television networks. This marks the beginning of the NFL's new 11-year media deal with CBS, Fox, NBC, and ESPN (and ABC), extending their broadcast license through the 2033 season.
All the following networks get to keep their respective slate of football coverage, including AFC on CBS, NFC on Fox, Sunday Night Football on NBC, and Monday Night Football on ESPN / ABC. They also retain the rights to the games for their respective Spanish-language channels, including Fox Deportes, ESPN Deportes, and Telemundo / Universo.
Below is a list of some notable changes in the NFL broadcasts in the United States:
More Sunday afternoon games are switched between CBS and Fox, except if they involve teams from their respective conference.
There are three weeks on which ABC and ESPN each air one Monday Night Football game, doubling the number from the previous season.
ABC / ESPN is to air one divisional playoff game this season and beyond, a slot CBS and Fox used to alternate in the previous seasons. The remaining broadcasters are to broadcast the other three divisional playoff match-ups.
NFL Network is also to televise select regular-season matches as before, especially the late-season Saturday fixtures and the International Series.
Where to watch NFL on Samsung Smart TV?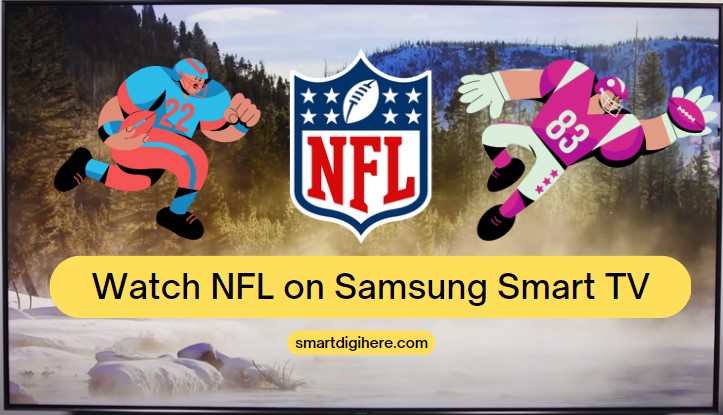 While Tizen-powered Samsung Smart TVs are nowhere near the same level of compatibility and versatility as Android TV or Apple TV, they support an extensive catalog of streaming apps. And, lucky for you, you've got plenty of options for streaming the NFL games on the big screen.
Most traditional TV networks offer complimentary "TV Everywhere" streaming apps viewers can log into with their provider information, granting them access to live channel streams and on-demand content. It includes the top American networks airing the NFL season. For instance:
You can catch CBS's portion of the NFL coverage via the CBS Sports Besides the live sports streams, you get the CBS Sports HQ channel covering news and highlights 24/7 alongside on-demand replays of recent games. It also supports logging in with Paramount+ (more on that later).
Fox is home to some big-ticket sports leagues, and the FOX Sports app is where you can watch the best of FOX, FS1, FS2, and FOX Deportes live and on-demand, including the NFL games involving the NFC teams and the pre and post-game show.
NBC's weekly Sunday Night Football broadcasts are streaming on NBC Sports. You can enjoy them in English and Spanish (Telemundo / Universo) commentaries, with on-demand access to highlights and full replays of past games.
Monday Night Football fans can access the live NFL streams through the official ESPN app on their Samsung Smart TVs. Games nationally televised on ABC are also accessible via the ABC streaming app.
All five of the following streaming apps are compatible with Samsung Smart TVs. You can get them from your TV's built-in Appstore, though some may be unavailable depending on the model and Tizen version.
Of course, to access the live NFL streams, your cable or satellite TV package must also include the respective networks. Even the most basic plans include ABC, CBS, FOX, and NBC, so you're probably good to go.
All you have to do is open the app on your Samsung TV, visit the Settings screen, find the Login option, and follow the on-screen steps to authenticate with your TV provider. If you don't have your login credentials, contact your provider.
Where to watch NFL on Samsung TV without cable?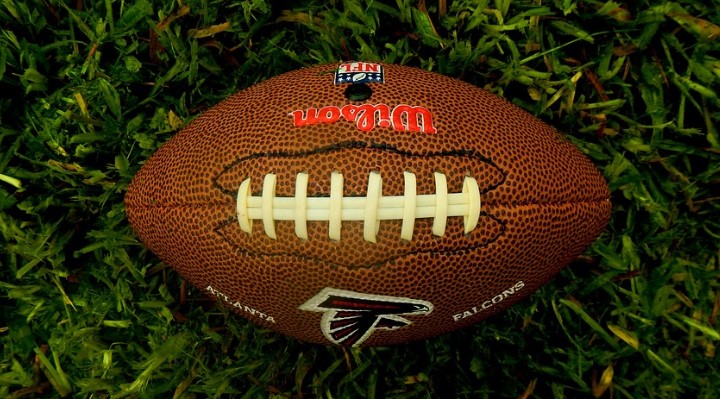 Most of you likely don't pay for a cable or satellite TV contract anymore, and that's fine – because you've got streaming television services for watching NFL on Samsung Smart TV.
This includes the likes of DIRECTV Stream, FuboTV, Hulu with Live TV, Sling, and YouTube TV. Check out the table below for the availability of the NFL broadcasters, recommended plans, and additional benefits across the services.
 

Streaming App + Suggested Plan

Channels* Airing NFL
Plan Benefits
CBS
FOX
NBC
ESPN / ABC
NFL Network
DIRECTV Stream
(Entertainment)
Yes
Yes
Yes
Yes
No
75+ channels, unlimited cloud DVR, no limit on concurrent home streams
FuboTV (Pro w/ Free Trial)
Yes
Yes
Yes
Yes
Yes
130+ channels, 1000-hour DVR, up to  ten device streams (at home)
Hulu
(Hulu + Live TV)
Yes
Yes
Yes
Yes
Yes
85+ channels, unlimited DVR, up to two simultaneous streams
Sling
(Sling Orange)
No
Yes
Yes
Yes
Only w/ Sling Blue
30 channels, 50-hour DVR storage
YouTube TV (Base w/ Free Trial)
Yes
Yes
Yes
Yes
Yes
100+ channels, unlimited cloud DVR, up to three streams
*The availability of the local broadcast channels may vary depending on your location. Visit the provider's website and enter your zip code to confirm the channel list.
We deem Hulu + Live TV the "best overall" option for streaming the 2023-24 NFL regular season and playoff match-ups. For $70 a month, you get over 85 top US cable channels, including the official National Football League broadcasters. The subscription also allows streaming from Hulu's on-demand catalog and bundles in Disney+ and ESPN+ access.
Sling TV's Orange plan is another solid choice for NFL fans on a budget. While you'd miss out on the AFC side of NFL games on CBS and the International Series match-ups on NFL Network, the rest is there. You can get NFL Network if you opt for the combined Orange & Blue plan, but at that point, you might as well spend a bit more on a Hulu or YouTube TV package for comprehensive NFL coverage.
All five of the streaming television services are compatible with Samsung Smart TVs. But whichever subscription you choose, note you can also use your login credentials to access the live NFL streams via the TV Everywhere apps we discussed earlier.
Watch NFL on CBS via Paramount+
If you don't want to pay for a costly streaming TV plan to tune into CBS's football broadcasts, Paramount+ is a reasonable alternative. It's an excellent video-on-demand streaming app with thousands of movies and shows, but it also serves live streams of select NFL on CBS match-ups involving the AFC teams during the NFL season.
It's worth noting the regional blackouts, meaning Paramount+ will stream only the games your local CBS station broadcasts. The app is available for 2017 and newer Samsung Smart TV models.
Enjoy Monday Night Football on ESPN+
ESPN Plus offers live streams of some of ESPN2's Monday Night Football with Peyton and Eli broadcasts throughout the season, which includes a single NFL International Series game. The sports-centric streamer also features on-demand originals covering the best of NFL history.
You can subscribe to ESPN+ as a standalone monthly or annual plan, as part of the Disney Bundle, or with the Hulu + Live TV subscription.
The ESPN app on Samsung Smart TV (most 2016 and newer models) has a separate ESPN+ section from where you can access all its offerings. And, if you have a cable, satellite, or streaming TV subscription, you can link your provider account to gain access to the rest of the Monday Night Football games.
Stream Sunday Night Football on Peacock
Peacock, NBCUniversal's subscription-based OTT platform, is to stream over a dozen Sunday Night Football matches throughout the 2023-24 NFL season, with access to the Spanish commentary from the Telemundo / Universo broadcasts.
It even lets you tune into NBC's Football Night in America studio show, plus an exclusive post-game analysis rounding out your Sunday night coverage.
All that comes with the Peacock Premium subscription, which also carries an extensive catalog of films and series for your entertainment for the rest of the week.
Catch Thursday Night Football on Prime Video
Amazon Prime Video is home to NFL's Thursday Night Football coverage till 2033. It has streaming rights to 15 TNF fixtures from the 2023 season and a single pre-season game like last year. It's a must-have for football fans looking for complete regular-season coverage.
Whether you're an Amazon Prime member or have a standalone Prime Video subscription, you can access the Thursday night games live and on-demand on your Samsung Smart TV.
Note: Select TNF matches are to stream on Amazon's other live-streaming platform, Twitch, for free. You won't need to create an account to access them.
Get NFL Sunday Ticket on Samsung Smart TV
NFL Sunday Ticket is a premium offering from NFL that allows viewers to catch all the out-of-market Sunday afternoon games otherwise unavailable on your local CBS or FOX station due to blackout restrictions. Formerly available under DirecTV, it's now available for purchase via YouTube TV and YouTube Primetime Channels.
Bundling NFL Sunday Ticket with YouTube TV's Base Plan makes more sense considering you can watch every other regular-season football game airing on CBS, ESPN / ABC, FOX, NBC, and the NFL Network.
You're almost getting a full NFL coverage here, all from one place – maybe except the Prime Video-exclusive Thursday Night Football match-ups.
Can I watch NFL on Samsung Smart TV in 4K?
Whether it's CBS, NBC, ESPN, or the NFL Network, neither has aired a single NFL seasonal game in 4K.
Fox, however, is a notable exception. It covered quite a number of games, particularly the Giants-Cowboys Thanksgiving game last season and the 2022 Super Bowl in 4K. It's upscaled stuff, but Fox's 4K conversion of 1080p HDR feed has proven phenomenal for the broadcast quality.
Even if you don't have a capable set-top box connected to your Samsung 4K TV, FuboTV and YouTube TV, the only streaming TV services offering Ultra HD playback, are here to save the day. You can catch FOX's 4K NFL broadcasts on your compatible Samsung Smart TV with a Fubo Elite or Premier plan or YouTube TV's Base Plan with the 4K Plus add-on.
FuboTV supports Ultra HD playback on 2017 and newer Samsung 4K TVs, whereas YouTube TV allows it only on 2019 and newer models.
How to watch NFL on Samsung TV for free?
A simple way to enjoy NFL games for free on your Samsung TV is to use an over-the-air (OTA) antenna, which lets you tune into your local ABC, CBS, FOX, and NBC affiliate stations that broadcast many NFL matches, including the playoffs and the Super Bowl. Check which channels you can receive in your area using this DTV Reception Map tool from the FCC.
Of course, a well-built digital antenna doesn't come cheap, but it's a worthwhile investment that'll ensure your football coverage for years to come. You can also enjoy more football leagues like the USFL and XFL and dozens of other sporting events from MLB, NBA, NHL, etc.
If setting up an antenna and tuning it isn't an option, there's no reliable way to stream NFL on Samsung Smart TV for free online. However, you always have the opportunity to take advantage of a free trial to a live TV streaming service like FuboTV or YouTube TV, which often runs limited trial promotions for new subscribers.
Final Words
After hours of meticulous research and examining every feasible choice, we compiled this guide highlighting the best ways to watch NFL on Samsung Smart TV. It doesn't matter if you're a pay-TV subscriber or cord-cutter; we hope you'll find several options suited to your needs for enjoying the 2023-24 NFL season and beyond.