Are you a college student who can't get enough of NFL games every Sunday? Do you want to stream every out-of-market game live on your devices without breaking the bank? If so, you might be interested in the NFL Sunday Ticket service. But what is it, and how can you get a discount on it?
NFL Sunday Ticket is a subscription service that lets you watch all the games that don't usually play on your local channels. It's perfect for fans who don't want to miss any of the action, every single tackle, touchdown, or amazing play, no matter where they live, on their favorite screens.
After being buddies with DirecTV for nearly three decades, NFL Sunday Ticket has decided to hang out with YouTube TV now. But what does this mean for you? It has never been cheap, after all, and you might be wondering if there's a way to save some money on it.
Well, you're in luck because there is a way to get a student discount on NFL Sunday Ticket. In this guide, we'll tell you everything you need to know about it, including how much it costs, how to sign up, and what are the benefits and limitations of the service. Let's get started!
How much does NFL Sunday Ticket cost for Students?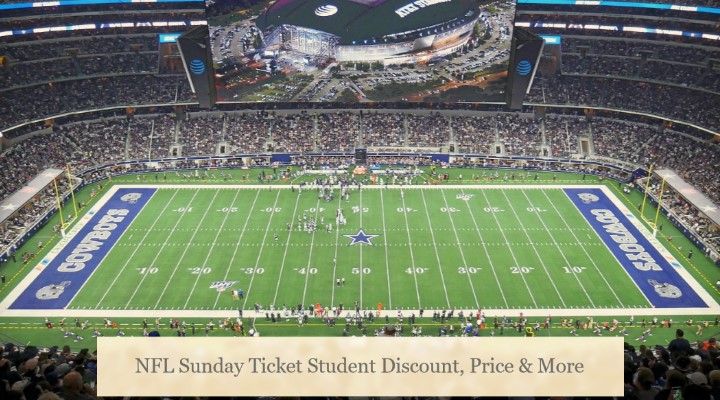 Some of you might be familiar with the NFL Sunday Ticket TV U deal that used to be offered by DirecTV. It was a great way to enjoy all the action without paying the full subscription price. Well, good news: YouTube TV now also has a similar offer.
YouTube has announced that it'll allow college students to access its NFL Sunday Ticket on YouTube Primetime Channels for only $109 per season. That's a huge bargain compared to the regular price of $399.
And if you want to add the NFL RedZone channel, which shows every touchdown from every game, you can do that for just $119 per season. That still comes out much cheaper than the bundle's regular price of $439.
Of course, this isn't anything new. DirecTV used to run the same deal for students, charging $120 per season for Sunday Ticket with RedZone included. But now that YouTube and YouTube TV have taken over the rights to Sunday Ticket, they continue this tradition of giving students a markdown.
FAQ: As a YouTube TV subscriber, am I eligible for a student discount on the NFL Sunday Ticket?
No, the NFL Sunday Ticket Student Plan is available only through YouTube Primetime Channels. If you already have YouTube TV, you have the option to add Sunday Ticket to your package for a discounted price. The base Sunday Ticket and RedZone bundle costs $299 and $339, respectively, both with $50 discounts applied.
How to Sign Up For the NFL Sunday Ticket Student Plan?
In order to be eligible for the student discount on NFL Sunday Ticket, you must prove you're a real student (18 years or older) enrolled at a recognized college or university in the United States.
That's why YouTube works with SheerID, a company that checks your student status. You might have to show them your student ID card, a receipt for your tuition fees, or your class schedule to confirm that you can get the deal. Here's how you sign up:
Visit com from your PC or mobile web browser. Ensure you're signed in with your Google account.

Note: You can't use the YouTube mobile app to purchase the NFL Sunday Ticket Student Plan.

Head to the NFL YouTube channel page or enter "NFL" in the search bar, then select Get NFL Sunday Ticket.
Scroll to the bottom of the NFL Sunday Ticket plans and choose where it says, "Eligible students can save with a student plan."
For students who've never verified their status on SheerID, click Continue, provide the necessary details (g., full name, date of birth, email address, institution's name, and student information), and select Verify My Student Status.

If you've previously verified your student status through SheerID, the Sunday Ticket should be available at a discounted price. All you have to do is select between the standard or RedZone bundle and continue with the purchase.

You'll get a "Success!

" message upon instant verification on SheerID, after which you can confirm your

billing information

for the purchase.

If SheerID can't verify your student status, be ready to upload further documents to prove your enrollment. Manual reviews usually take half an hour (or up to two days if verifying for non-US institutions), and SheerID will notify you about your eligibility over email.
YouTube will email you a receipt upon purchasing the NFL Sunday Ticket Student Plan. You can review your membership details anytime via youtube.com/purchases.
NFL Sunday Ticket Student Discount: FAQ
Q1. Is the NFL Sunday Ticket Student Plan available monthly?
No. Unlike the full-priced NFL Sunday Ticket on YouTube and YouTube TV, which are now purchasable in most states in four monthly part-payments, you must pay $109 (or $119 with RedZone) upfront for the NFL Sunday Ticket Student Plan. Additionally, it's ineligible for any further discounts.
Q2. Will my NFL Sunday Ticket membership renew automatically?
Your NFL Sunday Ticket Student membership is a one-time purchase that won't auto-renew for the next NFL season. That's unlike the full-priced version, which renews automatically for the next season unless you cancel it manually.
Q3. Can I cancel or request a refund for the NFL Sunday Ticket?
Regardless of whether you get the students' discount, NFL Sunday Ticket on YouTube is non-cancellable and non-refundable. Once you purchase the membership, you can't cancel it or request a refund for the rest of the reason.
NFL Sunday Ticket Student Plan Benefits
Apart from the affordable pricing, the NFL Sunday Ticket Student Plan on YouTube offers mostly the same benefits as the regular plans, including the fact that you can catch CBS and FOX's coverage of all Sunday afternoon games blacked out in your market throughout the NFL regular season.
YouTube also has some exciting updates and new features to make your game-watching experience more fun and interactive. You can chat live with other fans, vote on polls, and switch between games with ease.
If you missed some of the action, don't worry. You can use the "Key Plays" feature to catch up on the most important plays of a game before you jump into the live stream, though this feature is only available on connected TV devices this season.
Then there's the brand-new "Multiview" feature, which lets you watch up to four games in a split-view at the same time. If you get the NFL Sunday Ticket + RedZone Student Plan, you can enjoy both out-of-market football broadcasts and RedZone with Multiview.
What are the Limitations?
For starters, the NFL Sunday Ticket Student Plan is intended for students only. Unlimited device streams at home and family subscription sharing is limited to the standard Sunday Ticket membership. You only get to stream on one device at a time.
Like the standard plans, the NFL Sunday Ticket Student Plan doesn't include streaming access to your local Sunday afternoon games, national primetime broadcasts like Monday Night Football or Sunday Night Football, and postseason fixtures.
You'll need the YouTube TV Base Plan (or a subscription to any other live TV streaming service, e.g., FuboTV, Hulu, or Sling) to catch the in-market football games during the NFL regular season on ABC, CBS, FOX, ESPN, NBC, and the NFL Network.
NFL Sunday Ticket: Supported Devices
If you love watching football, you'll be happy to know that you can utilize your NFL Sunday Ticket membership to stream the out-of-market games on all kinds of devices, including phones, tablets, smart TVs, streaming media players, game consoles, and computers via a web browser. All you need is a decent internet connection capable of keeping up with the high-definition live streams.
In Summary
That's everything you need to know regarding the NFL Sunday Ticket 2023 student discount, with YouTube making the Student Plan purchasable nationwide starting at just $109 for the season.
So what are you waiting for? If you're a college or university student who wants to watch every NFL game involving your favorite out-of-market teams this season, don't miss this opportunity to get Sunday Ticket on YouTube at a fraction of the cost. Sign up today and get ready for some gridiron action!