The following step-by-step guide will show you How to Watch NFL Sunday Ticket on Sony Smart TV.
After a long hiatus, football is back on television, with the NFL regular season paving a long, arduous path to Super Bowl LVIII. Like every season, the league is brimming with intriguing narratives. Will the Chiefs manage to achieve a rare feat by clinching consecutive victories after almost two decades? Can the Jets end their playoff dry spell?
We don't know all that just yet, but what we do know is that there have been some dramatic changes in the broadcasting realm, especially with NFL Sunday Ticket making a surprising move to YouTube, allowing for new ways to catch Sunday afternoon gridiron action for the first time in nearly three decades.
Whether you're rooting for your favorite team outside your local market or don't want to miss out on any of the games that CBS or FOX isn't carrying in your area, NFL Sunday Ticket is worth considering. The best part is you don't have to continue your traditional pay-TV contract to watch these games, as your Sony BRAVIA TV is well up to the task.
Here's all you need to know about NFL Sunday Ticket and how to get it on your Sony Smart TV. Before we proceed, note we mean Android TV and Google TV-powered models when addressing "Sony Smart TV" and not the older Internet TV sets, which may or may not be compatible. With that out of the way, let's begin.
NFL Sunday Ticket: What You Need to Know
NFL Sunday Ticket has finally moved out of its parents' house, DirecTV, and in with Google's streaming giant YouTube. In fact, you can now get the premium sports package via either YouTube or YouTube TV, the latter being the live TV counterpart.
The benefits remain the same: uninterrupted access to every out-of-market early and late afternoon Sunday NFL game during the regular season. YouTube has also added the ability to schedule recordings for these matches should you not want to miss a minute of your team's plays.
YouTube has more tricks up its sleeves for this NFL season, with the new Multiview feature being the key highlight. As the name suggests, it allows viewers to have two, three, or four live game feeds on the screen at a time in a split-view – it's like running your own broadcast studio.
Additionally, each game gets a real-time highlight reel, dubbed Key Plays View, which lets you catch up on the action you may have missed before jumping into the live broadcast.
It even has Fantasy Football integration, meaning you can connect your NFL account to YouTube or YouTube TV and track your players in real-time. Plus, live chats and interactive polls are there to enhance your football-watching experience like nothing alike.
What About Pricing?
NFL Sunday Ticket has always been one of the costliest add-on sports packages on television, and its shift to streaming has seen little reduction in price. The standalone NFL Sunday Ticket package, available through YouTube Primetime Channels, costs $449, with a $40 upcharge for the RedZone bundle.
The Sunday Ticket doesn't offer access to your local Sunday afternoon games on CBS and FOX, nor the rest of the nationally-broadcasted primetime match-ups, e.g., NBC's Sunday Night Football or ESPN's Monday Night Football coverage, or the post-seasonal matches leading to the Super Bowl.
If you also wish to watch these games, getting NFL Sunday Ticket through YouTube TV makes sense. You'll be paying $349 for the season and $389 for the RedZone bundle, on top of the $72.99 monthly subscription fee for the YouTube TV Base Plan. That gives you 100+ channels, including CBS, FOX, ABC, ESPN, NBC, and the NFL Network – the six primary league broadcasters in the States.
For those who want to give NFL Sunday Ticket a try before committing to its hefty price, both YouTube and YouTube TV are currently offering a seven-day free trial as a one-time offer. Depending on when you're reading this, you may or may not be able to redeem a flat $50 discount upon purchase. You can opt for monthly payments if you can't pay up-front.
Eligible students can save up with the Student Plan, albeit limited to one device stream (the standard plan covers unlimited devices on the same home network) and no family sharing. It's purchasable only as a Primetime Channel, but once bought, one can enjoy the games via YouTube or the YouTube TV app. Learn more about NFL Sunday Ticket 2023 Student Discount here:
Steps to Sign Up For NFL Sunday Ticket on Sony Smart TV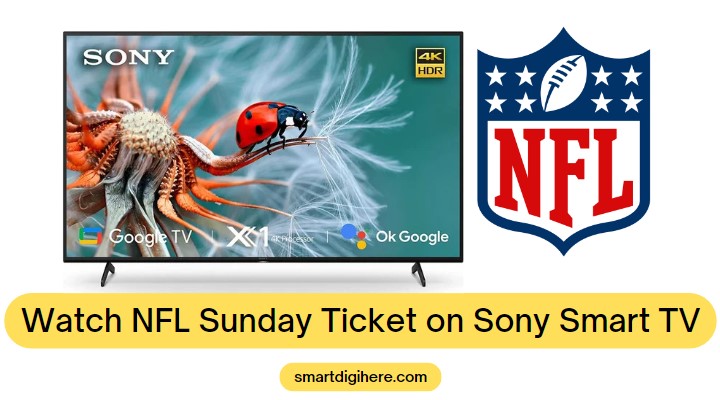 YouTube and YouTube TV come pre-loaded on every Sony BRAVIA Smart TV model running the Android TV or Google TV operating system. If you're interested in subscribing to NFL Sunday Ticket via YouTube Primetime Channels, use these steps:
Open the YouTube app on your Sony TV or mobile device. iPhone and iPad users will have to visit youtube.com instead.
Provided you've signed in with your Google account, enter NFL Sunday Ticket in the search bar, then select Get NFL Sunday Ticket next to the NFL YouTube channel banner.
Choose Watch directly on YouTube, followed by your preferred NFL Sunday Ticket package (with or without RedZone).
Review your subscription and billing information and select Buy to finish your purchase. You'll receive a receipt over email upon successful transaction.
Those willing to get the NFL Sunday Ticket + YouTube TV plan can follow these steps:
Visit youtube.com from your phone, tablet, or computer web browser. Log in to your Google account if you haven't already.
Choose Sign Up (or Start Free Trial), select the Base Plan, and Next.
Find and select NFL Sunday Ticket (with or without RedZone) in the add-ons list. You can pay for either package upfront or monthly (non-cancellable) part payments.
Select Checkout, add your payment details if not already, review your subscription, and click Start Membership. You'll receive a confirmation email soon after.
Already have a YouTube TV membership? Go to the Youtube TV app or website, select your profile picture at the top, then Settings. In the "Membership" tab, find the NFL Sunday Ticket package (with or without RedZone) and select Add. Upon final review of your plan details, click Purchase.
How to Access NFL Sunday Ticket on Sony Smart TV?
If you're signed in with the same Google account on your Sony Android or Google TV you used to purchase the NFL Sunday Ticket: Congrats, you don't have to go through any more steps.
Simply launch the YouTube or YouTube TV app from your TV's Home screen, and you should notice the content shelf titled "NFL Sunday Ticket" prominently displayed on the app's homepage.
If you don't see it, head to the official NFL channel page on YouTube or YouTube TV's LIVE menu, and you should find the out-of-market Sunday afternoon streams under the "Live and upcoming games"  or "Watch multiple games at once" row.
If the YouTube app on your Sony Smart TV opens already signed into a different account, you can add yours by selecting the Profile icon in the left-hand sidebar, then Add account, and following the on-screen steps. You can use your mobile device, web browser, or TV remote for the log-in process.
To learn how to use the Multiview feature, catch up on key plays during a live Sunday afternoon football game, or watch recorded matches via the YouTube TV app, we strongly recommend checking out this official video guide from YouTube.
Final Whistle
The palpable excitement and satisfaction that comes after a long week of work culminates in your living room on a bright Sunday afternoon, with friends and family coming together donning their team jerseys, cheering passionately for their favorite NFL team amidst a bevy of snacks and sodas.
With NFL Sunday Ticket on Sony Smart TV, you can take your football enthusiasm to the next level with access to all the out-of-market games you otherwise can't enjoy on your local CBS or FOX station. If you still need help with something related to this guide, we're here to help.