Jon Cruz, the Global Head of Sports Partnerships at YouTube, once had to persuade the NFL and other popular sports leagues to upload match highlights to the video-streaming platform. Fast forward a decade later, and YouTube is the official streaming provider of the NFL Sunday Ticket package.
Chances are you already know about the NFL Sunday Ticket, but here's a refresher anyway: With the premium sports package comes every Sunday afternoon regular-season NFL game blacked out on your local CBS or FOX affiliate. It's an add-on subscription worth considering if you're in a market where your favorite AFC or NFC team games aren't carried or you just hate your local team – we don't judge.
With DirecTV no longer in the Sunday Ticker business, YouTube and YouTube TV pave the way for easier adoption of the out-of-market football package for millions of smart TV and streaming device owners, including Apple TV. This guide will show you how to sign up for and access the NFL Sunday Ticket on Apple TV.
NFL Sunday Ticket on Apple TV: Pricing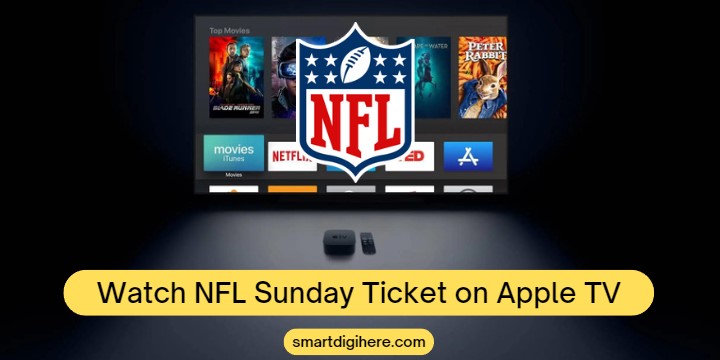 There are two ways to get the NFL Sunday Ticket. The first is to sign up for the package via YouTube TV, which costs $349 for the season, separate from the recurring charge for the YouTube TV Base Plan. If you also want RedZone, it'd cost you $40 more for the bundle, which brings up the seasonal fee to $389. Both plans are eligible for part-payments divided into four months.
The reason to go with the NFL Sunday Ticket + YouTube TV combo is a no-brainer for an NFL maniac. Aside from every out-of-market Sunday afternoon game, you get access to YouTube TV's massive 100+ live channel lineup, which includes ABC, CBS, FOX, NBC, ESPN, and the NFL Network airing the local and national NFL games and more live sports.
If you already have your local and primetime NFL coverage sorted, NFL Sunday Ticket is also available as a standalone YouTube Primetime Channel, separate from YouTube TV. However, it's more expensive, with the standard and RedZone plans costing $449 and $489, respectively.
Depending on when you're reading this, YouTube may have pulled up the $50 promotional discount off the retail price on the NFL Sunday Ticket 2023 packages. If you're looking for a student discount, check out our dedicated guide on it here.
It's worth noting that NFL Sunday Ticket, both on YouTube and YouTube TV, offers unlimited simultaneous streams on the home network for Sunday Ticket content, which is great if you have more than one Apple TV box or other compatible streaming media players / smart TVs in your house.
How to Sign Up For NFL Sunday Ticket on Apple TV?
With NFL Sunday Ticket available on YouTube and YouTube TV, getting access to the out-of-market football games is now relatively straightforward for Apple TV users. All you have to do is sign up for the package via your preferred platform and log in to the respective app on your Apple TV HD (4th Gen) or Apple TV 4K box.
For some reason, neither YouTube TV nor YouTube allows for subscribing to NFL Sunday Ticket via the respective apps on Apple TV, iPhone, or iPad. Instead, you must sign up from the computer or mobile web browser. If you're new to YouTube TV, use these steps:
Visit tv.youtube.com/welcome from your web browser and continue logging in with your Google account.
Select Sign Up or Start Free Trial. With the Base Plan selected, choose Next.
Scroll through the "Add to your plan" section, select NFL Sunday Ticket, with or without NFL RedZone, and click Checkout.
Add your preferred payment method, then complete your purchase by clicking Start Membership. YouTube TV will email you a receipt upon successful purchase.
For those who already have a YouTube TV membership, go to the YouTube TV website, click your profile photo at the top-right corner, and select Settings. In the "Membership" section, you'll see the option to add NFL Sunday Ticket (with or without RedZone), after which you can review the pricing options and select Purchase to finish the transaction.
If you want to sign up for the NFL Sunday Ticket Primetime Channel on YouTube instead, use these steps:
Go to youtube.com from your web browser. Ensure you're signed into your Google account.
Head to the NFL YouTube channel page (youtube.com/c/nfl) and click the Get NFL Sunday Ticket button.
Select Watch Directly on YouTube, choose between the standard or RedZone bundle, and click Next.
Add a payment method if not linked to your Google account already, then review your Sunday Ticket subscription and choose Buy to complete the purchase.
Once you have your NFL Sunday Ticket membership, move on to the next section to access the out-of-market Sunday afternoon football games live on Apple TV.
How to Access NFL Sunday Ticket on Apple TV?
Of course, you must install the YouTube TV or YouTube app from the App Store on your Apple TV to access the out-of-market streams (and RedZone) included with your NFL Sunday Ticket subscription. Here's how:
Navigate to the App Store from your Apple TV Home Screen.
Highlight the Search (magnifying lens) icon in the upper navbar, then type "YouTube" in the search box.
Select YouTube or YouTube TV app in the results, followed by the Get button on the next screen to install it.
After successful installation, open the YouTube or YouTube TV app from your Apple TV Home Screen and follow the on-screen steps to log in with your Google account, the one you used to buy the NFL Sunday Ticket.
Note:
For signing into either app on your Apple TV, you should be able to use the YouTube mobile app, continue the sign-in process on a web browser, or enter your account credentials using the Siri Remote.
Upon logging in, browse to the NFL channel page in the YouTube app, where you should see the shelf of live and upcoming games, including the out-of-market match-ups. You should also see the same on the app's Home page. The same goes for NFL Sunday Ticket subscribers on YouTube TV, where the games should be accessible within the HOME or LIVE menu.
If you're looking forward to using YouTube/YouTube TV's features for the NFL Sunday Ticket, such as Multiview and Key Plays on Apple TV, check out this official video guide:
How to Watch NFL Sunday Ticket Games on YouTube – US Only
Do note that NFL Sunday Ticket doesn't get you access to the NFL Sunday afternoon games that are locally broadcast, nationally televised ones, or any of the preseason or postseason match-ups. Those are accessible through your YouTube TV Base Plan subscription.
Related Articles:
Goal Line
It's funny to think that Apple considered securing the rights to NFL Sunday Ticket in 2022. If Apple hadn't prematurely backed out and the deal went through, accessing out-of-market Sunday afternoon NFL streams would've likely been even more convenient for Apple TV users than it now is with NFL Sunday Ticket on YouTube TV and YouTube Primetime Channels.
The 2023 NFL season marks the first season of YouTube's seven-year contract with the NFL, so Sunday Ticket isn't moving out of Google's video and live TV streaming platforms anytime soon. Our guide covers all you need to know to get NFL Sunday Ticket on Apple TV, but if you still have any questions, we're here to answer them.