Whether you're rooting for the defending Super Bowl LVII champion Kansas City Chiefs to hoist the Lombardi Trophy once again this NFL season or excited to see your favorite team swiftly battle it out to the playoffs, catching the National Football League games on the Sony PlayStation game console has never been this easy.
Even with the local and national football broadcasts bifurcated between six different US TV networks, you can tune in to every game with a streaming live TV subscription from Hulu and YouTube TV. Additionally, existing OTT platforms from the likes of Prime Video, ESPN Plus, Peacock, and Paramount+ now provide live (and on-demand) streams of select NFL games.
However, as most of you know, there are certain blackout restrictions that apply to Sunday afternoon matchups on broadcast television, limiting viewers to the games covering only their local AFC or NFC league team.
Let's say you're a passionate Seattle Seahawks fan living in Chicago, and you've recently moved to the city for a new job opportunity. Being away from Seattle, you'll be missing out on your favorite team's games since the local TV stations primarily cover Chicago Bears games. That's where the NFL Sunday Ticket saves the day.
A Sunday Ticket subscription offers access to all NFL games on Sundays, including the ones not airing on your local CBS and FOX affiliates. Our guide to NFL Sunday Ticket on PS4 and PS5 will ensure you never miss your favorite team's action, no matter where you are in the States.
Where to Get NFL Sunday Ticket on PS4 & PS5?
With DirecTV being the NFL Sunday Ticket distributor in previous seasons, it wasn't possible for fans to enjoy the out-of-market football games on their PS4 and PS5 consoles. However, that changes from the NFL 2023 season.
DirecTV is no longer home to the premium sports package, as Google has agreed to pay nearly $2.5bil a season for the next seven years for exclusive streaming rights to the NFL Sunday Ticket games on YouTube Primetime Channels and its cable TV replacement, YouTube TV. The pricing for the add-on is as follows:
NFL Sunday Ticket YouTube Primetime Channel: $449/season, $489 with RedZone
NFL Sunday Ticket + YouTube TV: $349/season, $389 w/ RedZone (plus $73 for the monthly-recurring YouTube TV Base Plan)
*Either plan is available at a $50 promotional discount until September 19, 2023.
The standalone Sunday Ticket Primetime Channel only offers out-of-market coverage of the early and late afternoon games on Sundays during the regular season. If you also want access to your local and nationally broadcast NFL matchups alongside it, bundling NFL Sunday Ticket with YouTube TV is your best bet.
YouTube TV's Base Plan (100+ channels, unlimited DVR, three concurrent streams) gets you ABC, CBS, FOX, NBC, ESPN, and the NFL Network, ensuring comprehensive football coverage throughout the regular season that extends to the playoffs and beyond.
Adding NFL RedZone to the Sunday Ticket incurs an additional $40 for the season, but it's worth having if you enjoy the continuous whip-around simulcasts of the Sunday afternoon games, with Scott Hanson covering every touchdown and highlight-worthy play.
How to Access NFL Sunday Ticket on PS4 & PS5?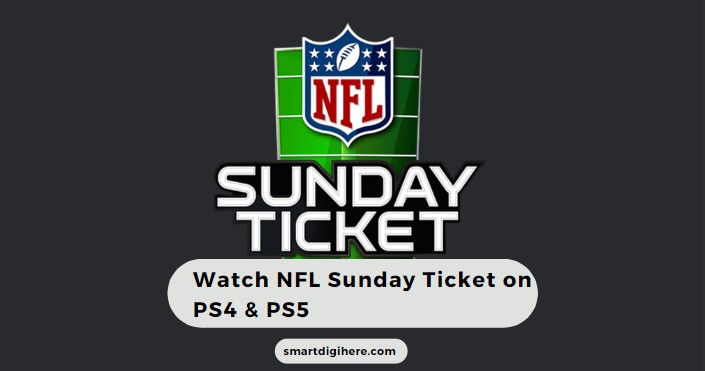 With both the YouTube and YouTube TV apps available for the last and current-gen PlayStation consoles, streaming your most anticipated NFL matchups outside your broadcast area via Sunday Ticket should be straightforward.
Get the NFL Sunday Ticket Primetime Channel
To access the standalone NFL Sunday Ticket Primetime Channel on your PS4 or PS5, use these steps:
Open the YouTube app from the TV and Video menu, accessible from your PlayStation 4's Home screen.

On PlayStation 5, head to the Media tab from above your Home screen and select the YouTube

Navigate to the left-hand pane of the YouTube app and choose Movies & TV.
Scroll down to the "Primetime Channels" row and select the NFL

Go to the Search menu and type "NFL" if you're unable to find the channel.

On the NFL channel page, click "Get NFL Sunday Ticket" and follow the on-screen prompts to customize your subscription and complete the purchase.

YouTube may ask you to continue the process via your phone or computer.
Once the payment goes through, you can tune in to the out-of-market NFL games every Sunday via the NFL Primetime Channel live on YouTube.
Get NFL Sunday Ticket on YouTube TV
If you want to sign up for NFL Sunday Ticket with a YouTube TV subscription, head over to nflsundayticket.com from your browser, scroll down to the plans, and choose the one that's right for you. You'll then have to sign in with your Google account to customize and review your membership and finalize the purchase.
On your PlayStation 4, go to the PlayStation Store, search for the "YouTube TV" app, and click Download. On a PlayStation 5, navigate to Media > All Apps from your Home screen, select YouTube TV in the apps list, and select Download.
Once installed, open the app on your game console and follow the on-screen instructions to log in with the Google account with which you signed up for the Sunday Ticket. Either type in your email and password using your controller/media remote or continue the login process on a second device with the activation code.
After that, you're free to access the live out-of-market football streams via the app's Home or Live menu. For the local Sunday afternoon games, tune into your local CBS or FOX affiliate via YouTube TV's channel guide.
Note: For those already paying for YouTube TV, navigate to the Profile > Settings > Membership tab in the app or website and click Add next to "NFL Sunday Ticket." You'll be billed for the package through the payment method linked to your account.
Enjoy NFL Sunday Ticket on PS4 & PS5
Even a few years back, PlayStation owners would have to invest in a separate streaming device to watch the National Football League (and live sports in general) without cable, that too without any options to tune into your favorite team's out-of-market broadcasts.
Now with the availability of NFL Sunday Ticket on PS4 and PS5 via YouTube Primetime Channels and YouTube TV, you no longer have to compromise. Plus, you get access to various features to enhance your experience, such as:
Multiview, which allows up to four football streams playing back on the same screen in a split-view
DVR for recording the games and watching on-demand (also available to Sunday Ticket Primetime Channel subscribers)
Additionally, other Smart TVs or streaming devices on the same home network can stream from the same NFL Sunday Ticket subscription without any limit on simultaneous streams.