With the kickoff of the NFL comes another season of professional football filled with an electrifying atmosphere, groundbreaking plays, close victories, and heartbreaking losses. Several changes have occurred for the sports league in rules and flex scheduling, but even bigger ones lie with the TV coverage.
The most significant change comes with the NFL Sunday Ticket – the sports add-on package that allows football fans to enjoy all out-of-market Sunday afternoon NFL matches during the regular season. Formerly offered by DirecTV since 1994, YouTube has now taken up the mantle as part of a seven-year, multi-billion-dollar contract with the league.
What's great about this change is you don't have to rely on a traditional pay-TV connection anymore to catch your favorite AFC/NFC teams' games outside their local markets. And like most things nowadays, it's now streamable on any of your screens, including that epic Vizio television you've set up in the living room.
Whether you're a die-hard fan of a specific team, a fantasy football enthusiast, or just a casual viewer who likes to catch up with some NFL action on Sundays, we'll show you how to get NFL Sunday Ticket on Vizio Smart TV with ease and convenience.
Everything Regarding NFL Sunday Ticket
NFL Sunday Ticket is a premium streaming sports package that lets gridiron fans watch every "out-of-market" football game on any given Sunday afternoon (early and late) during the NFL regular season.
By "out-of-market," we mean the match-ups not shown (or blacked out) on your local CBS and FOX affiliate stations. Hence, this allows you to enjoy all the Sunday afternoon games regardless of where you are in the US.
The NFL Sunday Ticket subscription has always been costly, and it isn't any cheaper even after its move to YouTube. It's available as a YouTube Primetime Channel, running $449 per season and $489 with RedZone, the latter of which provides an action-packed view by rapidly switching between games to showcase the most thrilling plays and scoring chances from all the Sunday afternoon matches.
Mind you, you'll still be paying for a live TV package via a cable, satellite, or streaming provider to get the in-market Sunday afternoon games on your local CBS or FOX channel. The same goes for nationally broadcast matches, including Sunday Night Football on NBC, Monday Night Football on ESPN/ABC, Thursday Night Football on Prime Video, and the handful of games on the NFL Network, none of which are part of Sunday Ticket.
That's where YouTube TV comes in. With its Base Plan (100+ channels, unlimited DVR) subscription, which costs $72.99 monthly, you can get the NFL Sunday Ticket for $349 for the season and $389 with RedZone included. That gives you all Sunday afternoon NFL games alongside most primetime match-ups on ABC, ESPN, NBC, and the NFL Network.
Sunday Ticket, which has always been a one-time purchase, is now purchasable through a new monthly payment plan option. Instead of paying the full price upfront, YouTube lets you split it over four monthly payments. This offer is applicable everywhere but in the states of Georgia, Missouri, Minnesota, Nevada, New York, New Jersey, and Tennessee.
Like previous offerings, NFL Sunday Ticket on YouTube is discounted for verified students, starting from $109. You can learn more about the Student Plan, what it offers, and its limitations compared to the standard package in our dedicated guide here.
How to Get NFL Sunday Ticket on Vizio Smart TV?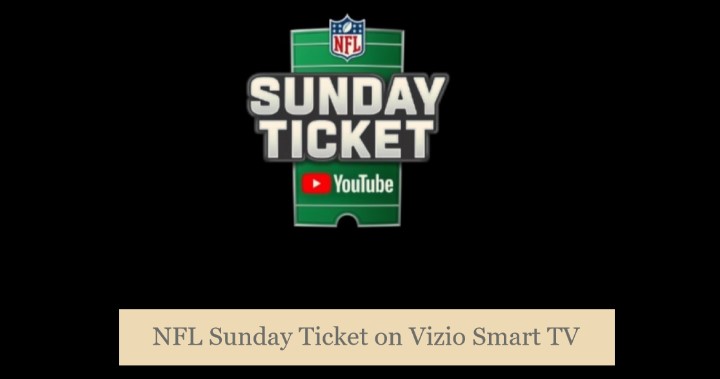 The good news is both the YouTube and YouTube TV apps are compatible with 2016 and newer Vizio SmartCast TVs, so you can rest assured knowing you have easy streaming access to your favorite out-of-market NFL team's games on Sunday afternoons. However, you must purchase the NFL Sunday Ticket package first.
Fortunately, it's relatively simple to do so. If all you care about is watching the blacked-out games, here's how you can subscribe to the Sunday Ticket YouTube Primetime Channel:
Launch the YouTube app on your Android device. If using an iPhone, iPad, or a computer, visit youtube.com from the web browser.

YouTube on Vizio SmartCast TVs doesn't allow subscribing to Primetime Channels directly.

Search for the "NFL" YouTube channel. Once you're there, select Get NFL Sunday Ticket.
Proceed with "Watch directly on YouTube," then pick your preferred Sunday Ticket package, with or without RedZone.
After a final glance over the subscription and billing details, click Buy to carry on with the purchase, for which you'll receive an email receipt from YouTube.
If you want to get NFL Sunday Ticket with YouTube TV instead, sign up using these steps:
Head to tv.youtube.com/welcome/ from your mobile or computer browser. Make sure to log in to your Google account.
Select Sign Up (or Start Free Trial if you're eligible), pick the Base Plan, and click Next.
Tick the box for the NFL Sunday Ticket (with or without RedZone) in the add-ons list. At this point, YouTube TV will give you the option to pay for the package one time or through multiple payments.
Once you Checkout, provide your banking credentials if haven't already, review your purchase(s), and select Start Membership. YouTube TV will send you the receipt via email immediately after.
Existing YouTube TV members can visit their Profile > Settings page and navigate to the Membership tab to add NFL Sunday Ticket for the season.
Before you sign up for NFL Sunday Ticket on YouTube or YouTube TV, be really sure about it. Once you commit, you can't change your mind or get your money back.
How to Access NFL Sunday Ticket on Vizio Smart TV?
Accessing NFL Sunday Ticket streams on Vizio Smart TV is easy enough. Navigate to the "Apps + Inputs" row of your TV's Home page and launch the YouTube or YouTube TV app, depending on where you've chosen to buy the NFL Sunday Ticket from.
Note: If you don't have these apps, navigate to the Apps menu from the left-hand sidebar, find YouTube or YouTube TV under the "Discover" tab (or search manually from the "App Search" menu), and click the "+ Homescreen" button.
The next step is to sign in to the app, a straightforward process you can carry through by following the in-app instructions. Both YouTube and YouTube TV allow signing in using your phone or web browser (code-based activation) and manually entering your credentials using the remote. Just be sure to log in with the same Google account to which your Sunday Ticket subscription is linked.
You should immediately notice a new content shelf on the app's Home page, giving you instant access to the Sunday Ticket content. You may also visit the NFL YouTube channel page or YouTube TV's LIVE menu to access the live streams of all out-of-market Sunday afternoon NFL games within the "Live and upcoming games" row.
Beyond that, you should also be able to schedule recording for upcoming games to watch later. The Multiview feature YouTube and YouTube TV have been testing for a while is also here, which lets you have up to four live feeds on the same screen in a grid view. Even better is the addition of Key Plays, which allows you to catch up with the plays you may have missed before getting into the live telecast. You can learn more about these features here:
Similar Guides:
How to Watch NFL Sunday Ticket Games on YouTube – US Only
It's worth mentioning that NFL Sunday Ticket allows for streaming the out-of-market football games to as many devices as subscribers like, as long as they're all on the same home network. So, if you have another football fan in your household, they too can dive into the action from their preferred device.
Touchdown
With NFL Sunday Ticket now offered through YouTube TV and YouTube Primetime Channels, it's infinitely more convenient for cord-cutters to catch all the out-of-market Sunday NFL matches during the regular season.
Now that you've reached the end of this guide to NFL Sunday Ticket on Vizio Smart TV, we hope you found it helpful and informative. We also hope you have a blast watching your favorite teams and games on the big screen. If you have any questions or feedback, please feel free to drop them in the comments.