NBC Sports has always been one of the primary hubs for a wide range of sports in the US, including football, European soccer, baseball, golf, tennis, motorsports, and more. Its programming encompasses the local NBC broadcast affiliates and other NBCUniversal channels, such as CNBC, USA Network, and Telemundo.
NBC Sports broadcasts aren't limited to pay-cable and satellite TV anymore. One can also catch their favorite sporting events on other screens and devices over streaming, which includes connected TVs and streaming media players.
Whether you're looking forward to watching exciting live sports events like the NFL Sunday Night Football, Premier League soccer, PGA Tour, NASCAR races, or the French Open, this guide will help you access NBC Sports on LG Smart TV. Continue reading to learn more.
Is the NBC Sports App Available for LG Smart TV?
As mentioned in our comprehensive guide to watching NFL on LG Smart TV, the official NBC Sports app isn't available for webOS-enabled LG televisions. It's even though the app has supported Tizen-powered Samsung Smart TVs alongside Android TV, Fire TV, and Roku devices for years now.
Fortunately, there are other ways to catch live NBC Sports programming on your LG Smart TV, which includes casting the sports streams via the NBC Sports mobile app over AirPlay. That's if you already get NBC and its sister channels (the ones airing sporting events) with your cable or satellite TV provider. We'll come to the cord-cutting solutions later.
Watch NBC Sports on LG Smart TV using AirPlay [Requires iPhone/iPad]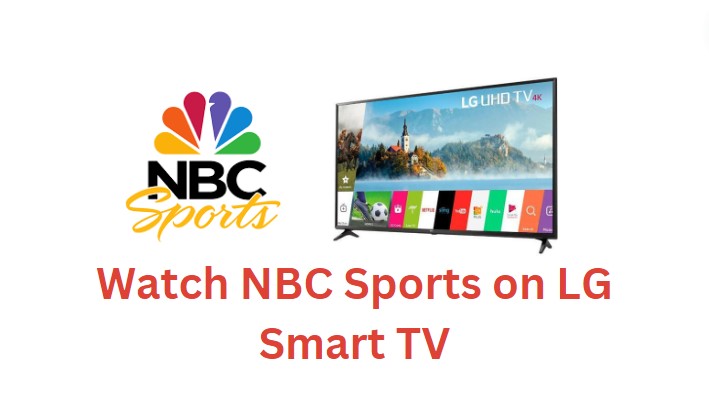 The NBC Sports app for iPhone and iPad lets viewers stream live and on-demand sports content on Apple TV, Chromecast, and any capable connected TV device with Chromecast or AirPlay functionality built-in.
If you own a 2018 or newer LG UHD, NanoCell, QNED, or OLED-series Smart TV model, odds are it supports AirPlay 2. Of course, to stream via the NBC Sports mobile app, you must also have an Apple device running iOS/iPadOS 14.0 or above.
Assuming you meet the requirements, use the following steps to install the NBC Sports mobile app and link your TV provider first.
Ensure your iPhone/iPad and LG TV are on the same home Wi-Fi network for AirPlay to work.
Head to the App Store on your Apple device, navigate to the Search tab, and type "NBC Sports."
Select the matching app (from NBCUniversal Media, LLC) and tap the Get You may need to confirm your Apple ID password to begin.
Once downloaded, return to your device's Home Screen and tap the NBC Sports app icon to launch it.
Tap the Profile icon in the top-right corner and tap where it says "Link Your TV Provider." You may also tap any locked content on the app's Home
Next, choose your participating TV Provider from the list. The app will direct you to your provider's login website.

The list of supported providers includes but isn't limited to AT&T U-verse, Cox, Dish, DirecTV, Frontier, Mediacom, Optimum, Verizon, Xfinity, etc.

Enter your provider credentials (username/email and password) to continue signing in.
You'll return to the NBC Sports mobile app upon successful sign-in. Now follow these steps to cast sports streams to your AirPlay 2-enabled LG Smart TV from your Apple device:
Browse to the app's Home or Live tab and choose the live program, on-demand replay, highlight, or clip you want to watch.
Tap the AirPlay (TV with an upwards-facing triangle) icon above the in-app player.

Can't see the AirPlay option? The chosen content is likely unavailable for casting. Select something else and try again.

Select your LG TV in the AirPlay menu, then enter the four-digit AirPlay password displayed on your TV screen (if prompted).
Voila! Within a few seconds, your chosen NBC Sports programming should be playing back on the big screen. You can use the mobile app to switch to other content instantly and for media controls. Note you may also minimize the app and do other things on your iPhone or iPad without interrupting the stream playback on your TV.
Troubleshooting
If your LG webOS TV supports AirPlay 2 but doesn't appear in the AirPlay menu, the feature isn't probably active. Here's what you do:
Press the Home button on your LG remote.
Scroll down to the Home Dashboard section and select AirPlay.
Navigate to the AirPlay and HomeKit Settings There, make sure AirPlay is 'On."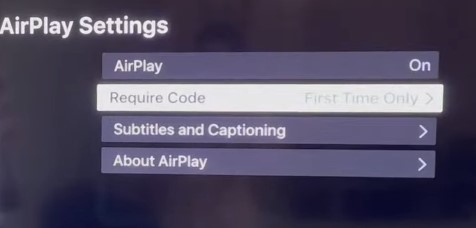 Restart your LG TV, ensure it's connected to the same Wi-Fi network as your iPhone or iPad, and try again.
Those facing provider-related errors when trying to stream any content from the NBC Sports app can perform the following troubleshooting steps:
Go to your Apple device's Settings app, then Users and Accounts.
Select TV Provider, tap Sign Out at the bottom, and confirm your choice.
Use the steps provided in the above section to re-link your TV provider in the NBC Sports app.
In addition to the above solutions, ensure the app access to location services and your home internet connection is working properly. You can also try relaunching the app or restarting your iPhone or iPad; see if that fixes the issue with AirPlay-ing NBC Sports content on your LG Smart TV.
Don't Have an AirPlay-enabled LG TV or Apple Device?
In that case, purchase an Android TV box, Roku device, or a cheap Chromecast dongle to add AirPlay/Chromecast functionality to your unsupported LG TV. These devices also natively support the NBC Sports TV app, so you won't need a secondary device to cast your favorite live NBC Sports programming from.
It's worth noting that AirPlay Mirroring, Miracast, or any kind of wireless/wired screen mirroring method is ineffective due to DRM (Digital Rights Management) restrictions preventing users from displaying sports streams via the NBC Sports mobile app on an external screen.
Of course, you don't necessarily have to use the NBC Sports app to enjoy football or soccer action on your LG Smart TV, as we've discussed in the below section.
Related: NBC Sports on Samsung Smart TV
Other Ways to Watch NBC Sports on LG TV
A streaming TV subscription via FuboTV, Hulu, Sling, or YouTube TV can give you access to your local NBC station and every other channel hosting NBC Sports programming, i,e, USA Network, CNBC, Golf Channel, Telemundo, and Universo. The channel availability and pricing vary by market, so we suggest visiting the service's websites for more details.
With the Hulu + Live TV or YouTube TV Base Plan, you also get access to all the NBC Sports RSNs (Regional Sports Networks) located in the Bay Area, Boston, California, Chicago, Northwest, Philadelphia, Washington, and New York. The Sling Blue plan, however, is the go-to choice for the budget-conscious.
Regardless of which streaming bundle you end up with, you'll have access to more sports and entertainment through networks other than NBC and its sister channels. Plus, you get the benefit of cloud DVR, simultaneous streams, and the ability to log into the NBC Sports app (or any other TV Everywhere platform) and enjoy its on-demand highlights, replays, and exclusive content.
Another elephant in the room that needs addressing is NBCUniversal's Peacock streaming app. Available officially for LG Smart TVs (2017+ models, webOS 3.5 and above), a Premium subscription to the service will give you access to most NBC Sports programming, including Sunday Night Football during the NFL regular season, MLB Sunday afternoon games, exclusive Premier League matches, PGA Tour events, IndyCar races, WWE, and much more.
Enjoy NBC Sports on LG Smart TV
As you've noticed, there are plenty of options to watch NBC Sports on LG Smart TV regardless of whether you have a cable TV subscription or a streaming one. If you have any more questions regarding this guide or valuable feedback to offer, the comments section is waiting for you below.