Catching the National Football League games has become easier with over-the-top (OTT) platforms offering live football broadcasts, and streaming TV providers allow cord-cutting football fans to enjoy the regular season and playoffs without a traditional pay-TV contract.
But what about the out-of-market coverage? Suppose you're a devoted Green Bay Packers fan, but you live in Los Angeles. And as an avid follower of the Packers, you don't want to miss any of their games during the NFL season. However, living in Los Angeles means many of the Packers' games aren't available on your local FOX station.
In this scenario, purchasing NFL Sunday Ticket would be the ideal workaround. And odds are you already figured this much but don't know how to access it on your big screen. The good thing is you're here now, and we'll help you get NFL Sunday Ticket on LG TV through this comprehensive guide.
NFL Sunday Ticket: All You Need to Know
Many NFL games are subject to regional broadcasting restrictions. It means if you reside outside your team's designated local market, you won't be able to tune into all their games on TV. However, NFL Sunday Ticket offers a solution to this problem.
By subscribing to this sports package, you can watch every out-of-market Sunday NFL game live that is otherwise blacked out on your local CBS or FOX station. To put it simply, you can still catch your favorite league team games even in a different city or state.
DIRECTV was the official distributor of the NFL Sunday Ticket for nearly three decades. But with Google securing a seven-year media rights agreement last year, the out-of-market football package has now transitioned to YouTube TV. It's also available through the new YouTube Primetime Channels service.
This shift to streaming bears good news for those with webOS-powered LG Smart TVs, as they can now go with the NFL Sunday Ticket + YouTube TV bundle and tune in to every blacked-out Sunday matchup and local and national game on CBS, FOX, NBC, ESPN/ABC, and the NFL Network without signing up for a 2-year satellite contract.
Already have access to the NFL-broadcasting channels through your existing provider? No worries! You can also purchase NFL Sunday Ticket as a standalone Primetime Channel via YouTube if all you're looking for is out-of-market football coverage.
In both cases, you can include NFL RedZone as part of your subscription for an additional $40 on top of the add-on package. That's where Scott Hanson kicks off Sunday football with a continuous 7-hour live coverage of every touchdown and noteworthy moments from every Sunday afternoon game during the regular season.
How to Access NFL Sunday Ticket on LG TV?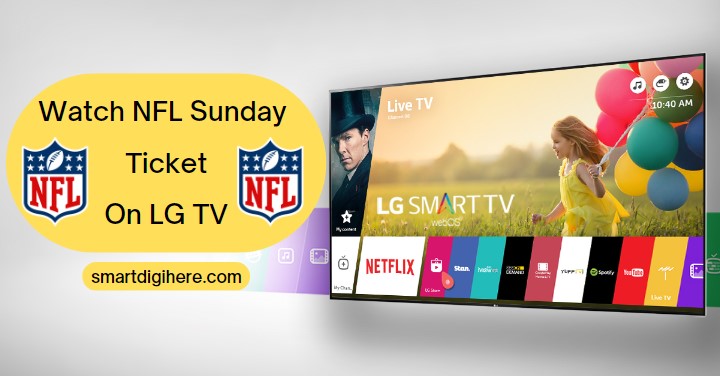 With YouTube and YouTube TV compatible with all LG Smart TVs (2016+ models) running webOS 3.0 or above, accessing NFL Sunday Ticket should be straightforward. If you don't have the following apps on your LG TV already, use these steps to download them from the Content Store:
Press the Home button on your LG TV remote to access the Home screen.
Navigate to the "App List" section, scroll through the options, and select the Apps (four arranged squares) tile.

On older webOS versions, select the LG Content Store tile on the launcher bar.

Select the magnifying glass icon at the top of the Apps screen to open the Search menu.
Use the on-screen keyboard to type "YouTube TV" or "YouTube" and click the Search
Choose the matching app in the results, then hit Install on the next overview screen.
To open YouTube or YouTube TV, simply navigate to the end of your App List on the Home screen and click the respective app icon. But before that, let us show you the process to sign up for NFL Sunday Ticket.
Steps to Purchase NFL Sunday Ticket
If you want to buy NFL Sunday Ticket via YouTube TV, you must also pay an additional recurring monthly fee for the Base Plan.
Browse to tv.youtube.com from your phone or computer web browser, scroll down to the plans, and select Learn More under "NFL Sunday Ticket." On the following page, click the "Get Offer Now" button under your preferred bundle (with or without RedZone) to sign up for the subscription at its inaugural price (valid till September 19, 2023).
After that, it's a matter of logging into your Google account, reviewing your subscription, and completing the purchase through your preferred payment method.
If you already have a YouTube TV membership, use these instructions to add the NFL Sunday Ticket package:
Visit the YouTube TV mobile app or the website.
Click your Profile icon at the top-right, select Settings, and then Membership.
Click Add next to the NFL Sunday Ticket package and customize your subscription.
Finally, select Purchase. YouTube TV will bill you for the sports package through the payment method you've linked to your account.
Note:
At the time of writing, NFL Sunday Ticket isn't yet purchasable for YouTube TV subscribers billed by Google Play, Frontier, or Verizon. However, eligible users should be able to get it at the inaugural offer pricing before the regular season begins.
As mentioned, you can buy the standalone Sunday Ticket Primetime Channel without bundling it with YouTube TV. Here's how:
Open YouTube on your phone, tablet, or your computer web browser. Make sure you're logged in.
Search for "NFL" in the search bar, then select "Get NFL Sunday Ticket" in the results.
Customize your package with or without RedZone and click Next.
Review your subscription and hit Buy. You'll then have to choose your payment method and enter your billing details to complete the purchase.
Enjoy NFL Sunday Ticket on LG Smart TV!
Now that you have NFL Sunday Ticket, simply log into the YouTube or YouTube TV app on your LG TV with the same Google account to which the subscription is linked. You can use your remote to enter the email address and password or continue the login process on your phone or computer web browser.
Once you're signed in, you can watch your favorite NFL team play every Sunday afternoon without blackout restrictions. You can access all the games via YouTube TV's Home or Live menu or the official NFL channel on YouTube.
Regardless of whether you sign up for NFL Sunday Ticket via YouTube TV or YouTube Primetime Channels, you'll have access to the following features:
Multiview: You can have up to four out-of-market football live streams in a split-view mode, with the option to switch to zoom in on a single game anytime.
Key Plays: Watch condensed versions (30-40 minutes from the usual 3 hours) of previously-aired Sunday afternoon football games focusing on key plays.
DVR: You can record the games with YouTube TV's DVR feature and watch them later, even if you've bought the Sunday Ticket Primetime Channel.
Final Words
And that's everything you need to know about NFL Sunday Ticket on LG TV. Note the subscription is non-refundable and applies to a single NFL season only. On YouTube Primetime Channels, however, your Sunday Ticket package will auto-renew unless you opt out of it beforehand. Luckily, that isn't the case with YouTube TV.
It's also worth mentioning that the out-of-market sports package doesn't provide access to your local Sunday afternoon games, so you'll still have to tune into your local CBS or FOX affiliate carrying those games in your area. Our Watch NFL on LG TV guide covers all that (and a lot more) in detail.