If you're a football enthusiast who wants to keep track of every single moment of the NFL regular season, odds are you've heard of NFL Sunday Ticket before. But what exactly is it?
Well, it's a premium sports TV package that allows you to tune into every out-of-market NFL game. Whether you're a die-hard fan of a particular team or simply want to keep tabs on all the exciting matchups across the American and National Football Conferences, NFL Sunday Ticket is your gateway.
Imagine being able to watch your favorite team's games no matter where you live, following the most intense rivalries in the league. With NFL Sunday Ticket on Samsung TV, you can bring the excitement of every play, every touchdown, and every incredible moment to your living room. This guide will tell you how.
What Exactly Does NFL Sunday Ticket Offer?
For a refresher, NFL Sunday Ticket is a premium sports add-on package that brings you Sunday afternoon games from the National Football League, which CBS and FOX don't broadcast in your area due to regional blackout rules.
It's like tuning into the NFL RedZone channel, which provides "whip-around" simulcasts of all Sunday afternoon games and quick replay feeds of significant or potentially crucial plays, except you can stick to watching one particular game of your choice and manually switch to the other feed when you feel like it.
NFL Sunday Ticket gets you access to over 200 live AFC and NFC match-ups throughout the regular football season, excluding the local, national, pre-, and post-season games.
Where to Get NFL Sunday Ticket on Samsung TV?
After being home to DirecTV for over two decades, NFL Sunday Ticket has finally departed and moved to YouTube TV and YouTube Primetime Channels. This change comes after Google signed a seven-year media rights last year to be the exclusive streaming provider of the out-of-market football package.
This transition paves an easy path to get NFL Sunday Ticket on your Samsung TV, provided you have a compatible Tizen-powered model (2016 or newer). You can bundle the package with a monthly YouTube TV Base Plan subscription, which gets you access to the following:
Every out-of-market Sunday game
Local and nationally-aired NFL matchups from the pre and post-season, including:

Monday Night Football on ESPN/ABC
Sunday Night Football on NBC
International Series on NFL Network
Matches involving your local AFC or NFC team on CBS and FOX affiliates
Those who already get the six NFL-broadcasting channels through another TV provider can sign up for Sunday Ticket as a standalone Primetime Channel on YouTube. However, you'll have to look elsewhere for the rest of the NFL regular season coverage.
In either instance, viewers also get the option to add the NFL RedZone to their subscription plan. Given it offers highlights from every Sunday morning and afternoon game, including touchdowns, turnovers, deep passes, and more, some of you may find it worth adding.
How to Access NFL Sunday Ticket on Samsung TV?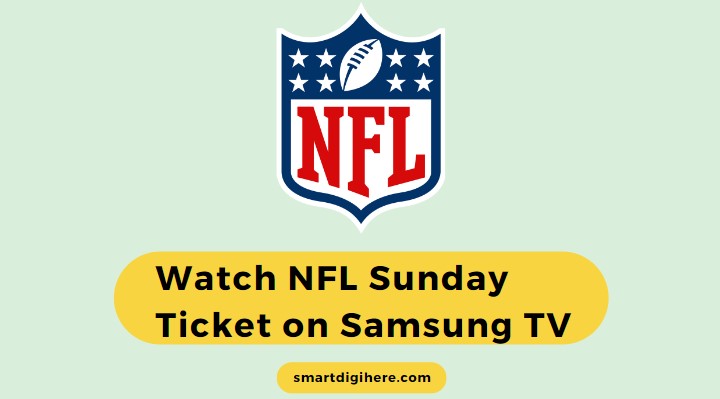 With NFL Sunday Ticket on YouTube and YouTube TV, you can watch your favorite league team play on just about any device that supports the streaming services, including your Samsung Smart TV. But first, you need to purchase the sports package, and the following section will tell you how.
Sign Up for NFL Sunday Ticket on YouTube / YouTube TV
If you want to purchase Sunday Ticket as a standalone YouTube Primetime Channel, use these steps:
Open the YouTube app on your phone or tablet, or visit youtube.com from your web browser.
Type "NFL Sunday Ticket" in the search bar.
Tap or click where it says Get NFL Sunday Ticket, followed by "Watch directly on YouTube."
Choose the plan with or without NFL RedZone and select Next.
Review your subscription and select Buy, then follow the on-screen prompts to finalize the purchase.
Existing YouTube TV subscribers can perform the following to add NFL Sunday Ticket to their membership:
Open the YouTube TV app on your mobile device, or go to tv.youtube.com from your browser.
Select your Profile icon at the top and navigate to Settings > Membership.
Find the NFL Sunday Ticket add-on and select Add next to it.
Customize your plan if necessary and click Purchase.
Those new to YouTube TV can sign up for the Base Plan + NFL Sunday Ticket bundle via tv.youtube.com. A Google account is required.
Access NFL Sunday Ticket on Samsung TV
Once you have your subscription, follow these instructions to access NFL Sunday Ticket on your Samsung Smart TV:
Press the Home remote button and open the YouTube or YouTube TV app from your apps row. If you don't have the app:

Navigate to Apps from the Home menu, then click the Search (magnifying glass) icon at the top.
Search for "YouTube" or "YouTube TV" and choose the following app from the results.
Select the Install button on the next screen. Once installed, click Add to Home.

Follow the on-screen prompts to carry on with the login process from your phone or computer.
Access the NFL Sunday Ticket channel from the YouTube app's "Movies & TV" menu or YouTube TV's HOME or LIVE
And that's it! You may now pick your preferred out-of-market Sunday football game and watch it live on your Samsung TV. With the "Watch in Multiview" option in the YouTube or YouTube TV app, you can stream up to four games in a split-screen view.
Note you can record your favorite games with YouTube TV's Cloud DVR feature for later viewing, even if you get Sunday Ticket as a YouTube Primetime Channel.
Bottom Line
With NFL Sunday Ticket on Samsung TV, we hope you can quench your thirst for watching every regular season Sunday afternoon football game. Even better, if you sign up for the package through YouTube TV, you should also be able to enjoy the rest of the NFL season up to the Super Bowl LVIII.
We highly recommend checking out our guide to watching NFL 2023 on Samsung TV for more football streaming options.