Monday Night Football has been delivering prime-time football to fans for over five decades on television, even before Thursday and Sunday nights became synonymous with National Football League action in the fall.
With the 2023 NFL season nearly here, football enthusiasts can once again look forward to the return of Monday Night Football, featuring the dynamic commentary duo of Joe Buck and Troy Aikman in the booth.
A long-term, expensive cable or satellite pay-TV contract is no longer the only option now that viewers can enjoy the MNF games across several streaming platforms, including ESPN Plus and various live TV services.
We've got you covered with how to watch Monday Night Football on Samsung Smart TV, including the alternative Manningcast broadcasts, so better read on!
Where's Monday Night Football Airing?
As in previous NFL seasons, ESPN, the premier American sports broadcaster, carries Monday Night Football on its cable channel, with ABC simulcasting select games. In addition, the network covers the games with play-by-play Español commentary on its Spanish-language channel, ESPN Deportes.
ESPN also brings fans Monday Night Football with Peyton and Eli. Hosted by the renowned Manning brothers, two former NFL quarterbacks, this entertaining alternative "Manningcast" airs on ESPN 2 during specific games and is one of the most enjoyable ways to experience Monday Night Football throughout the regular season.
It's worth mentioning that ESPN has lined up to air 23 games during the 2023 NFL season. Beyond MNF, it's also presenting the Week 18 Saturday doubleheader, plus two postseason playoffs and the NFL Pro Bowl game.
Where to Watch Monday Night Football on Samsung Smart TV?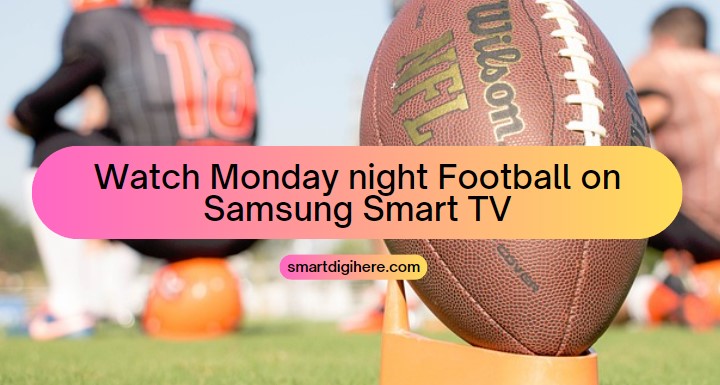 You've got plenty of options to watch Monday Night Football, provided you have a Samsung Smart TV. Let's start with the most affordable option.
ESPN+, the Disney-owned sports streaming platform, is where nine Monday Night Football games are streaming this NFL season, but they're the alternate ESPN 2 Manningcast feeds.
The monthly ESPN+ subscription is your cheapest option to watch Monday Night Football on your Samsung TV via the ESPN app. It's also where the Week 4 Falcons v Jaguars Sunday game is streaming exclusively. You can even tune in to the NFL International Series London match-up between the Seahawks and Giants on ESPN Plus, again, on Week 4.
However, the Hulu + Live TV plan offers a mostly complete MNF coverage (excluding the Prime Video Thursday night games). It comes with ESPN, ESPN 2, and 85+ other channels, including CBS, FOX, NBC, and the NFL Network, where you catch the rest of the football season. There's also the Español Add-on that gets you ESPN Deportes.
Hulu's Live TV plan also includes access to ESPN+, meaning you can watch that one streaming-exclusive Week 4 international game we mentioned earlier without spending on another subscription. Another bonus benefit is access to Disney+ and Hulu's collection of captivating on-demand titles.
More MNF Streaming Options on Samsung TV
The ESPN cable channels are also viewable with a YouTube TV Base Plan or FuboTV Pro subscription. They also include the other channels broadcasting the rest of the primetime NFL matches alongside all the entertainment, sports, and news stations for one could ever ask.
However, Sling TV's Orange package is a more reasonably-priced alternative for those interested in tuning only into the MNF games on Samsung TV. Not only can you tune in to the primary broadcasts and the Manningcasts, but you also get access to ESPN 3's simulcasts of the ESPN on ABC presentation.
It's noteworthy because ABC, one of the four major free-to-air broadcast networks, is also simulcasting select Monday Night Football match-ups, and Sling doesn't offer the channel in many markets.
How to Watch Monday Night Football on Samsung Smart TV?
By now, you should have a pretty good idea of where the Monday Night Football matches are streaming. Hence, your first step is to sign up for either subscription.
Let's say you want to watch the games via ESPN+, so you'd need to visit plus.espn.com from your browser and select "Sign Up." Then it's a matter of providing the required details to create your ESPN+ account, after which you choose your billing cycle and purchase the ESPN+ subscription.
Once you have it, download the ESPN app on your Tizen-powered Samsung Smart TV the same way you usually do for other apps. You may also follow these steps instead:
Press Home on your TV remote to bring up the Home or Smart Hub screen.
Navigate to and select the APPS icon among your TV apps row.
Highlight and select the magnifying glass icon at the upper-right side to go to the Search menu.
Type "ESPN" and choose the matching app in the results.

Select Install and wait for the installation to finish.
Finally, click Add to Home to add ESPN to your TV apps row on the Home screen.
To log in, head to the ESPN app's Settings (cog icon) menu, scroll down to Subscriptions, and select Log In. After that, take note of the activation code and continue the login process via espn.com/activate on your phone, tablet, or computer.
Now you can finally dive into all the live sports and on-demand original titles the subscription offers through the app's dedicated ESPN+ section. It includes the live Monday Night Football streams with Peyton and Eli at the casting helm.
Similarly, you can sign up for any streaming live TV providers offering the ESPN and ABC channels (highlighted in the earlier section) and log into the respective app to watch the primetime football games every Monday on your Samsung Smart TV.
Note For Existing Cable / Satellite Paying Subscribers
If you already get ESPN with your existing cable or satellite provider, there's no need for another live TV subscription. Simply log into the official ESPN or ABC app with your provider account details on your Samsung TV to stream the Monday Night Football games live.
The good news is both apps support authenticating with a wide variety of cable, satellite, and even streaming TV providers.
Can You Watch Monday Night Football on Samsung TV For Free?
You can catch select Monday Night Football games on Samsung TV for free with a digital over-the-air TV antenna.
As discussed earlier, ABC has simulcasting rights to nine MNF matchups during the 2023 NFL regular season. And since it's a local broadcast channel with affiliate stations across the States, one can tune into it without a conventional cable/satellite connection.
Of course, you'll still have to purchase a digital TV antenna (like the Mohu Leaf Amplified) capable of picking up the broadcast signals from your nearby ABC affiliate tower.
But once you set it up with your Samsung TV and go through the whole channel tuning setup process, you're getting not just ABC but also over-the-air channels like CBS, FOX, and NBC, bringing more local and primetime NFL games on your big screen, and in high definition too.
Recommended Reading: Watch NFL Plus on Samsung Smart TV
Enjoy Monday Night Football on Samsung Smart TV
With ESPN airing primetime football games to kick off every week of the NFL season, you've got several options for watching Monday Night Football on Samsung Smart TV. The following guide covers them in great detail, with detailed steps to help you access the live MNF streams.
Be sure to check out our "Watch NFL on Samsung TV" guide for even more information on where to watch the rest of the National Football League games, including the out-of-market broadcasts with NFL Sunday Ticket.