Previously, it was NFL Game Pass offering on-demand game replays, original titles from the NFL Network and NFL Films, and other football-related content. Now it's rebranded to NFL+, bundling live access to all local and primetime games from the NFL regular season and postseason.
You might wonder if you can ditch your cable/satellite TV provider for NFL's new streaming subscription service to catch the entirety of the 2023 National Football League season on your big-screen Samsung television. We've prepared this guide to NFL Plus on Samsung Smart TV, answering all your questions and more.
What's NFL Plus?
For football fans in the US, the NFL+ subscription brings live out-of-market pre-season coverage, local and nationally-aired primetime regular season and postseason NFL matchups (with no blackout restrictions) alongside access to live game audio and a captivating selection of on-demand programming from the NFL library.
There's also NFL+ Premium that carries all the benefits of the standard NFL+ subscription with additional perks like full game replays, condensed highlights, and on-demand access to out-of-market Sunday afternoon games from the NFL regular season.
Can You Get NFL Plus on Samsung Smart TV?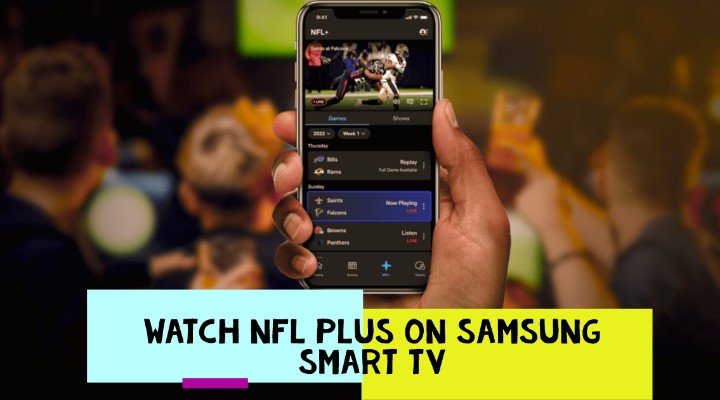 All the live streams of local and primetime NFL games the NFL+ subscription offers are only viewable on mobile devices, e.g., phones and tablets. For watching live football games on connected TV devices like your Samsung Smart TV, you'll be relying on the following:
TV Everywhere apps that require signing in with a participating TV provider.
Streaming television providers like FuboTV, Hulu, Sling, or YouTube TV.
Over-the-top platforms such as ESPN+, Peacock, Paramount+, and Prime Video.
Our guide to watching NFL on Samsung TV highlights all the options in greater detail.
With that said, the NFL+ Premium subscription allows watching all its on-demand offerings on a supported TV device, which includes full on-demand replays available after the games finish broadcasting locally or nationally, along with condensed highlights, clips, news and analysis snippets, classic archived NFL game tapes, exclusive football-centric docuseries and features, etc.
While the official NFL App and NFL+ don't support Tizen-powered Samsung TVs, the mobile app does allow casting via AirPlay or Chromecast for all on-demand content and even select live streams (e.g., out-of-market preseason games). We've discussed more on that in the following section.
Watch NFL Plus on Samsung TV via AirPlay
The NFL iOS app lets NFL+ Premium subscribers cast on-demand videos and select live content on compatible screens over AirPlay.
If you have an AirPlay 2-enabled Samsung Smart TV model (check the compatibility list here) and an Apple device, enjoy the uncut game replays and highlights from the NFL regular season and playoffs and more NFL content on demand on the big screen using these steps:
Power on your Samsung TV and ensure it's on the same Wi-Fi/home network as your Apple device.
Get the NFL app from the App Store on your iPhone or iPad (if you haven't already).
Navigate to the NFL+ tab from the bottom and tap Sign Up. You may have to choose a live/on-demand video to see the option.
Choose the NFL+ Premium plan (monthly and annual pricing available) and follow the on-screen prompts to register for an NFL.com account. It'll bill you for the subscription through your Apple ID.

If you've already signed up for NFL+ Premium through the nfl.com/plus website, head to the app's Account screen at the top and log in with your account credentials.

Once signed in, pick the game replay, highlight, or any on-demand video you wish to watch in the NFL app.
As the stream starts playing back, tap the AirPlay icon at the top-right of the player window, and select your Samsung TV in the list.

You may have to verify the four-digit AirPlay password on your TV screen to start casting.
Assuming everything's in order, enjoy your selected football action on your Samsung TV. Note you can use your iPhone or iPad for media controls. AirPlay isn't the same as Screen Mirroring, so you can still use your Apple device without interrupting the NFL stream on the big screen.
Speaking of which, it's worth noting the NFL iOS app doesn't allow streaming of live NFL games to external screens via AirPlay Mirroring. Trust us, we tried.
Fix NFL+ AirPlay Not Working
If you've confirmed your Samsung Smart TV supports AirPlay 2, and it still doesn't appear in the AirPlay menu, try this:
Navigate to the Settings (All Settings) menu from your Samsung TV's Home screen. Or press the Settings (cog symbol) button on the Smart Remote.
Go to the General There, find and select Apple AirPlay Settings.
Make sure AirPlay is "On," with the Require Code option on "First Time Only."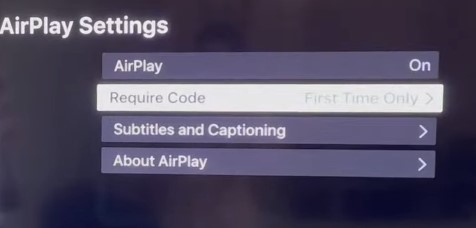 Also, ensure your Samsung Smart TV and Apple device are on the same Wi-Fi network as we mentioned earlier.
FAQ: I have an Android device. Can I cast NFL+ content on Samsung TV?
The NFL Android app also supports casting NFL+ on-demand content, but via Google's Chromecast protocol, something even the newest Samsung Smart TVs don't support. And as we said before, screen mirroring won't work due to content licensing restrictions.
However, you can set up a cheap Android TV streaming box/stick or one of those Chromecast dongles with your Samsung TV to enable casting functionality on the big screen. Even better, the NFL app is natively available for Android TV devices.
FAQ: Can I watch live football on NFL+ via Samsung TV Browser?
As mentioned above, live regular season and postseason NFL games streaming via NFL+ are generally available on mobile devices. Therefore, even if you could visit nfl.com from your Samsung TV's built-in Internet Browser (which doesn't load video content properly), you'd still be limited to news clips and short highlight snippets.
Check: How to Get NFL Plus on Roku
Touchdown
NFL Plus on Samsung Smart TV is possible but to a limited extent for now, whether that's due to the exclusion of live football games on connected TV devices or the unavailability of the NFL app on the Tizen TV platform.
However, with an Apple device and the NFL+ Premium plan, you can AirPlay full replays of previously broadcasted NFL games, highlights, and more on a supported Samsung Smart TV, as shown in this guide.
Though if you have any queries or run into problems streaming NFL+ on Samsung Smart TV, don't hesitate to reach out to us by leaving a comment below.