One cool feature Samsung Smart TVs have is the built-in browser app that allows you to surf the web right from your couch using the remote. But it lacks essential features and functionality and is often incompatible with websites serving DRM-protected content, such as videos. In fact, it's the same case across most TV web browsers.
Odds are you use Google Chrome on your phone or computer daily – now wondering if you can run it on Samsung TV too. The bad news is that you can't get Chrome, or any other browser for that matter, on Tizen-based Samsung Smart TVs. Additionally, sideloading isn't an option as it's on Android TV/Google TV devices.
Still, one other way to browse the web via Chrome is to mirror the screen of your phone, tablet, or computer to your big screen. It's somewhat similar to the "cast" function, but you can see the stream of your device's screen instead of just an image or video. It means you can browse the web on a bigger screen without being limited by the lack of features and support.
Here's everything you can do to get Chrome on Samsung Smart TV.
How to Use Chrome on Samsung Smart TV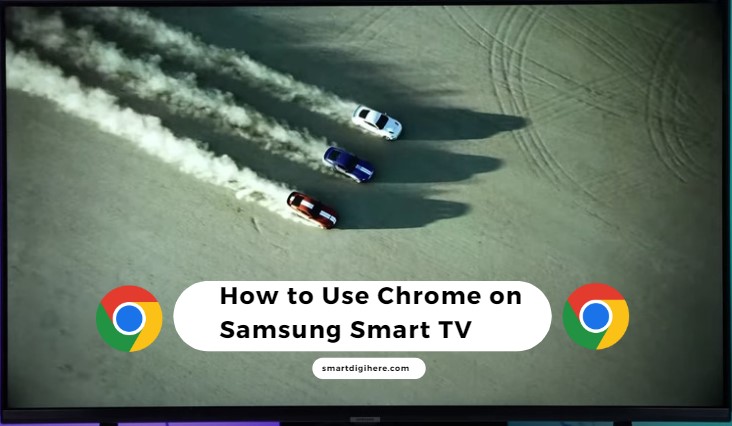 Using AirPlay For Chrome on Samsung TV
Assuming you have a mid-range or relatively higher-end Samsung Smart TV (2018 or newer model), it likely has AirPlay support. With an iPhone, iPad, or Mac, you can use AirPlay Mirroring to share your Chrome window on your compatible screen for an immersive browsing experience.
Of course, you must have one of the AirPlay-enabled Samsung Smart TVs (check this list here on Apple's website) and a compatible Apple device on the same network. Assuming the boxes tick for you, follow the steps below.
With iPhone / iPad
Start with checking your Samsung TV's AirPlay settings. Head to Settings > Connection (General on older models) > Apple AirPlay Settings, then ensure AirPlay is "On".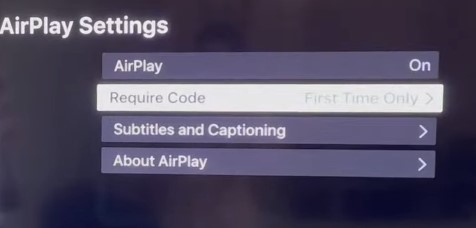 Swipe from the top-right corner of your iPhone/iPad screen (or swipe up from the bottom if you own an older model) to open Control Centre, then tap the Screen Mirroring (two overlapping screens) icon.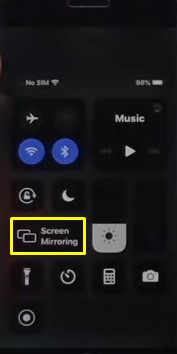 Your Samsung Smart TV should be on the list. When you tap it, a code will appear on your TV. Enter it in the pop-up box on your iPhone/iPad and tap OK.
Launch the Chrome app from your Home Screen and start browsing!
We suggest placing your iPhone or iPad in landscape mode to utilise most of your TV's screen real estate. To stop mirroring, open the Screen Mirroring tab in Control Centre and tap Stop Mirroring.
With Mac
First, click the Control Centre icon in the menu bar.
Select the Screen Mirroring (two overlapping screens) icon, then choose your Samsung TV from the list.
Enter the on-screen AirPlay passcode, and you should see your Mac screen on the TV.
Launch Chrome from your Mac desktop or Dock to begin browsing the web!
You can use your AirPlay-enabled Samsung Smart TV as a second wireless screen for your Mac. It means you can have multiple instances of Chrome across your MacBook's built-in display and your TV. Select "Use As Separate Display" in the macOS Screen Mirroring menu.
Learn more: Can I install Chrome on Google TV?
Using an Android Device For Chrome on Samsung Smart TV
Even if your TV doesn't support AirPlay, or you don't have an Apple device, you can use your Android phone or tablet to mirror Chrome on Samsung TV. Here's what you need to do:
Swipe down your top status bar and look for the Cast option among the quick settings tiles.

Depending on your device, look for the following: Mirroring, Screen Cast, Wireless Display, etc.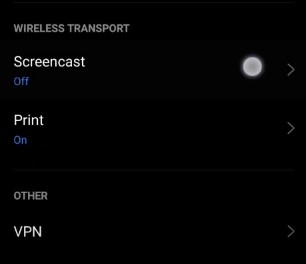 Assuming the feature is ON, and your Samsung TV is on the same network as your Android phone or tablet, you should see your TV model on the casting list. Tap it and confirm the on-screen code (if asked).

If you can't see your Samsung TV, navigate to your TV's Settings > General (or Connection) > External Device Manager > Device Connect Manager and ensure Smart View is enabled.

Open Chrome from your device's app drawer and start browsing.
The process is even more convenient if you have a Samsung Galaxy device. Access the Smart View menu from Settings or Quick Settings panel, select your Samsung TV in the list, confirm the PIN shown on your TV screen, and then tap Start now.
One neat trick with Samsung's screen mirroring is adjusting the stream's aspect ratio to match your TV screen. Tap More options (⋮) at the upper-right corner of your device's Smart View menu, tap Settings, then Phone aspect ratio, and choose the "Full screen on connected device" option. You may need to relaunch Chrome for this to take effect.
Mirroring Chrome on Samsung TV from Windows PC
It's worth highlighting that not every Windows PC or laptop supports the wireless display feature and must have Wi-Fi to work. All you have to do is press Ctrl + K on your keyboard and select your Samsung TV in the Cast menu that appears. Alternatively, use these steps to mirror Chrome on Samsung TV via your Windows 10/11 computer:
Press Win + I on your keyboard to bring up the Settings menu.
Go to the Bluetooth & other devices submenu and click the Add device.

Select Wireless display or dock in the "Add a device" window. Your PC/laptop will scan for compatible displays.
Choose your Samsung TV from the list of devices and wait for your Windows computer to establish a connection.
Now you may launch Google Chrome from your desktop and visit your desired websites. Note streaming content, especially on-demand movies, shows, or music, may not play back in the mirrored view due to security restrictions.
Other Ways to Get Chrome on Samsung Smart TV
Apart from mirroring, you can connect your PC or laptop to your Samsung TV via HDMI and use it as a large-format monitor for browsing the web.
Select Android devices can also output over HDMI when using a USB-C to HDMI adapter, with higher-end Samsung Galaxy smartphones and tablets requiring the DeX cable. For iPhones and iPads, the Apple Lighting Digital AV or USB-C Digital AV Multiport Adapter (or third-party equivalent) should do the job.
If you wish to avoid cable clutter, a Chromecast Ultra or Chromebook with Google TV isn't a bad option either. You can wirelessly cast your Chrome (or Edge) tabs from your PC onto your connected TV and stream media from your mobile device.
You may also wonder: How do I open Chrome on my LG TV?
Conclusion
Chrome may be unavailable as a native browser app for your Tizen-based television for now. While we believe the built-in Internet Browser is ample for general web surfing, feel free to utilise any of our secondary (or tertiary) workarounds to get Chrome on Samsung Smart TV. If you have any questions or helpful suggestions, use the comments section below.