Ready for the 2023 NFL season? To witness the adrenaline-pumping action, epic rivalries, and intense moments that only the National Football League can deliver? Football fans across the United States eagerly anticipate the start of each NFL season, and this year is no exception.
The ways we consume media have evolved in the last decade. Streaming platforms have emerged as popular alternatives to traditional cable and satellite TV, now on the verge of replacing them with on-demand and live offerings. And if you're a proud Roku user, you're in for a treat because streaming NFL games has never been this easy.
With a Roku-powered streaming player or Smart TV, you can catch NFL games from the comfort of your living room. Gone are the days of being tied to expensive cable contracts now that there are more convenient and flexible ways to catch all the thrills and triumphs of the football season.
So, gear up as we walk you to the virtual front-row seat of the football court in this guide to watch NFL on Roku.
Where's The NFL Airing in 2023?
The 2023 NFL season promises 272 games spread over 18 action-packed weeks. As in previous years, various TV networks are to provide extensive coverage. And with the new 11-year media rights agreements, this trend is set to continue through the 2033 season.
The networks involved in bringing you national NFL coverage remain unchanged. CBS is your go-to for AFC games, while FOX covers the NFC matchups. Monday Night Football can be enjoyed on ESPN, with some games simulcasted on ABC. And, of course, Sunday nights are reserved for NBC's electrifying Sunday Night Football broadcasts.
You can also count on the NFL Network to bring you a selection of regular-season games. As with previous years, the channel is to host four late-season Saturday matchups and four games from the highly-anticipated International Series.
How to Watch NFL on Roku? (Without Cable)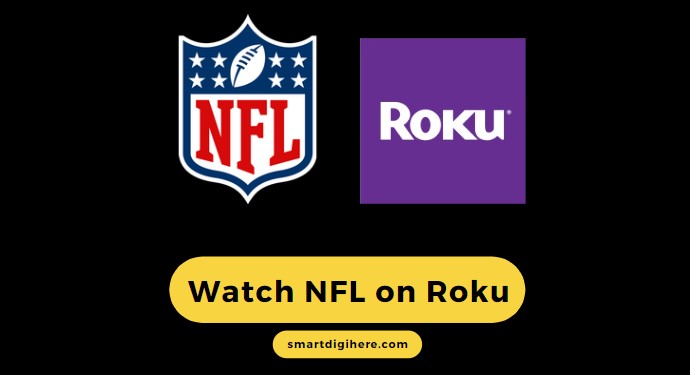 If you're looking for complete NFL coverage on Roku, streaming television platforms like FuboTV, Hulu (Live TV), Sling TV, and YouTube TV are your options. Most of their channel packages include all the NFL broadcasting networks mentioned above, alongside extra perks like cloud DVR, on-demand titles, and simultaneous device streams.
For most of you football fans, Hulu + Live TV is too good of a deal to miss out on simply because of the following reasons: You get 85+ channels, including your local ABC, CBS, FOX, and NBC stations, as well as ESPN, ESPN2, and the NFL Network. That keeps you covered for the NFL regular season, playoffs, and Super Bowl LVIII.
Hulu's current Live TV plan bundles unlimited cloud recordings, up to two simultaneous streams, and its sizeable on-demand catalog. You can also access ESPN+ and Disney+ services for even more live sports and on-demand entertainment.
But if you want to tune into the out-of-market Sunday afternoon football games on Roku, go with YouTube TV as it's the new home of the NFL Sunday Ticket add-on. Like Hulu, YT TV's Base Plan features all the channels airing the National Football League, unlimited DVR, and three concurrent streams.
Sling Orange is your cheapest option for watching NFL on Roku, except you miss out on CBS and the NFL Network. Also, the number of markets where Sling TV offers ABC, FOX, and NBC affiliates is limited compared to its competitors.
 

Provider

Official NFL Broadcasters (U.S.)
Recommended Subscription Plan
CBS
FOX
ABC / ESPN
NBC
NFL Network
Hulu
✔
✔
✔
✔
✔
Hulu + Live TV
YT TV
✔
✔
✔
✔
✔
Base Plan
Sling TV
✖
✔
✔
✔
 ✔*
Sling Orange
FuboTV
✔
✔
✔
✔
✔
Fubo Pro
*NFL Network comes with Sling TV's Blue plan and the combined Orange & Blue bundle.
We recommend confirming the channel lineup by entering your zip code on the following live TV services' official websites, i.e., hulu.com/live-tv, tv.youtube.com, sling.com, fubo.tv.
Like in previous years, Fox will broadcast a handful of high-profile NFL matchups in 4K HDR (upconverted from a 1080p feed). For those interested in watching the NFL on Roku in 4K, subscribing to FuboTV's higher-tier Elite or Premier plan or adding the 4K Plus add-on to YouTube TV's Base Plan is the way to go.

Of course, you'll also need a 4K-ready Roku device, e.g., Premiere, Premiere+, Ultra, Streaming Stick+, or a Roku-powered 4K TV.
More NFL Streaming Alternatives on Roku
CBS, ESPN, and NBC have acquired rights to stream select football matchups from the 2023 NFL season on their over-the-top platforms, Paramount+, ESPN+, and Peacock.
Paramount Plus is where you can stream every NFL game aired on your local CBS station. Additionally, it'll be streaming the Super Bowl LVIII with English and Spanish commentaries.
Those with an ESPN+ plan can tune into ten special Monday Night Football Manningcast live streams (ESPN2 simulcasts) during the 2023 season and one NFL International Series game.
For its Premium subscribers, Peacock is offering access to Sunday Night Football matches, including the Saturday evening Wild-Card matchup from the 2023 NFL season.
And lastly, you can watch select Thursday Night Football games live on Roku via Amazon's Prime Video platform.
For Existing Cable/Satellite TV Subscribers
If you already get all the NFL-broadcasting channels via your cable or satellite TV provider, there's no need to pay separately for a digital live TV plan. Simply use your existing provider credentials to log into the ABC, CBS Sports, FOX Sports, NBC Sports, and ESPN apps to access the live football streams. All the following apps are available on the Channel Store for a wide range of Roku devices.
Can You Watch NFL on Roku For Free?
Select Thursday Night Football games will air on Twitch, Amazon's live-streaming platform. Even though Twitch isn't officially available on Roku, you can watch the live NFL streams via the unofficial Twitched channel for free.
For most of the 2023 NFL season, however, you'll have to do with signing up for the FuboTV or YouTube TV free trial, which you can take advantage of multiple times with different email addresses and payment methods, not that we encourage doing so.
If you have a Roku TV, a digital antenna will give you access to your local ABC, CBS, FOX, and NBC channels, where you can catch the in-market NFL games throughout the regular season, plus a wide selection of sports and entertainment content, for free.
Related Guides:
Final Words
As you can see, there are more streaming options than ever to watch NFL on Roku, doesn't matter if you're a cord-cutter or have an existing cable or satellite TV connection. Whether you're a die-hard fan or just want to partake in the celebration, the above Roku channels and services will provide convenient access to your highly-anticipated NFL matchups throughout the 2023 season and beyond.