Read on and discover how to make the most of your Apple TV to watch the NFL action unfold right before your eyes!
The NFL is undoubtedly the most popular sport in the US, and as the 2023 NFL season draws near, anticipation is building for football fans everywhere. With this year's schedule unveiled, the countdown to training camp, preseason games, and the regular season is officially underway.
If you're a football fanatic excited to catch the 18-week gridiron action, figuring out how to watch NFL on Apple TV is essential. The good news is Apple TV, like most other streaming devices, is a solid medium for catching all the thrilling action of the National Football League right from the comfort of your living room.
With its sleek interface, seamless integration with other Apple devices and services, and support for a range of streaming apps and channels, Apple TV lets you enjoy every tackle, touchdown, interception, sack, and game-changing moment.
Our comprehensive guide highlights some of the best football-focused streaming platforms through which you can watch the NFL on Apple TV (and a host of other sports and content), ensuring you never miss a single game and can indulge in the excitement of the 2023 NFL season live – with or without cable or satellite.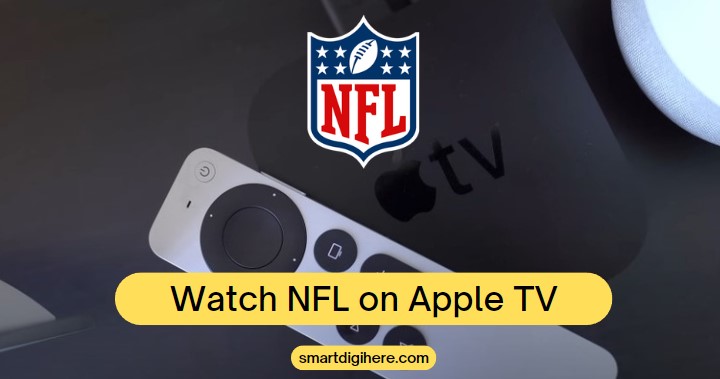 Watch NFL Sunday Afternoon Games on Apple TV
Most NFL match-ups are scheduled for Sunday afternoons and are primarily broadcast on two of the four major US TV networks: CBS and Fox.
Generally, if a game involves a team from the AFC, you can expect it to be televised on CBS. On the other hand, FOX tends to air games featuring the NFC teams. The division allows fans to tune in and catch the action from their favorite teams as they compete against opponents from their respective conferences.
Most TV providers offer CBS and FOX even with their most basic plans, so if you get the channels through your cable or satellite connection – lucky you. You can stream the NFL Sunday afternoon games on Apple TV via CBS Sports and FOX Sports, apps that require authenticating with your provider credentials.
Both streaming apps are also available for iPhones and iPads. Once you download them from the App Store and log in, you can AirPlay the live and on-demand NFL on CBS and NFL on FOX games to your Apple TV box.
Don't have cable? We've got a solution for that: Streaming TV subscriptions. With a DIRECTV STREAM, FuboTV, Hulu Live TV, or YouTube TV plan, you can catch your local, in-market football games airing on CBS, FOX, and other NFL broadcasting channels, including the NFL Network.
Note:
When it comes to NFL Sunday afternoon games, your access is limited to the ones chosen for your location. Blackout restrictions determine which games you can watch, but you'll usually get all the matches involving your local team and those with playoff implications for them.
Stream NFL on CBS with Paramount+ on Apple TV
Paramount Plus is a solid pick if you prefer a standalone streaming option to tune into CBS's 2023 National Football League games on your Apple TV.
The ad-free Premium plan enables live-streaming of local CBS stations, allowing streaming sporting events like NFL games on CBS. The cheaper ad-supported Essential subscription, which doesn't include the local channel stream, makes the regional AFC games available via separate live feeds.
Does NFL on FOX stream elsewhere?
Unlike CBS, Fox doesn't have its own dedicated streaming service. However, as mentioned earlier, you can still access your local NFL on FOX broadcasts if you pay for a traditional or streaming TV service that includes the network by using your login credentials to activate the Fox Sports app.
Watch NFL Sunday Night Football on Apple TV
NBC has been the home to Sunday Night Football for a while – one of the most exciting primetime match-ups of any given week during the NFL season. For the 2023 season, NBC gets two Thursday games, the NFL Kickoff in Week 1 and a Thanksgiving Day primetime game in Week 12.
NBC's Sunday Night Football coverage goes beyond the game, featuring the popular pregame show, Football Night in America. With Maria Taylor as the show host, it includes insightful commentary from Chris Simms, Jason Garrett, Mike Florio, Tony Dungy, and Rodney Harrison.
As with CBS and Fox, NBC enjoys widespread availability across the States via local affiliate stations, with all basic cable and satellite packages carrying the network. So, if you get the channel through a traditional provider, you can enjoy the SNF games via the NBC Sports app on your Apple TV when you provide your provider login details.
No cable? No problem. You can access your local NBC station (and dozens of other channels) on your Apple TV via the live TV services discussed in the previous section: DIRECTV STREAM, FuboTV, Hulu + Live TV, Sling TV, and YouTube TV. There's also a standalone option which we've highlighted below.
Also See:
Stream Sunday Night Football with Peacock on Apple TV
Like in the previous NFL season, NBCUniversal's Peacock is once again streaming all 18 NBC Sunday Night Football games in the 2023 season, with the Peacock Sunday Night Football Final returning with in-depth postgame coverage. It'll also exclusively present an NFL Wild Card primetime playoff fixture.
The ad-supported and ad-free Peacock Premium plan will give you complete access to all the SNF games and NBC's NFL playoffs broadcasts on your Apple TV. You may also log in with your Comcast, Spectrum, or Xfinity credentials on Peacock if you get the Premium subscription through your provider.
Watch NFL Thursday Night Football on Apple TV
Thursday Night Football offers an exciting primetime matchup for NFL fans each week. Amazon's Prime Video is the streaming home for 16 TNF games, minus the ones from Week 1 and Week 12 airing on NBC. For the 2023 season, the service also has obtained rights to the Black Friday game.
An Amazon Prime membership is all you need to tune into the thrilling Thursday Night Football action. Besides NFL coverage, Prime Video presents a vast collection of originals, blockbuster movies, and TV shows alongside access to various add-on channels.
If your regional NFL team is playing in a TNF matchup, you'll get to watch the game on your local broadcast stations. The broadcasting channels may vary depending on your location, but you can access the games on your Apple TV via the popular streaming TV platforms mentioned in the above sections.
Twitch, the popular live-streaming service, is to stream select Thursday Night Football games for free. You can also interact through live chat, access comprehensive stats, and participate in real-time polls and predictions.
Watch NFL Monday Night Football on Apple TV
Monday Night Football has been a longstanding tradition, providing viewers with primetime football for over 50 years, even before Thursday and Sunday nights became synonymous with NFL. This NFL 2023 season, ESPN carries a total of 22 MNF matchups. In addition to the ESPN broadcasts, four games will be exclusively aired on ABC.
This year, Monday Night Football welcomes a fresh team of commentators to the booth, with Joe Buck and Troy Aikman taking the helm. Lisa Salters joins them as the sideline reporter, bringing insightful updates and interviews from the field. Before the kickoff of each game, ESPN treats viewers to the pregame show, Monday Night Countdown, hosted by Suzy Kolber.
To access ESPN and ABC's Monday Night Football coverage on Apple TV, you'll need a subscription to a traditional pay-TV or live TV streaming plan, which includes Fubo Pro, Hulu + Live TV, Sling Orange & Blue, and YouTube TV Base Plan.
Once subscribed, you can log into the ESPN app with your provider (cable, satellite, digital) account details and catch the live MNF streams on your Apple TV, including the alternate Manningcast broadcasts on ESPN 2.
Most TV packages carrying ESPN also offer ESPN 2, though you can catch nine Monday Night Football with Peyton and Eli broadcasts in the 2023 NFL season by subscribing to ESPN+ via the ESPN app. Besides being available as a standalone plan, ESPN Plus is also available with the Disney Bundle and the Hulu + Live TV package.
NFL on Apple TV FAQs
Q1. Is NFL Sunday Ticket Available on Apple TV?
NFL Sunday Ticket is a premium sports package that allows subscribers to watch live out-of-market NFL games on their supported devices.
It means that even if you're a dedicated Kansas City Chiefs fan living in an area where their games are blacked out, you can still enjoy every game with the NFL Sunday Ticket. Having it in addition to the other NFL-streaming apps on your Apple TV ensures access to every NFL game throughout the season.
NFL Sunday Ticket, previously exclusive to DIRECTV, has found a new home starting this NFL season with YouTube TV. It has secured the rights to offer NFL Sunday Ticket as an add-on for new and existing subscribers.
You can subscribe to YouTube TV on your Apple TV box and add the NFL Sunday Ticket (with or without NFL RedZone) to your Base Plan for the most comprehensive football coverage. However, even if you aren't a YouTube TV subscriber, there's no need to worry. Sunday Ticket is available as a standalone Primetime Channel on the YouTube app.
You'll enjoy a range of exclusive features, including multi-view, allowing you to watch multiple games simultaneously, and unlimited DVR storage to save and rewatch games at your convenience. You can also access key plays, real-time stats, and NFL fantasy data and have the option to hide spoilers to maintain the excitement.
Q2. Can I Watch the NFL on Apple TV in 4K?
Currently, Fox stands as the sole US broadcaster providing 4K HDR coverage for specific high-profile NFL on Fox fixtures.
You can log in to the FOX Sports app with your traditional pay cable, satellite, or streaming provider to stream the games in Ultra HD – assuming you have an Apple TV 4K box and a UHD television set. Alternatively, FuboTV and YouTube TV offer plans and add-ons allowing access to the FOX 4K channel stream.
Q3. How to Watch NFL on Apple TV For Free?
Unfortunately, there aren't any easy ways to watch in-market and primetime NFL games on Apple TV for free. However, you can always opt for a free trial to the streaming platforms or live TV services mentioned in the above sections.
Remember to cancel your subscription right before the trial expires, though! Otherwise, you'll end up getting charged for the chosen plan.
Also Read:
Touchdown
The NFL is airing across more television channels and streaming services than any other sport in the United States, providing you with an extensive range of options to catch your favorite in and out-of-market football matchups on your Apple TV.
With each platform having its distinct features and offerings, the decision ultimately rests with you. Take your time to explore and decide which options suit your preferences best before the regular season kicks off. Remember, there's no rush, so make your streaming picks slowly and steadily.