Originally CBS All Access, Paramount+ began its journey as a revamped version of a live TV subscription service that CBS introduced in 2014. But over time, it has become a strong contender against popular streaming platforms like Netflix, Prime Video, and Disney+.
What sets Paramount+ apart is its diverse library of on-demand movies and shows, which comes from the wider ViacomCBS network, including well-known names like Paramount, Nickelodeon, MTV, Comedy Central, and Showtime. And it goes beyond that with a small but growing lineup of streaming originals, plus live sports.
If you're willing to subscribe to another service for your streaming fix, you won't find much to complain about with Paramount+. Here's everything you need to know about its offerings and how to add, activate, and watch Paramount Plus on LG Smart TV.
What's Paramount Plus?
Once considered the less popular choice, Paramount Plus is swiftly gaining prominence among favored streaming platforms. It brings popular original series, Hollywood's biggest blockbusters, and ever-popular reality shows all under one umbrella.
Paramount+ is the "Mountain of Entertainment," giving you on-demand access to 30,000+ hours of content from CBS, BET, Comedy Central, Nickelodeon, MTV, VH1, Smithsonian, and other channels, plus hundreds of critically-acclaimed films from the Paramount Pictures studios. With Showtime recently folded into Paramount+, its offerings only go further.
Whether you're having the nostalgic rush to binge that one TV show you used to enjoy years ago or planning for a movie marathon this weekend, Paramount+ puts your favorites in one spot. It also costs less than you'd pay for services like Netflix or Max.
What Can You Watch with Paramount Plus on LG Smart TV?
Even before CBS All Access rebranded to Paramount+ in 2021, the streaming library had notable original series like The Stand, The Good Fight, Why Women Kill, Halo, a flood of Star Trek shows, and more. The list of shows only grew longer as time passed.
Today, Paramount+ features series like Taylor Sheridan's Mayor of Kingstown, 1883, Tulsa King, and 1923, with an upcoming Yellowstone sequel and spin-offs. Then there's the revival of Beavis and Butthead, the iCarly series, and The Real World Homecoming, among more to look forward to.
Besides originals, Paramount+ offers an enormous trove of on-demand shows from CBS and its sister networks. Like Max and Peacock, there are content hubs based on different ViacomCBS properties where you can discover titles released throughout the years. It makes it easier to relive classics from the past and find new content.
Given Paramount+ takes its name from one of the most famous movie studios ever, you'll find a wealth of movies to enjoy. Alongside timeless franchises like Mission: Impossible, the library also features a rotating selection of contemporary gems, including all-time favorites like Indiana Jones, Star Trek, and Jackie Chan's cult classics.
Paramount's latest movies are added to the streamer around a month to up to three months after their theatrical release. Right now, you can stream popular recent blockbusters like Top Gun: Maverick, Smile, Devotion, The Lost City, Sonic The Hedgehog 2, and more.
Does Paramount Plus Offer Any Live Content?
With the Paramount+ with Showtime plan, you can stream your local CBS station anytime. It's where you can tune into your favorite primetime comedy, drama, reality, talk shows, and news programs without a costly pay-TV package or set up a digital antenna with your LG TV.
All Paramount+ subscribers, regardless of their chosen plan, can access CBSN, CBS Sports HQ, ET Live, and several other streaming channels.
For sports enthusiasts, Paramount+ offers a good deal of live sporting events alongside non-stop sports news and a wealth of highlights and replays. You'll have access to special coverage for NFL on CBS and UEFA Champions League soccer even with the Essential subscription.
The costlier plan doubles down on the sports offering with more soccer leagues, SEC on CBS, The Masters, PGA Tour, NCAA Division I Basketball Championship, Combate Global MMA, and the option to watch Sunday afternoon football broadcasts on your local CBS channel. It also means you can catch the Super Bowl whenever it's aired on CBS, including Super Bowl LVIII in 2024.
How to Watch Paramount Plus on LG Smart TV?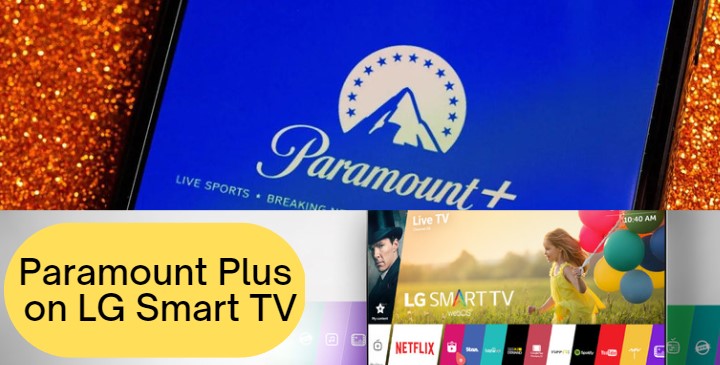 With Paramount+ officially supported on all 2018 and newer LG TVs (webOS 4.0+), it's easy to watch from its diverse library of shows, films, and live sports on the big screen. Here's how you get the app from the Content Store:
On your LG TV remote control, press the Home button, then select Apps under the "App List" section of the Home menu.

Alternatively, select LG Content Store from the pop-up launcher carousel (on older webOS models).

Select Paramount+ from the Content Store catalog or go to the Search (hand lens icon) menu to find the app manually.
Click Install on the Paramount+ app overview page and wait for the download to finish.
Next, return to your TV's Home page (or bring up the launcher menu) and launch Paramount+ from your App List. Use these steps to sign up if you haven't already:
Select Sign Up on the welcome screen, which should give you an access code.
Go to paramountplus.com/lg on your mobile or computer web browser, enter the access code displayed on your TV, and select Activate.
Pick your preferred Paramount+ subscription plan and select Continue, then go through the account creation process.
         Existing Paramount+ subscribers (including those who enjoy streaming access through Xfinity, T-Mobile, Verizon, or Wallmart+) can continue logging in with their credentials instead.
With your valid payment details entered, click the Start Paramount+
Once you see the confirmation dialog, the Paramount+ app on your LG TV should refresh, signing you in and directing you to the Home page. It's where you'll find the trending shows, movies, and originals to stream and recommended content tailored to your preferences.
You can navigate between the app's other sections from the left-hand sidebar, i.e., Movies, TV Shows, Sports, Channels, Showtime, My List, and more. When watching your favorite content, select the "CC" icon on the player to toggle on closed captions.
While Paramount+ does offer audio descriptions (AD) for most of its content, the feature is currently unavailable for LG TVs. However, you get access to parental controls and can create up to six individual profiles, each open to personalization as per user preferences.
More Ways to Watch Paramount Plus on LG Smart TV
Paramount+ is available as a Prime Video Channel, meaning you can subscribe to the service via Amazon and access the same lineup of on-demand and live content via the Prime Video app on your LG TV.
It's worth noting that Prime Video currently only has the Paramount+ with Showtime plan. The good news is it can be availed for a 7-day free trial, after which Amazon bills you for ad-free access to the thousands of hours of programming the platform offers (with the notable exceptions of a few shows due to licensing disputes).
Similarly, you can sign up for Paramount+ as an Apple TV channel (free trial available) which is convenient for existing Apple TV+ subscribers on LG TV. Once again, Apple will charge you for the costlier Paramount+ with Showtime bundle through your Apple ID.
Additionally, you can verify your subscription with your Amazon Prime or Apple ID details via the official Paramount+ website (paramountplus.com). It'll allow you to enjoy your favorite content via the Paramount+ app in addition to the Prime Video and Apple TV apps on your LG Smart TV.
That said, when the time comes for you to cancel your Paramount+ add-on subscription, you must do so via Apple TV or Prime Video.
Recommended Reading: Install Third-Party Apps on LG Smart TV
Final Words
Paramount+ is home to an exhaustive catalog of shows and films and a range of exclusives you won't find anywhere else. It hosts a variety of the most beloved shows and older classics that have been off TV screens for years, alongside an abundance of new titles and original programming to explore.
We hope the following guide clears the air surrounding Paramount Plus on LG Smart TV and everything else about the streaming app. While we've extensively discussed the US version of Paramount+, most of its on-demand offerings are also streamable in the European and Latin American territories it serves.
If you aren't in the United States, we'd suggest visiting paramountplus.com to check its availability in your country and its streaming library. Paramount+ titles are also available through third-party providers in countries like India and Zealand, with SkyShowtime further expanding its reach in Europe.
It's also important to mention that while Paramount+ with Showtime subscribers in the US can enjoy select titles in 4K HDR (HDR10/Dolby Vision) and Dolby Atmos on compatible LG TVs, in the UK and other European regions, playback is currently limited to a maximum quality of Full HD (1080p) with 5.1 Dolby surround sound.