You might be surprised to discover that some of the top weekly TV shows available for streaming can be accessed without you even realizing it. Prime Video is among the many benefits an Amazon Prime Membership includes.
Alongside free two-day deliveries, special shopping deals, Prime Reading, Prime Gaming, and Prime Music, you get a wide range of fantastic TV shows, movies, and a swelling selection of hit originals.
In fact, the popularity of Prime Video has reached a level where it now offers standalone streaming subscriptions in multiple markets, available at a lower cost compared to the full-fledged Amazon Prime Membership.
Amazon's streaming platform is accessible across various devices, including connected smart TVs. Whether you're looking for more binge-able series or the latest blockbusters for movie nights, our guide to Amazon Prime Video on LG Smart TV will help you meet your streaming goals.
What's Amazon Prime Video?
Prime Video is the encompassing term for all video-related content on Amazon, usually bundled with the company's popular Prime Membership. Over a decade ago, it debuted in the United States and has gradually expanded to over 200 countries across the globe, except for a few authoritarian territories.
With an extensive collection of TV shows and movies, Prime Video boasts a vast library that competes with even the most popular streamers, such as Netflix, Disney+, Hulu, and Max. In addition, the service offers a robust slate of big-budget original series and blockbuster films produced by Amazon Studios and in collaboration with third-party productions.
While it may not churn out content at the same pace as Netflix, Prime Video has undeniably delivered some high-quality titles in recent years, including The Boys, Reacher, The Wilds, The Expanse, The Lord of the Rings: The Rings of Power, Wheel of Time, Invincible, The Marvelous Mrs. Maisel, Homecoming, Clarkson's Farm, just to name a few.
What Else Can You Get with Amazon Prime Video?
Like Hulu's Premium Add-ons, Prime Video offers dozens of optional subscription "Channels," providing access to a wide array of additional content tailored to your interests.
Examples include Britbox, Cheddar, Hallmark Movies, HBO, Nick Hits, PBS Kids, Showtime, Starz, Sundance Now, and Shudder. But they merely scratch the surface of what's available.
In certain countries, such as the US, Canada, and the UK, Prime Video subscribers can also tune in to live streams of major sports events, including NFL Thursday Night Football, WNBA games, and Premier League soccer matches.
There are also optional sports add-ons like the NBA League Pass, MLB.TV, and LaLiga TV, alongside Discovery+ and Paramount+, for even more sports. The availability of these sports streams and channels varies depending on the region.
That said, the monthly or annual subscription isn't the only way to enjoy content on Prime Video, as the platform also allows buying or renting movies and shows and streaming them via the app. Additionally, a diverse range of ad-supported content is available for anyone to watch on the FreeVee Prime Video Channel, formerly IMDb TV.
Currently available in the US, the UK, and Germany, FreeVee offers an ever-expanding on-demand catalog of TV shows and movies across various genres and 150+ FAST channels accessible without charge, although with intermittent ads throughout.
How to Get Amazon Prime Video on LG Smart TV?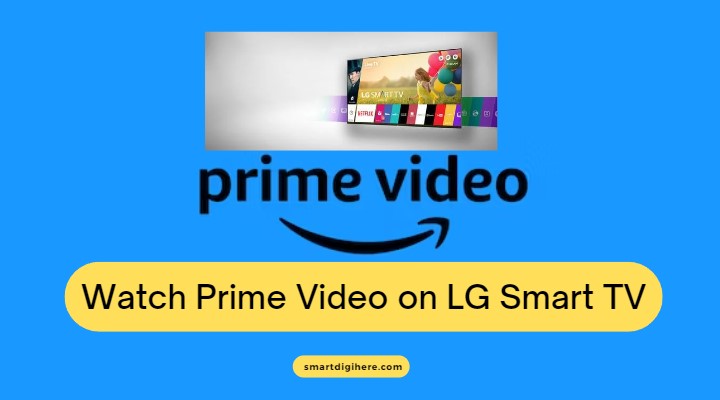 The Prime Video app is compatible with LG Smart TVs released in 2016 and later running webOS 3.5 and above. It's also available for select 2015 models, albeit with a few features missing.
You should find Amazon's streaming app already preinstalled on your LG TV. Assuming it's connected over Wi-Fi or Ethernet, simply press the Home button on your remote and select Prime Video from your App List.
If not installed, follow the step-by-step instructions below to download Prime Video on your LG Smart TV:
Press the Home remote button, navigate to the App List row, and select the Apps (a grid of four small squares) tile.

On older webOS versions, select the LG Content Store card from the launcher carousel.

Choose Prime Video in the "Featured" category, or go to the Search menu (select the hand lens icon above) to manually search for the app.
Once you're on the app's details and screenshots page, click Install.
Once downloaded, the Prime Video app should be auto-added to your TV's App List for you to access.
How to Sign in to Amazon Prime Video on LG Smart TV?
Signing in to Prime Video on LG Smart TV is straightforward, provided your Amazon Prime Membership or Prime Video subscription is ready.
You can visit primevideo.com to sign up for a plan or join Prime via your regional Amazon website (e.g., amazon.com, amazon.co.uk) from your PC or mobile browser in just a few minutes. Here's how to sign in to the Prime Video app and register your LG Smart TV:
Open Prime Video from your TV's App List, then click Sign in and Start Watching on the welcome screen.

If the app redirects you to the Home screen instead, navigate to the left-hand menu and select Sign in at the top.

Use your phone camera to scan the QR code on the activation screen. It'll bring up the login page, where you must enter your Amazon account credentials to proceed. Otherwise:

Browse to primevideo.com/mytv or amazon.com/gp/video/ontv/code from your phone or computer.
Sign in with your Amazon account email and password (or create one).
Enter the six-character registration code (e.g., HQ2W4Z) shown on the activation screen on your TV and select Register Device.
Once you've gone through the following steps, choose your profile on the "Who's Watching" screen in the Prime Video app, and that's it! You can now enjoy all the on-demand TV shows and movies Amazon's streaming platform has to offer on your LG Smart TV.
Wrapping Up
With Amazon Prime Video on LG Smart TV, you can enjoy unlimited streaming of thousands of films, series, and originals. The service also serves as a one-stop shop, with options for rentals and purchases of the newest titles, live sports, and free ad-supported content. Hopefully, our guide has provided enough information to help you enjoy all its offerings on the big screen.