If you're looking for a new streaming service that offers a wide range of content from HBO, Warner Bros., and Discovery, you might want to check out Max.
Max is the new name of HBO Max, a rebranding following the merger between WarnerMedia and Discovery last year. Max aims to combine the best of HBO Max and Discovery+ into one streaming service, with loads of new original programming, the latest blockbuster movies, documentaries, reality shows, and more.
Max is available on various devices, including that big rectangular void that fills your living room wall. You're here to learn how to install and watch Max on LG Smart TV — we've got you covered.
What Exactly is Max?
A brand-new streaming service from Warner Bros. Discovery, Max replaces HBO Max and consolidates some content from Discovery+ to deliver a more comprehensive over-the-top subscription service for the masses.
With a sizable collection of shows and movies on demand, the streaming catalog features titles from not only the Warner Bros. archive and HBO but also Discovery, CNN, The CW, and more licensed programs from popular networks with HGTV and TLC.
It's essentially a rebranded HBO Max incorporating new content from Discovery properties. HBO Max Originals becomes Max Originals, with new Max Originals on their way. However, it's worth noting that Discovery+ will remain to exist as a standalone, lower-cost streamer.
How to Install Max on LG Smart TV?
Max is compatible with all LG Smart TVs that previously supported HBO Max, including 2018 and newer models running webOS 4.0 and above.
One good thing is all users previously subscribed to HBO Max are automatically eligible for the platform migration at no extra cost. If you had HBO Max installed on your LG Smart TV, odds are it has updated to Max already – no need to download it separately.
If you don't have the app, use these steps to install Max on LG Smart TV from the Content Store:
Power on your LG Smart TV and ensure it has internet access.
Access the Home menu (or launcher bar on older webOS versions) by pressing the Home button on the remote.
Navigate to and select the Apps (four square tiles) icon in your apps row. Or, click the LG Content Store.

You should see a magnifying glass icon in the top-right corner of the Content Store homepage. Select it to open the Search menu.

Enter "Max" in the field with the on-screen keyboard and hit Search.
Choose Max from the "Apps" results and click Install on the following page.
Once installed, return to the Home menu or launcher bar, scroll to the end of your apps row, and click the Max icon. Select the Edit App List (pencil icon) option to move the streaming app to the front of the list for quicker access.
Also Read: PIP on LG Smart TV
How to Watch Max on LG Smart TV?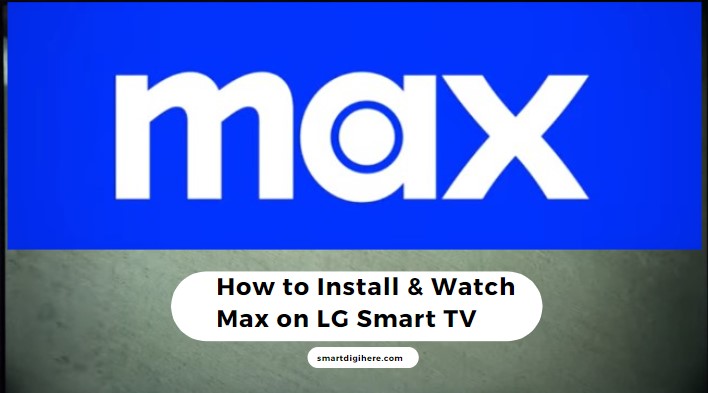 If you had an HBO Max subscription before, use the same login credentials to sign into the Max app and access its new streaming library. The same applies if you get HBO as part of your existing TV plan, though only with select providers, e.g., AT&T, Cox, DirecTV, Dish, Hulu, Spectrum, Verizon, and Xfinity.
For those new to the platform, visit max.com from your mobile or computer browser and click Sign Up Now. Unlike its predecessor, Max offers three subscription tiers as follows:
Ad-Lite: Stream in Full HD with occasional adverts on up to two devices
Ad-Free: Stream in Full HD with no advertisements on up to two devices
Ultimate Ad-Free: Stream in 4K HDR with zero ad breaks on up to four devices
All three plans are available on a monthly and yearly basis. Choose the one that suits you the best, then follow the on-screen prompts to create your account and verify your payment details to pay for the subscription. You should receive a confirmation mail at the provided email address afterward.
Once you have an active Max subscription, use these steps to activate the Max app on LG Smart TV:
Open Max from your LG TV's App List.
Select the Profile icon, then click Sign In on the following menu. It'll lead you to the activation screen with a six-character code.
Visit the activation URL (g., max.com/activate) displayed on the TV screen from your mobile or computer.
Type in the six-character code in the respective field and click Next.
Enter your login details (email address and password) and select Sign In.
Voila! You should now be able to choose your Max profile (or create a new one) and start browsing the streaming catalog.
Quicker Approach: Use AirPlay
Watching Max gets even more straightforward if you own an AirPlay-enabled LG Smart TV (UHD, NanoCell, or OLED model, 2018 and newer) and an iPhone or iPad.
Download the Max app from the App Store on your iOS device, log in, and play the title you wish to watch. You should see the AirPlay icon at the top.
Assuming both your devices are on the same Wi-Fi network, all you have to do is tap the AirPlay icon and choose your LG TV from the list, and it should immediately stream the selected content on the big screen.
If you have a compatible LG Smart TV (check the list here) on the network and still don't see the AirPlay icon in the Max mobile app, ensure your TV firmware is up to date.
Related Guides
What Can You Stream on Max?

As mentioned earlier, Max consists of the best programming from HBO Max and Discovery Plus. You can enjoy an extensive selection of genres and content, from crime to comedy to drama to reality and documentary.
Max has all the HBO shows and movies you love, alongside Max Originals and select titles from Warner Bros., Adult Swim, Cartoon Network, DC, Cartoon Network, Turner, and more.
You can also watch unscripted and lifestyle series from popular TV networks like HGTV, Food Network, TLC, ID, Magnolia, Discovery, and more. Max promises to introduce over 40 new titles every month.
Some upcoming Max Originals include a new Harry Potter series "faithfully adapted" from J.K. Rowling's beloved children's books, a drama set in the Conjuring universe, an all-new sitcom derived from The Big Bang Theory, a Rick and Morty anime show, a Fixer Upper spin-off, and many more.
Max will also carry the previously announced HBO and HBO Max projects like the spin-off Penguin series with Colin Farrell reprising his role from Matt Reeves' The Batman (2022), another new Game of Thrones prequel, True Detective: Night Country starring Jodie Foster, Kate Winslet-starred The Regime, The Sympathizer by Park Chan-wook, and so on.
Max Ultimate subscribers get access to a vast 4K UHD content catalog featuring popular franchises such as the new critically acclaimed The Last of Us series, Game of Thrones, House of the Dragon, Harry Potter, The Lord of the Rings, The Dark Knight Trilogy, and more. Moreover, all Warner Bros. movies slated to release this year and beyond will also be accessible on Max after their theatrical runs.
Some of the current Max Originals you can watch include Doom Patrol, Hacks, Peacemaker, Station Eleven, The Flight Attendant, The Other Two, Our Flag Means Death, etc. Max also has HBO Max Original films such as Zack Snyder's Justice League, Locked Down, The Witches, Let Them All Talk, Charm City Kings, An American Pickle, etc.
You May Like: Enable Game Mode on LG Smart TV
Enjoy Streaming Max on LG Smart TV
HBO Max has recently folded into the new 'Max' streaming service. While it retains the same beloved HBO content library, it integrates a whole new batch of Discovery-owned titles and a slew of exciting originals for one's viewing.
With the rebranding comes some confusion, but one thing is for sure – our guide explains all you need to know about Warner Bros. Discovery's all-new flagship streamer, with detailed step-by-step instructions to install and watch Max on LG Smart TV.
Installing and activating Max on a compatible LG webOS TV is as straightforward as it can get, though you're more than welcome to leave your queries in the comments.