ITVX lets you watch 10,000+ hours of TV shows and movies for free with adverts. One of the UK's prime TV networks, ITV, has replaced its former catch-up service ITV Hub with ITVX, which now also offers exclusive dramas, documentaries, and themed live TV channels. It even has a Premium subscription, which includes the entire library of BritBox originals and iconic British box sets.
ITVX supports a multitude of devices, including Smart TVs, streaming media players, and even some Freesat, Freeview Play, and YouView boxes. The mobile apps also feature the "Cast" option, meaning viewers can play the latest episodes of the latest ITV originals on a compatible screen without having to pick up the remote.
Odds are you are an Apple user, wondering whether it's possible to cast ITVX on your Apple TV or a compatible Smart TV via AirPlay. We've prepared this post to answer this very question.
Can I Cast ITVX via AirPlay?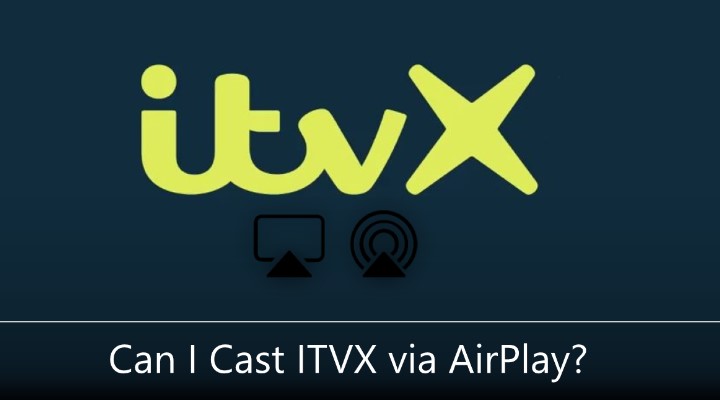 ITV's previous catch-up app, ITV Hub, didn't support casting via Apple's AirPlay protocol. Sadly, the same applies to ITVX, which at the time of writing, doesn't allow users to play content over AirPlay.
Oddly enough, ITVX offers support for Chromecast, which is Google's wireless casting protocol that works across Android phones and tablets and iPhones, iPads, and Chromium-based web browsers (e.g., Chrome, Edge, Brave).
If you have an Apple TV box, AirPlay 2-enabled Roku player, or newer Smart TV from LG, Sony, or Samsung with AirPlay built-in, you won't see the Cast icon on the ITVX app on your iPhone or iPad or the website on your Mac. Screen Mirroring also won't work due to licensing reasons and ITVX's use of Widevine copy protection.
However, let's say you have an Android TV, Chromecast dongle, or Chromecast-enabled smart TV. If that's the case, you can cast from the ITVX iOS or iPadOS app or website onto your big screen without issues. Here's how:
Confirm your devices are powered ON and on the same Wi-Fi or local network.
Launch the ITVX app on your iPhone or iPad or visit itv.com from Safari or another browser on your Mac device.
Assuming you're signed in, choose the episode, movie, or channel you want to watch on your big screen.
Tap the Cast (rectangle with three waves) icon in the player and select your Chromecast-enabled device in the list.
Instead of AirPlay, your iPhone, iPad, or Mac will leverage Google's casting technology to stream the chosen episode, movie, or live channel.
Can I Use the AV Adapter to Watch ITVX on TV Using My iPhone/iPad?
No, you can't use the Apple Lightning Digital AV Adapter, the USB-C Digital AV Multiport Adapter, or any third-party AV adapter to mirror your iPhone or iPad screen to your TV and stream ITVX content. You'll only see a blank screen and no audio. ITV's new streamer app uses improved DRM technology that doesn't work with mirroring facilities.
With that said, if you have a MacBook, MacBook mini, or some other Mac device, you can hook it up to your telly via an HDMI cable (an adapter may be required) and enjoy your favourite ITV programmes via the ITVX website.
Are There Any Other Ways to Watch ITVX?
Of course, there is! Assuming you own an Apple TV HD or 4K (running tvOS 12.2 or later) box, you can download the tvOS-native ITVX app from the built-in App Store and access the on-demand catalogue.
For those who have an LG webOS TV (2021 or later), Samsung Smart TV (2016 or later), Sony BRAVIA Android/Google TV, or a Roku player/TV, we have separate guides covering the installation and activation steps for ITVX, which we highly recommend checking out.
Will ITVX Ever Support ITVX?
ITV has assured viewers that they're "looking to support AirPlay in the future", but it's unavailable at the time of writing – probably due to licensing conflicts or technical issues. Whether they'll add Apple AirPlay support to ITVX in 2023 is unknown to us.
It's worth mentioning that during the soft launch of ITVX, some LG TV owners reported AirPlay working on the ITVX iPhone app. However, it was seemingly removed in the subsequent app versions, suggesting that ITV already did most of the work implementing AirPlay and is now waiting for approval.
Bottom Line
ITVX is now live in the UK, offering thousands of hours of ad-supported and premium content that includes new exclusive drama, comedy, thriller, true crime, and reality shows. Unfortunately, AirPlay on ITVX is currently unsupported, meaning Apple users won't be able to seamlessly cast content onto their Apple TV or AirPlay-enabled screen from the iPhone or iPad app just yet.
That said, you can access ITVX on select streaming players and Smart TVs by other official means, as we've discussed above.