This guide will show you how to install Downloader on Smart TV and sideload APKs using it.
The best thing about the Android ecosystem has always been its openness. It allows power users to do what they want, including the ability to sideload third-party apps. The same applies to Android TV, even though it tries to make it less evident at first glance.
Assuming you have an Android TV device, you may have noticed the absence of an integrated download manager in browser apps or the lack of full-fledged TV web browsers on the Play Store in general. It's no coincidence, as Google has always intended Android TV purely for media consumption and nothing else.
However, there are times when you want to have an app on your Android TV that you can't otherwise get from the Play Store because of regional restrictions or general unavailability on the storefront. In such cases, having a download manager is a godsend.
One such download manager is Downloader by AFTVnews, a must-have tool for Android TV users for sideloading APKs and downloading other files. The good news is it's officially available on the Android TV Play Store and is relatively easy to use.
Features of Downloader on Smart TV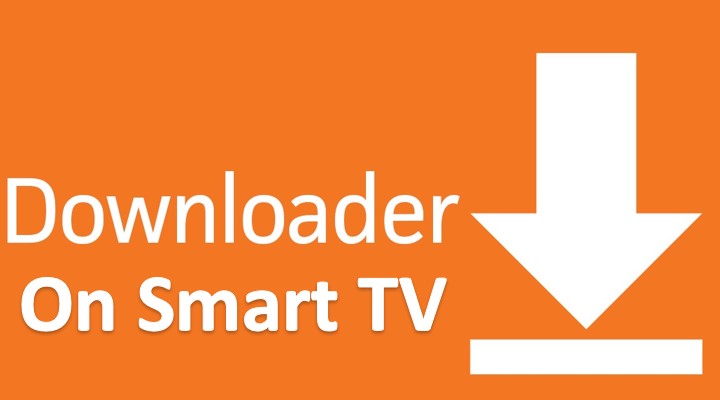 Downloader by AFTVnews lets Android TV users download any file from the web on their streaming devices. You can do it by either entering a direct download link to a file or installing the optional browser plugin to download files from trusted sites.
The plugin also enables general web browsing with quick access to bookmarks and the option to zoom in and enter fullscreen mode. Plus, you can save and load frequently visited sites from the Favorites tab. Further, the app features a simple file explorer that you can use to open files or sideload downloaded APKs and delete them afterward.
Downloader on Android TV should work flawlessly with your TV remote and most game controllers, meaning you don't have to connect a keyboard or mouse for in-app navigation.
Related: Mozilla Firefox on Android TV
How to Install Downloader on Smart TV?
As we mentioned, Downloader by AFTVnews is available on the Android TV Play Store. Hence, installing it involves no extra steps. All you have to do is follow these instructions:
Move to the Apps tab on your Android TV Home.

Select and launch Google Play Store from your "Installed apps" section or click the Open the Google Play store.
Select the Search tab at the top, then use the on-screen keyboard to type "Downloader."
Alternatively, click the Mic icon and say "Downloader" if you have a voice-enabled Android TV remote.
You should see the "Downloader by AFTVnews" app on the results screen. Hit the Install button under it.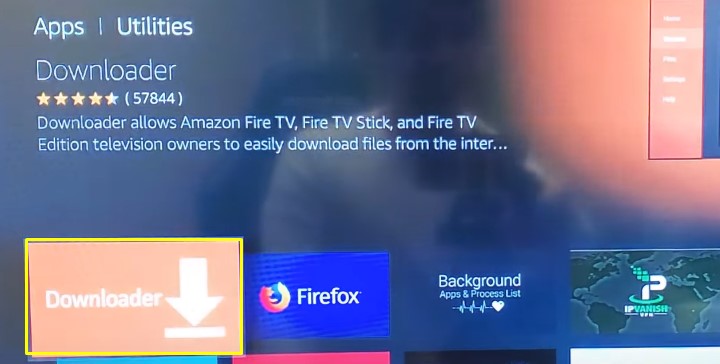 Installation should take less than a minute. Once that's done, you can launch the Downloader app from your Android TV Home > Apps > Installed apps section. You'll find it at the very bottom of the list.
If you have Google TV, installing Downloader is more or less the same process. Navigate to the Search tab from your Google TV Home screen, use the on-screen keyboard or your voice to find the "Downloader" app, and click Install. You can then go to Apps and launch it from the "Your apps" section.
Guide to Sideloading APKs using Downloader on Android Smart TV
The primary use case of the Downloader app on Android TV is to download APK files and sideload them. For instance, Stremio, a popular video streaming app that lets users discover and watch content from various sources, is unavailable in some regions despite being listed on the Play Store. In that case, you have no choice but to install it manually.
Fortunately, the Downloader Android TV app makes the whole sideloading process work without needing a secondary device. Here's how you can use it to install APKs on your Android or Google TV:
Launch the Downloader app from your apps list. Make sure to click Allow when the storage permission prompt appears. Then read through the quick start guide and click OK.
On the Home page, enter the website URL (from where you download APKs) in the respective field and click Go.

We recommend downloading APKs from trusted sites like APKMirror, APKPure, and F-Droid to avoid potentially malicious software.
Downloader's built-in browser should load the site. Using your remote, search for the app you want to install and click the Download
A pop-up with a progress bar will appear for the APK you're downloading. By default, the Downloader app will automatically load the APK and open the Installer app.
If your Android TV blocks the installation, click Settings in the pop-up prompt, then on the "Install unknown apps" screen, toggle the slider next to the Downloader
Finally, return to the installer and hit Install. It'll begin sideloading the chosen APK file.
Notes
All Android TV-specific apps that you sideload should normally appear under your "Installed apps" or "Your apps" list on your TV's Home screen > Apps tab. On the other hand, accessing Android phone apps such as Google Chrome or a third-party launcher on Android TV requires Sideload Launcher, which is officially available on the Play Store.
Some APK files come in bundled packages with unconventional file extensions like apkm, xapk, and apks, which the default Android installer doesn't support. Thus, the Downloader app will fail to load them. Instead, we suggest getting the APKMirror Installer from the Play Store. It allows sideloading split APKs/app bundle files and also regular APKs.
Once you sideload an app, you can get rid of the APK file and free up storage space on your device by returning to the Downloader app and clicking the Delete button in the dialog box.
Shorten Downloader Links
Typing a long download URL in the Downloader app using a remote wastes lots of time and takes too much effort. Fortunately, there's a way to quicken the process, thanks to the folks over at AFTVnews — the same team behind Downloader itself.
On your phone or computer, copy the link to the file you wish to download to your Android TV, open a new browser tab, and go to go.aftvnews.com. After that, paste the download URL in the corresponding field, complete the reCAPTCHA, and click Shorten.
The AFTVnews URL Shortener will give you a six-digit code for the Downloader app. All you need to do is enter it in the Downloader's URL bar on the Home page and click Go. The code will redirect the browser to the source link to the file, and the download should immediately begin.
Also, Check – Ad Blocker For Smart TV
Wrapping Up
Through this guide, we've explained everything you need to know about Downloader on Android TV. Above, you'll find step-by-step instructions to install the Downloader app from Play Store and use it to sideload third-party apps on your Android TV.
"Send files to TV" is an excellent alternative to Downloader if you want to send APKs and large media files from your Android phone to your TV over your local Wi-Fi network in a fast and reliable way. However, unlike the Downloader app, it requires a secondary device and asks users to install the app on both devices for file transfer.